ICE arrests criminal alien on Most Wanted list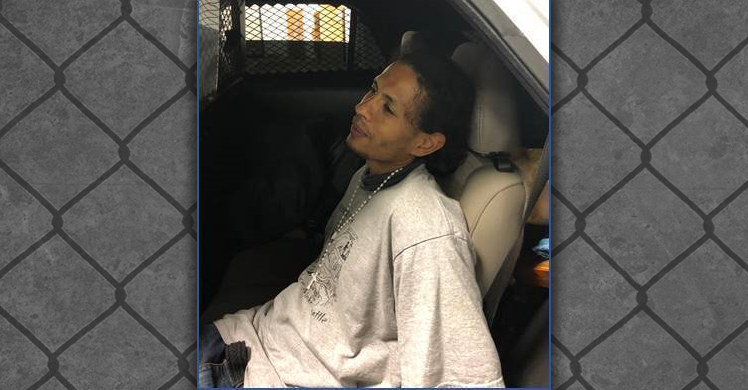 SAN FRANCISCO - An "ICE Most Wanted" criminal alien, convicted of felony sex with a minor, was arrested by U.S. Immigration and Customs Enforcement (ICE) officers April 28.
Kristian Jonas Gamez Trejo, a 25-year old citizen of Honduras, was on the ICE Enforcement and Removal Operations (ERO) Most Wanted list when he was apprehended in San Francisco, California, by the ICE San Francisco Field Office, ERO At-Large and Fugitive Operations Teams.
"Once again, I am waiting for San Francisco officials to tell me how not turning over Mr. Gamez made our community safer. San Franciscans deserve better," said ICE San Francisco Field Office Director David Jennings. "There is no reason this convicted child predator should have been turned loose into our community. Even California's misguided SB54 sanctuary policy allows local authorities to turn over to ICE any criminal aliens convicted of felony crimes of sexual exploitation or crimes endangering children."
Gamez illegally entered the United States prior to April 2014 at an unknown location. He was arrested by the U.S. Border Patrol in April 2015 and removed to Honduras by ICE in June 2015. He illegally reentered the United States on an unknown date in 2015 and was arrested by U.S. Border Patrol. His removal order was reinstated, and he was removed to Honduras a second time in December 2015. On an unknown date, he illegally reentered the United States again.
In August 2016, Gamez was arrested by local authorities on a warrant from an April 28, 2014 arrest, for felony sex with a minor. At that time, ICE issued the San Francisco County Jail a request for voluntary transfer of Gamez. The request was not honored and Gamez was released to the street. He was convicted of felony sex with a minor in November 2016 and sentenced to 87 days in jail with five years of probation.
During 2017, ICE issued multiple immigration detainers for Gamez, after he was arrested by local authorities four times on local charges in January, April, May and August. The San Francisco County Jail ignored all of ICE's 2017 detainers for Gamez and released him back into the community each time.
Gamez was arrested on domestic violence charges by local authorities April 12, 2019. ICE issued an immigration detainer with the Sonoma County Main Jail and San Francisco County issued a warrant for probation violation on Gamez's felony conviction for sex with a minor. He was transferred to San Francisco County from Sonoma County May 17, 2019, pursuant to that warrant. ICE issued another detainer May 18, 2019, with San Francisco County. Gamez was convicted Oct. 1 of misdemeanor battery charges and sentenced to 180 days in jail. On Feb. 13, the San Francisco County Jail released Gamez back into the community for the sixth time without honoring ICE's requests.
Cooperation between ICE and local law enforcement is an indispensable component of promoting public safety. Current California laws and policies severely impede local law enforcement agencies from working with ICE to hold criminals accountable and provide justice and closure for their victims. Sanctuary policies shield criminal aliens who prey on people in their own and other communities.
Background
ICE removed or returned 267,000 aliens in fiscal year 2019. ERO arrested 143,000 aliens, more than 86 percent of whom had criminal convictions or pending criminal charges.
ICE is focused on removing public safety threats, such as convicted criminal aliens and gang members; as well as individuals who have violated our nation's immigration laws, such as those who illegally reenter the country after a prior removal, and immigration fugitives ordered removed by federal immigration judges.
ICE's ERO mission remains consistent: to identify, arrest, and remove aliens who present a danger to national security or are a risk to public safety, as well as those who enter the United States illegally or otherwise undermine the integrity of our immigration laws and our border control efforts.
Congress provided ICE Officers authority to arrest removable aliens at large, which is often necessitated by local sanctuary policies preventing law enforcement agencies from cooperating with ICE efforts to arrange custody transfers in a secure and safe manner.
Despite special interest attempts to prevent ICE Officers from doing their jobs, ICE will continue to uphold public safety and enforce immigration law. ICE will consider carefully whether to refer for criminal prosecution individuals who obstruct lawful enforcement efforts.
About Detainers
ICE lodges detainers on individuals who have been arrested on criminal charges and who ICE has probable cause to believe are removable aliens. The detainer asks the other law enforcement agency to notify ICE in advance of release and to maintain custody of the alien for a brief period of time so that ICE can take custody of the person in a safe and secure setting. When law enforcement agencies fail to honor immigration detainers and release serious criminal offenders onto the streets, it undermines ICE's ability to protect public safety and carry out its mission.
Sanctuary Policies Put Public Safety at Risk
When law enforcement agencies do not honor ICE detainers, these individuals, who often have significant criminal histories, are released onto the street, presenting a potential public safety threat. Any local jurisdiction thinking that refusing to cooperate with ICE will result in a decrease in local immigration enforcement is mistaken. Local jurisdictions that choose to not cooperate with ICE are likely to see an increase in ICE enforcement activity, because the agency has no choice but to conduct more at-large arrest operations.
A consequence of ICE being forced to make more arrests on the streets is the agency is likely to encounter other unlawfully present foreign nationals that would not have been encountered had ICE been allowed to take custody of a criminal target within the confines of a local jail. Additionally, once these criminals are out on the street, confirming their whereabouts is often time consuming and resource intensive. Many ICE arrest targets are seasoned criminals who are savvy about eluding law enforcement.
Despite the severe challenges that local policies have created, ICE remains committed to our public safety mission and we will continue to do our sworn duty to seek out dangerous criminal aliens and other immigration violators. ICE seeks straightforward cooperation with all local law enforcement and elected officials. ICE deportation officers carry out targeted enforcement actions every day in locations around the country as part of the agency's ongoing efforts to protect the nation, uphold public safety, and protect the integrity of our immigration laws and border controls.