ICE arrests more than 1,400 human traffickers in 2015, identifies nearly 400 victims across the US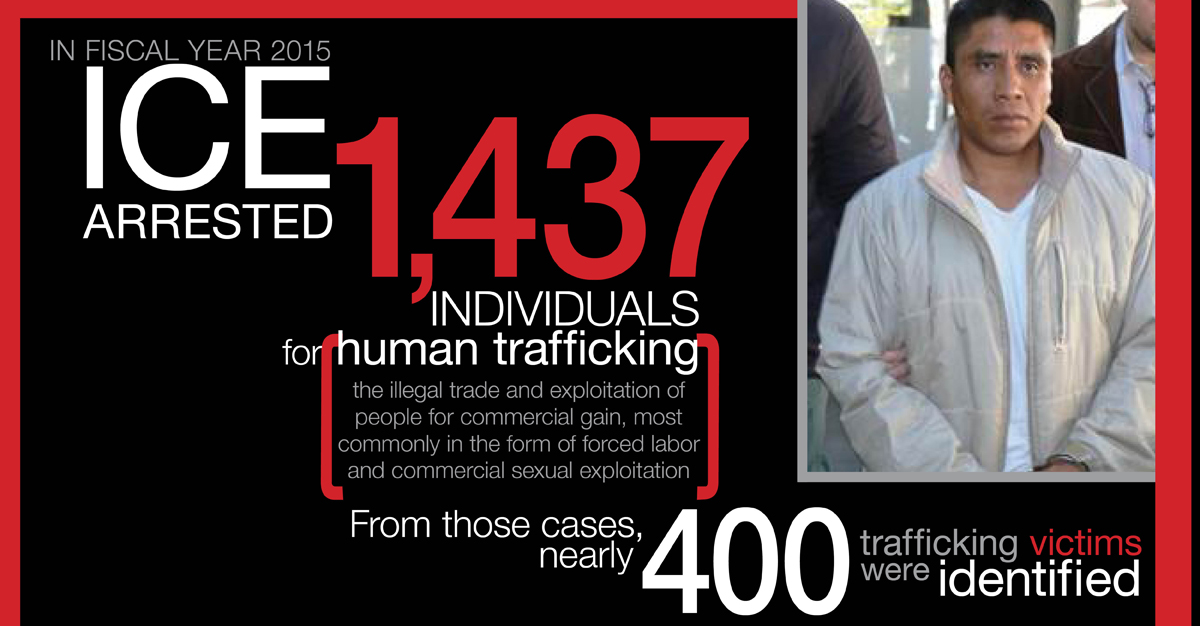 WASHINGTON — In Fiscal Year 2015, U.S. Immigration and Customs Enforcement's (ICE) Homeland Security Investigations (HSI) arrested 1,437 individuals for human trafficking – the illegal trade and exploitation of people for commercial gain, most commonly in the form of forced labor and commercial sexual exploitation. From those cases, nearly 400 trafficking victims were identified and offered critical services.
This year marks the sixth anniversary of President Barack Obama's proclamation of January as National Slavery and Trafficking Prevention month. ICE participates in a variety of human trafficking awareness events in January and throughout the year.
"Our special agents work tirelessly to disrupt criminal trafficking networks and help their victims, but there is still so much to be done," said ICE Director Sarah R. Saldaña. "While the efforts of law enforcement are crucial to the cause, educating the public to recognize signs of trafficking and supporting the organizations who work to make victims whole are also important parts of our overall strategy."
While human trafficking can occur in a variety of scenarios and industries, indicators of trafficking activities often look the same across cases. Educating the public to recognize the signs is crucial to identifying victims and bringing traffickers to justice.
Examples of HSI human trafficking cases in 2015 include:
Multistate Sex Trafficking – In October 2015, HSI arrested 29 people in eight states for sex trafficking more than 13 Hispanic women and girls from Mexico and Central America through a system of brothels across the southeastern United States. Now with 41 indictments, this case has the highest number of indictments of any HSI human trafficking investigation. The 15-month investigation was a success because of the combined support from DHS Joint Task Force – Investigations, ICE Enforcement and Removal Operations, U.S. Customs and Border Protection, Federal Emergency Management Administration and multiple state/local law enforcement agencies.
Domestic servitude – A military official from Qatar and his wife brought two domestic servants with them to San Antonio, Texas. The couple allegedly housed the workers in primitive conditions, threatened them with arrest and jail, withheld their wages, and deprived them of cell phones, passports, visas and food. HSI made the arrest on forced labor charges on May 30, 2015.
Human Trafficking Top 10 Fugitive Captured – Paulino Ramirez-Granados was arrested March 31, 2015, in Tenancingo, Mexico through a joint investigation by HSI Mexico City, HSI New York and the Mexican Federal Police. The Granados family and its associates would romance young women before coercing them into prostitution in Mexico, smuggling them into the United States, and then continuing the control, physical and sexual abuse, and threats in New York City. HSI identified 26 victims and 19 other traffickers and smugglers.
Since 2010, HSI has arrested over 7,000 individuals for human trafficking offenses.
ICE is one of the primary federal agencies responsible for combating human trafficking. ICE works with its law enforcement partners to dismantle the global criminal infrastructure engaged in human trafficking. ICE accomplishes this mission by making full use of its authorities and expertise, stripping away assets and profit incentive, collaborating with U.S. and foreign partners to attack networks worldwide and working in partnership with nongovernmental organizations to identify and provide assistance to trafficking victims.
If you notice suspicious activity, please contact ICE through its tip line at 1-866-DHS-2-ICE or www.ice.gov/tips. For more information about the Department of Homeland Security's overall efforts against human trafficking, please visit http://www.dhs.gov/blue-campaign.