ICE captures Mexican illegal alien released by Mecklenburg County despite conviction for felony death by motor vehicle in DWI-related crash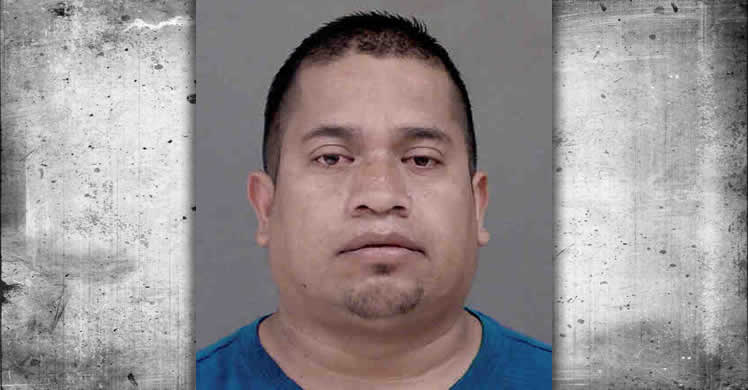 CHARLOTTE, N.C. – U.S. Immigration and Customs Enforcement (ICE) arrested unlawfully present Mexican national Jose Barajas-Diaz, during a targeted enforcement action Friday, one week after the Mecklenburg County Sheriff's Office refused to honor an ICE detainer, and instead released Mr. Barajas-Diaz from local criminal custody following his conviction for felony death by motor vehicle.
By releasing an illegal alien with a serious felony criminal offense resulting in death, Mecklenburg County chose to release a serious public safety threat into the Charlotte community where he was free to potentially harm others until his capture by ICE.
"This is yet another example of a clear public safety threat being released into North Carolina communities rather than into ICE custody due to local sheriff policies on ICE non-cooperation," said Acting ICE Director Matt Albence. "Continued decisions to refuse cooperation with ICE serve as an open invitation to aliens who commit criminal offenses that these counties are a safe haven for persons seeking to evade federal authorities, and residents of Mecklenburg County are less safe due to these misguided sanctuary policies."
"ICE is willing to work with local partners on ways to fulfill our shared goal of ensuring community safety," said ICE Atlanta Interim Field Office Director John Tsoukaris. "Unfortunately, elected law enforcement officials who chose not to collaborate with ICE and try to justify their actions by stating they are protecting their community are placing politics above public safety and are actually failing in their most basic duty of protecting their communities. It defies logic how a sheriff would release dangerous criminals to the street instead of to a federal law enforcement agency that has an outstanding warrant of arrest. Uncooperative jurisdictions such as Mecklenburg County should be on notice that as long as criminal offenders are being released, they should get used to seeing a lot more ICE at-large enforcement activity in their communities."
Mr. Barajas-Diaz was initially arrested January 29, 2019, by the Charlotte-Mecklenburg Police Department for driving while impaired and felony death by motor vehicle.
ICE lodged an immigration detainer against him with Mecklenburg County the following day. Along with the detainer form, ICE provided Mecklenburg County with an administrative arrest warrant.
Under the Immigration and Nationality Act as passed by Congress, ICE detainers, removal orders issued by federal immigration judges, and ICE immigration enforcement in general, is conducted under civil law The "judicial warrant" demanded by the sheriff only applies to criminal cases and does not exist for civil law matters.
However, for every detainer ICE issues the agency also provides an accompanying administrative warrant, or a warrant of removal along with the detainer, which is the warrant that does exist for matters governed under civil law.
Mr. Barajas-Diaz was convicted of felony death by motor vehicle in North Carolina Superior Court for Mecklenburg County on October 24, 2019, and given a five-year suspended sentence with credit for time served. The Mecklenburg County Sheriff's Office then refused to honor the ICE detainer and instead released him back into the community.
ICE Enforcement and Removal Operations (ERO) deportation officers subsequently were able to locate and arrest him eight days later on November 1, 2019, and he is currently in ICE custody while going through removal proceedings before the federal immigration courts.
This arrest is simply the latest in a continuing list of unlawfully present foreign nationals released from local custody in North Carolina this year despite serious criminal charges that pose a clear threat to public safety. Across North Carolina, local authorities refused to honor more than 500 detainers for foreign nationals during Fiscal Year 2019. All of these detainer refusals are of persons criminally arrested by a law enforcement agency for a criminal offense beyond their violation of federal immigration law.
These convictions include offenses for assaults, burglary, sex offenses, DUI, and homicide. All of these unlawfully present foreign nationals were sought by ICE, and yet instead were released onto the streets of North Carolina by local authorities.
About Detainers
Under federal law, ICE has the authority to lodge immigration detainers with law enforcement partners who have custody of individuals arrested on criminal charges and who ICE has probable cause to believe are removable aliens. The detainer form asks the other law enforcement agency to notify ICE in advance of release and to maintain custody of the alien for a brief period of time so that ICE can take custody of that person in a safe and secure setting upon release from that agency's custody. Yet, across the United States, several jurisdictions refuse to honor detainers and instead choose to willingly release criminal offenders back into their local communities where they are free to offend.
When law enforcement agencies fail to honor immigration detainers and release a criminal alien onto the streets, it negatively impacts public safety.
Sanctuary Policies Put Public Safety at Risk
Sanctuary policies leave ICE with no choice but to increase enforcement in neighborhoods and workplaces to locate and arrest these persons while they are at-large – increasing the likelihood that other individuals previously not targeted for arrest will be taken into ICE custody.
It is safer for everyone if ICE takes custody of an alien in the controlled environment of another law enforcement agency as opposed to visiting an alien's residence, place of work, or other public area. Arresting a criminal in the safety, security, and privacy of a jail is always the best option.
When law enforcement agencies don't honor ICE detainers, these individuals, who often have significant criminal histories, are released onto the street, presenting a potential public safety threat.