ICE, CBP recover 2nd century Bodhisattva head destined for auction during New York's Asia Week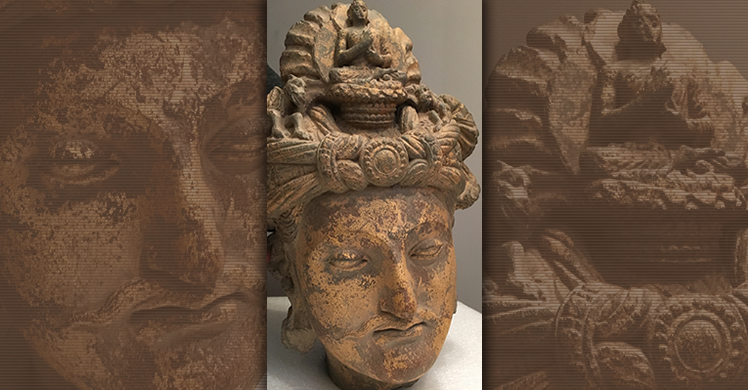 NEW YORK — Special agents from U.S. Immigration and Customs Enforcement (ICE) Homeland Security Investigations (HSI) and officers from Customs and Border Protection (CBP) seized a shipment of a cultural artifact Tuesday destined for an East Coast auction house, slated to be auctioned during "Asia Week New York."
Under the auspices of Operation Hidden Idol, ICE and CBP have been working together since 2007 to diligently track the individuals and pathways by which illicit cultural property might be smuggled around the world and ultimately into the United States.
This seizure contained a 2nd Century Bodhisattva schist head from the Gandhara region (likely from what is now known today as Swat Valley, Pakistan,) and is estimated to be worth hundreds of thousands of dollars. This artifact is important, not only for its size, condition, and quality of carving, but also because of the unusual amount of gold gilding that remains on the surface of the head. It is a common practice for looters to remove just the head of a sculpture in situ because it is easier to smuggle and sell on the black market.
Investigators have been able to identify that artifacts like this often take very circuitous routes through Asia where they are entered into the shipping stream at very high volume ports. This is often done to help hide the goods. This can make finding a smuggled artifact among thousands of licit shipments kind of like finding a needle in a haystack.
"This seizure demonstrates both agencies' dedication to diligently identifying, tracking and screening shipments that might contain stolen artworks," said Angel M. Melendez, special agent in charge of HSI New York. "We are committed to partnering with each other and the community to protect the world's cultural heritage."
"U.S. Customs and Border Protection is extremely proud to have played an important role in the seizing of this Bodhisattva head that was stolen from the people of Pakistan," said Robert E. Perez, Director New York Field Operations. "CBP working with Homeland Security Investigations continues to demonstrate its resolve of law enforcement in the United States to address illegal trafficking in stolen artifacts."
With Asia Week in New York beginning Tuesday, HSI special agents and CBP officers have been on the lookout for shipments coming in from shippers and sources that might be trying to exploit our border controls. This shipment contained some of the red flags authorities look for. It had multiple false statements and it is anticipated that the parties involved will be further investigated.
Over the past nine years, CBP Newark and HSI New York have partnered on Operation Hidden Idol, focusing on activities surrounding the illicit cultural property trade in New York. The investigation has also identified Subhash Kapoor, who is currently in custody in India awaiting trial for allegedly looting tens of millions of dollars' worth of rare antiquities from several nations. The trails of looted artifacts have been traced all around the world. Within the past twelve months, four domestic museums and one major collector have partnered with HSI to surrender illicit cultural property stemming from Kapoor. To date, the investigation has netted in excess of 2,500 artifacts worth over an estimated $100,000,000.00. These artifacts stem from countries all around the world. Additionally, four individuals have been arrested in the United States for their role in the scheme.
HSI plays a leading role in criminal investigations that involve illegally importing and distributing cultural property, including illicit trafficking of cultural property, especially objects that have been reported lost or stolen. HSI International Operations, through its 64 attaché offices in 46 countries, works closely with foreign governments to conduct joint investigations, when possible.
HSI's specially trained investigators assigned to both domestic and international offices, partner with governments, agencies and experts to protect cultural antiquities. They also provide cultural property investigative training to law enforcement partners for crimes involving stolen property and art, and how to best enforce the law to recover these items when they emerge in the marketplace.
Since 2007, more than 8,000 artifacts have been returned to 30 countries, including paintings from France, Germany, Poland and Austria; 15th to 18th century manuscripts from Italy and Peru; as well as cultural artifacts from China, Cambodia and Iraq.
Learn more about HSI cultural property, art and antiquities investigations →
Members of the public who have information about suspected stolen cultural property are urged to call the toll-free HSI tip line at 1 (866) DHS-2-ICE or to complete its online tip form.