ICE, CBP team with international authorities in key operation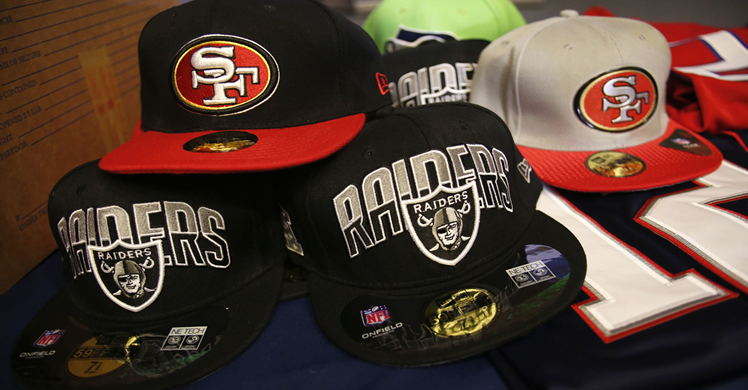 WASHINGTON – Mexican authorities executed dozens of verification warrants, seizing thousands of counterfeit sports-related items from retail outlets, and Hong Kong customs officials conducted anti-counterfeiting enforcement actions at the border and inland level, leading to one arrest, as part of a major operation developed by U.S. Immigration and Customs Enforcement's (ICE) Homeland Security Investigations-led (HSI) National Intellectual Property Rights Coordination Center (IPR Center).
The international collaboration was part of Operation Team Player, an ongoing effort targeting the illegal importation of counterfeit sports-related merchandise, which culminated last month in San Francisco, California, ahead of Super Bowl 50. U.S. Customs and Border Protection (CBP) personnel and HSI special agents leverage the yearlong operation to increase intellectual property enforcement during major sporting events, and international partners recently concluded an internal assessment of enforcement actions and results.
"Intellectual property theft is a global problem that can only be addressed with a global response," said IPR Center Director Bruce Foucart. "Collaborating with international customs authorities for Operation Team Player is a significant step in building partnerships that will protect consumers from dangerous counterfeit goods, shield economies from negative impacts and crackdown on criminal organizations responsible for the trafficking of illegal contraband."
Mexico's Tax and Customs Administration (SAT) participated in the effort for a second time, and confiscated nearly 9,000 counterfeit items worth an estimated $131,138. The increased enforcement efforts in Mexico were conducted in the month leading up to Super Bowl 50. U.S. and Mexican customs authorities have a strong relationship enforcing intellectual property rights. Both agencies exchange intelligence to prevent the trafficking of fake goods across the U.S. and Mexican border, a SAT representative is permanently stationed at the IPR Center and the foreign customs agency welcomed IPR Center personnel last summer for a training opportunity in Mexico City.
"Our agency is committed to combating IPR violations in Mexico and also against the importers and enterprises selling and distributing counterfeit products which undermine our economy," said Mr. Luis E. Lara-Gutierrez, Administrator General for Auditing on Foreign Trade at SAT. "Mexico´s SAT joins the IPR Center to participate in Operation Team Player for a second time, which has allowed us to identify a significant amount of counterfeit sporting goods at distribution centers and retail shops located in Mexico during the weeks leading up to the Super Bowl 50."
Representatives from the Hong Kong Customs and Excise Department (C&ED) received a trademark verification briefing from the National Football League in January, and soon after commenced concurrent intellectual property enforcement blitzes with HSI and CBP. Officials selectively examined outbound shipments headed for the United States, which led to the seizure of hundreds of counterfeit sports-related items, including jerseys and hats. The customs agency also mounted an anti-counterfeiting operation at a major shopping attraction, which resulted in the seizure of thousands of items and the arrest of one individual.
"This kind of joint operation is one of the ongoing collaborative moves Hong Kong Customs has taken with international law enforcement communities to curb transnational counterfeiting activities effectively," said Assistant Commissioner Louise Ho, head of C&ED's Intelligence and Investigation Bureau. "We will continue joining hands with overseas authorities to combat transnational IPR crimes."
Last month, ICE Director Sarah R. Saldaña and NFL Counsel Dolores DiBella hosted a press conference to announce that joint-enforcement actions related to Operation Team Player had resulted in the seizure of nearly 450,000 counterfeit sports-related goods worth an estimated $39 million. Over 22,000 fake items worth nearly $1 million were seized in the San Francisco – Bay area in the week ahead of Super Bowl 50.
"The efforts of ICE, CBP and the IPR Center are integral to protecting NFL fans worldwide from the sale of counterfeit products, and the NFL is proud to support these operations and collaborate with law-enforcement partners both domestically and abroad," DiBella said.
The HSI-led National IPR Center is one of the U.S. Government's key weapons in the fight against criminal counterfeiting and piracy. Working in close coordination with the Department of Justice Task Force on Intellectual Property, the National IPR Center uses the expertise of its 23-member agencies to share information, develop initiatives, coordinate enforcement actions and conduct investigations related to intellectual property theft. Through this strategic interagency partnership, the National IPR Center protects the public's health and safety and the U.S. economy.