ICE, Coast Guard; CBP seize 2,325 pounds of cocaine in Puerto Rico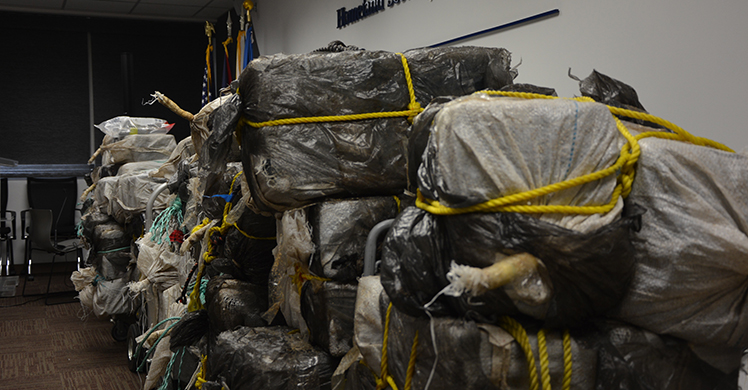 SAN JUAN, Puerto Rico – U.S. Immigration and Customs Enforcement's (ICE) Homeland Security Investigations (HSI), working jointly with the Caribbean Corridor Strike Force (CCSF) partners, seized 2,325 pounds of cocaine Oct. 13, from a go-fast vessel near Las Paulinas Beach in the municipality of Luquillo. The cocaine has an estimated street value of $29.6 million.
"HSI is committed to working with our federal, state and local counterparts to stop the movement of contraband in the Caribbean," said Iván J. Arvelo, special agent in charge of HSI San Juan. "Those involved in drug trafficking should know that the Caribbean is no longer an option to transship narcotics into the United States."
On Oct. 13, ICE's Border Enforcement Security Task Force (BEST) agents, along with CCSF partners responded to Las Paulinas Beach to investigate the landing of an abandoned go-fast vessel with multiple bales of what appeared to be contraband. A field test yielded positive results to cocaine. In collaboration with the Coast Guard and U.S. Customs and Border Protection (CBP) officers they recovered 48 bales of cocaine weighing 1057 kilograms with an approximate street value of more than $29 million. HSI Evidence Recovery Team (ERT) responded and assisted BEST and CCSF officers in the evidence collection.
The HSI investigation is ongoing.
The CCSF is an initiative of the U.S. Attorney's Office created to disrupt and dismantle major drug trafficking organizations operating in the Caribbean. It is part of the Organized Crime Drug Enforcement Task Force (OCDETF) that investigates South American-based drug trafficking organizations responsible for the movement of multi-kilogram quantities of narcotics using the Caribbean as a transshipment point for further distribution to the United States. The initiative is composed of HSI, the FBI, the Drug Enforcement Administration (DEA), the Coast Guard, the U.S. Attorney's Office for the District of Puerto Rico and Puerto Rico Police Department's (PRPD) Joint Forces for Rapid Action.
BEST special agents and task force agents investigate a wide range of criminal activity with a nexus to our land and sea borders, to include drug trafficking, arms trafficking, human trafficking and smuggling, gangs, money laundering and bulk cash smuggling, child exploitation, maritime smuggling, illicit tunnels and commercial fraud. BESTs are located along the northern and southwest land borders, major seaports, and international airports from Hawaii to Puerto Rico. These BESTs comprise approximately 1,000 members representing more than 100 federal, state, local, tribal and international law enforcement agencies that have jointly committed to investigate transnational criminal activity and enhancing border security. The San Juan BEST incorporates law enforcement and intelligence resources from HSI, CBP, PRPD, Coast Guard, Bureau of Alcohol, Tobacco, Firearms and Explosives, San Juan Police Department, Puerto Rico Ports Authority and Puerto Rico's Department of Treasury. These resources focus their investigative, interdiction and intelligence assets towards the identification, prioritization and investigation of emerging or existing threats related to our borders.