ICE, Department of State kick off international anti-gang conference
Law enforcement from throughout Mexico, Central America to participate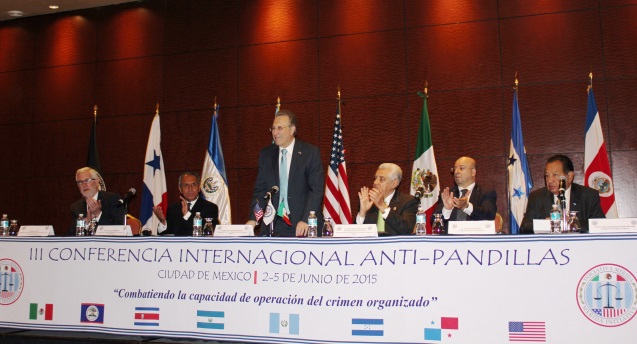 MEXICO CITY — U.S. Ambassador to Mexico E. Anthony Wayne welcomed more than 400 law enforcement officials from throughout Mexico and Central America to the third annual anti-gang conference in Mexico City, Mexico, Tuesday.
The conference, being hosted by U.S. Immigration and Customs Enforcement's (ICE) Homeland Security Investigations (HSI) Attaché Office in Mexico City and the Department of State's Bureau of International Narcotics and Law Enforcement Affairs, runs from June 2 through June 5.
This year's participants include federal and state prosecutors, investigators, prison officials and military personnel from throughout Mexico, Guatemala, El Salvador and Honduras. The training, led by instructors from the United States, Mexico, El Salvador, Guatemala and Honduras, is designed to enhance the ability of law enforcement personnel to respond to and identify potential threats posed by gang members and their associates who operate throughout the region.
The four-day training will support multi-lateral relations and intelligence-sharing to combat the continued threat of gang violence. Funded through the Merida Initiative, more than 700 law enforcement officials have been trained since 2013. Additionally, Mexican officials who have participated in the training have arrested more than 200 gang members in Mexico alone.
"Investigations and shared intelligence are our best weapons in fighting crime," said Ambassador Wayne. "As the gangs and TCOs recognize no borders, neither should our ability and willingness to share gang-related investigative leads. Together, we are building our own network to defeat transnational crime."
"When it comes to attacking gang violence, we must continue to operate as one without borders or boundaries," said ICE Director Sarah R. Saldaña. "While we represent different governments and agencies, we share the same goal – to put gangs and their associates out of business."
ICE is one of the leading federal agencies in the United States that dedicates substantial resources to combatting gang members and their associates. ICE's unique authority to detain and remove gang members who are foreign nationals allows the agency to work jointly with law enforcement agencies throughout Latin America to target the leadership of these groups.
Since the launch of Operation Community Shield in 2005, HSI special agents working in conjunction with federal, state and local law enforcement agencies have arrested more than 36,000 street gang members and associates linked to more than 2,600 different gangs operating in the United States. Many of the gang members arrested have violent criminal histories. More than 490 of those arrested were gang leaders, and more than 4,700 were MS-13 gang members or associates. Through this initiative, HSI has also seized more than 6,600 firearms nationally.
Through its International Operations, ICE has 67 operational attaché offices in 48 countries around the world. HSI special agents work closely with foreign law enforcement agencies. Additionally, ICE brings personnel from host countries to the United States to train at the Department of Homeland Security Federal Law Enforcement Training Center in Glynco, Georgia.