ICE, Dominican Republic sign memorandum of cooperation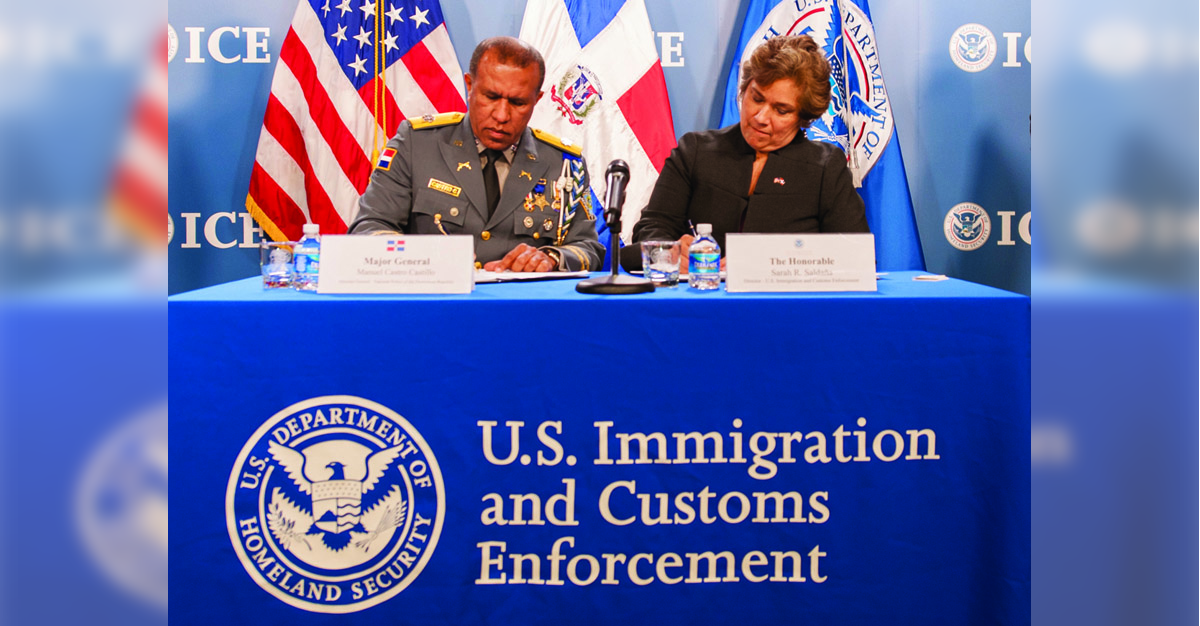 WASHINGTON — U.S. Immigration and Customs Enforcement (ICE) and the National Police of the Dominican Republic signed a memorandum of cooperation in Washington, D.C., Wednesday to enhance their ability to share records containing the immigration and criminal histories of Dominican nationals being repatriated from the United States.
ICE Director Sarah Saldaña and Manuel Castro Castillo, major general of the National Police of the Dominican Republic, signed the Criminal History Information Sharing (CHIS) memorandum at ICE's headquarters Wednesday. Deputy Assistant Secretary Luis E. Arreaga of the U.S. Department of State's Bureau of International Narcotics and Law Enforcement Affairs also attended the ceremony.
"This memorandum enhances the bilateral relationship between our two nations and demonstrates our commitment to community safety in the U.S. and abroad," said Saldaña. "When it comes to information sharing that impacts national security and public safety, there cannot be any international barriers."
The CHIS initiative is managed by ICE's Enforcement and Removal Operations (ERO). Through the initiative, ERO provides its partners with criminal conviction information on foreign nationals being removed from the United States, and it receives information about foreign criminal convictions related to those individuals. These records assist ERO in the identification and classification of individuals within the agency's criminal removal priorities and in support of national security.
ICE has similar agreements with Mexico, Honduras, Guatemala and El Salvador.
ERO is responsible for coordinating the removal of criminals, foreign fugitives and others ordered deported. Since Oct. 1, 2009, ERO assistant attachés for repatriation have assisted with the removal of 720 foreign fugitives from the United States who were being sought in their native countries for serious crimes, including kidnapping, rape and murder. Last year alone, ERO removed 315,943 individuals from the United States, 98% of which met one or more of ICE's immigration enforcement priorities.
Through its International Operations, ICE's Homeland Security Investigations (HSI) has 65 operational attaché offices in 46 countries around the world. HSI special agents work closely with foreign law enforcement agencies through a robust network of specialized, vetted units known as Transnational Criminal Investigative Units. Additionally, HSI brings personnel from host countries to the United States to train at the Department of Homeland Security Federal Law Enforcement Training Center in Glynco, Georgia. Both HSI and ERO personnel work on issues of mutual interest with host governments.