ICE El Paso removes Mexican fugitive wanted for 2009 aggravated kidnapping
Ciudad Juarez man died after being shot 4 times by kidnappers who demanded $700 ransom
EL PASO, Texas — A 27-year-old Mexican man wanted for allegedly kidnapping a man in Ciudad Juarez, Mexico, six years ago was removed Monday to Mexico by agents with U.S. Immigration and Customs Enforcement's (ICE) Enforcement and Removal Operations (ERO).
Cesar Vega-Muñoz was turned over Sept. 14 to Mexican officials at the top of the Stanton International Bridge Port of Entry.
Vega-Muñoz, a gang member, is one of seven men who are charged with the aggravated kidnapping of Natividad Torres Leyva, who was kidnapped about 6:30 a.m. Sept. 15, 2009. A group of men kidnapped him at gunpoint in front of his house in Ciudad Juarez. The men asked him to get into their vehicle, and when he refused, one of the men pointed a gun at Torres Leyva's wife.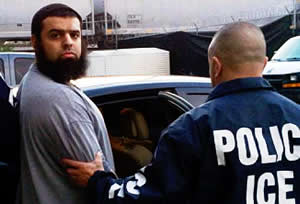 Since U.S. Immigration and Customs Enforcement (ICE) was established in March 2003, the agency has removed hundreds of thousands of aliens, some of whom fall under the category of high profile removals.
He eventually got into the vehicle with the men, who held him against his will overnight. During the time the men held Torres Leyva captive, Vega-Muñoz allegedly was the one who negotiated the ransom over the telephone with the family. He initially asked for about $47,000 dollars, but finally settled for $700, a television and a 2008 Toyota. The men shot Torres Leyva four times the afternoon of Sept. 15, 2009, and released him the following morning. He died Oct. 21, 2009, at a Ciudad Juarez hospital from complications of the gunshot wounds.
Since Oct. 1, 2009, ERO has removed more than 1,150 foreign fugitives from the United States who were sought in their native countries for serious crimes, including kidnapping, rape and murder. ERO works with the ICE Homeland Security Investigations (HSI) Office of International Operations, foreign consular offices in the United States, and Interpol to identify foreign fugitives illegally present in the United States. Members of the public who have information about foreign fugitives are urged to contact ICE by calling the toll-free ICE tip line at 1 (866) 347-2423, or internationally at 001-1802-872-6199. They can also submit a tip online by completing ICE's online tip form.
ERO coordinates the removal of criminals, foreign fugitives and others ordered deported. Last year alone, ERO removed 315,943 individuals from the United States. ICE is focused on smart and effective immigration enforcement that prioritizes its resources based on those who pose the biggest threat to national security, border security and public safety. ICE's civil enforcement efforts are based on priorities set by the Secretary of Homeland Security in November 2014.