ICE Homeland Security Investigations seeking the public's help in identifying victims of child exploitation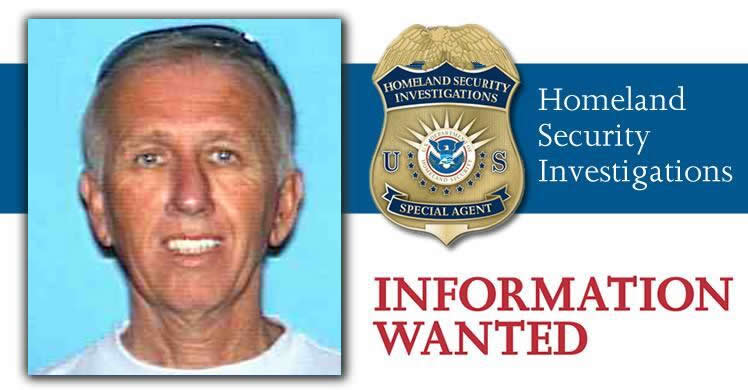 SAN DIEGO – Federal agents with U.S. Immigration and Customs Enforcement's (ICE) Homeland Security Investigations (HSI) are appealing to the public for assistance in identifying potential victims of convicted child predator Tay Christopher Cooper, 67, of Carlsbad CA. Cooper is a retired high school teacher from the Vista school district.
In September of 2019, HSI agents received information of a potential child predator victim who accused Cooper of sexual abuse. Since receiving this information, HSI is appealing to the public for assistance in identifying additional victims.
Cooper was previously arrested by HSI agents in Carlsbad April 5, 2018. On July 12, 2018, he pleaded guilty to one count of possession of child pornography in San Diego district court, and on December 14, 2018, Cooper was sentenced to twelve months and one-day in federal prison by Honorable Judge Dana Sabraw. In addition to the sentencing, Cooper was placed on supervised release for seven years, and ordered to pay $5,000 in restitution. The court's order stipulated the money was to be given to the four victims identified in the images and videos found in Cooper's child pornography collection.
The investigation into Cooper's suspected sexual abuse of minors is ongoing.
"These cases serve to remind us of the vast underground world of child pornography where criminals like Cooper lurk. Too often we find that the more we scratch, the deeper the layers of abuse that these predators have inflicted." said Nick Annan, special agent in charge of HSI San Diego. "Internet crimes against children are a priority for HSI, and public tips are key to uncovering the layers, locating victims and bringing predators to justice for these heinous crimes."
Anyone who may have had previous contact with Cooper or, has information that may be relevant to the investigation, is asked to call HSI San Diego at 760-901-1004.
HSI encourages the public to report suspected child predators and any suspicious activity through its toll-free Tip Line at 1-866-DHS-2-ICE, which is staffed around the clock by investigators. From outside of the U.S. and Canada, callers should dial 802-872-6199. Hearing impaired users can call TTY 802-872-6196.
Suspected child sexual exploitation or missing children may also be reported to the National Center for Missing & Exploited Children, an Operation Predator partner, via its toll-free 24-hour hotline, 1-800-THE-LOST or https://report.cybertip.org/.
For additional information about wanted suspected child predators, download HSI's Operation Predator smartphone app or visit the online suspect alerts page. HSI is a founding member of the Virtual Global Taskforce, an international alliance of law enforcement agencies and private industry sector partners working together to prevent and deter online child sexual abuse.