ICE honored by NCMEC with Heroes' Award for fighting child exploitation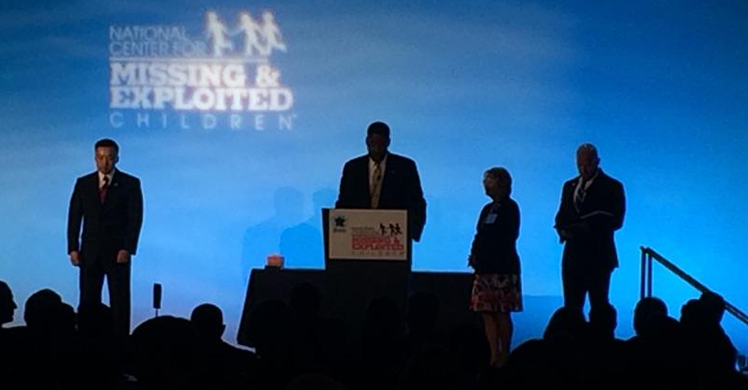 WASHINGTON — U.S. Immigration and Customs Enforcement's (ICE) Homeland Security Investigations (HSI) Seoul, in the Republic of Korea, was recognized today at the 2015 National Center for Missing and Exploited Children's (NCMEC) annual awards ceremony. The office received the Heroes' Award for its extraordinary efforts in combating child exploitation, including its role in criminalizing possession of child pornography in South Korea. The team of awardees comprised Regional Attaché Taekuk Cho, Deputy Attaché Stanley Seto, Assistant Attaché Daniel Kenny and Foreign Service National Investigator Yongseok Kim.
HSI Seoul began engaging Korean law enforcement authorities in December 2006 to make the possession of child pornography a felony in Korea. By June 2013, the National Assembly of Korea passed such a bill. Around the same time, HSI Seoul contacted NCMEC to begin receiving investigative leads with a nexus to South Korea.
The resulting partnership between HSI Seoul, the Korean National Police Agency and the Seoul Metropolitan Police Academy (SMPA) is the first partnership between Korean and U.S. law enforcement dedicated to investigating the exploitation of children. The partnership, formalized Oct. 30, focuses on an open fight against child exploitation in which all agencies agree to share information, tools, expertise, access to suspects and seized evidence.
"With 65 offices in 46 countries, HSI combines efforts with local law enforcement agencies around the world to hunt down criminals more effectively. To see our attaché in Seoul and his staff succeed on such a scale proves how effective these partnerships can be," said Peter Edge, HSI's executive associate director.
Between Jan. 1 and Oct. 30, 2014, SMPA arrested 117 citizens and foreign residents of South Korea for violations of child exploitation laws. These arrests were made largely due to HSI Seoul's role in identifying suspects using U.S.-based social media platforms and sharing electronic forensic tools with the SMPA.
"The shift in South Korea's national policy, the high number of arrests, and the new unit within the SMPA devoted to investigating NCMEC leads sends a clear message to those who would victimize children that their actions will not be tolerated," Edge continued.
News of the arrests raised national awareness about the high percentage of juveniles in South Korea sharing explicit photos and videos with each other via social media platforms. By raising awareness about the dangers of this behavior to juveniles and to their parents, an important message was spread to key populations and will hopefully discourage future juveniles from this risky behavior.
HSI encourages the public to report suspected child predators and any suspicious activity through its toll-free Tip Line at 1-866-DHS-2-ICE or by completing its online tip form. Both are staffed around the clock by investigators. From outside the U.S. and Canada, callers should dial 802-872-6199. Hearing impaired users can call TTY 802-872-6196.
Suspected child sexual exploitation or missing children may be reported to the National Center for Missing & Exploited Children, an Operation Predator partner, via its toll-free 24-hour hotline, 1-800-THE-LOST.
For additional information about wanted suspected child predators, download HSI's Operation Predator smartphone app or visit the online suspect alerts page.