ICE Houston arrests 3-time-deported Mexican man wanted for homicide in California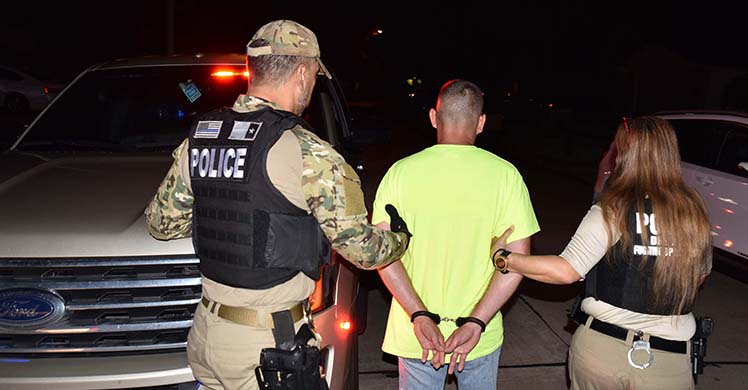 HOUSTON — Deportation officers with U.S. Immigration and Customs Enforcement (ICE) on Wednesday arrested a three-time deported Mexican man who is wanted on an outstanding warrant for homicide in Anaheim, California.
This investigation was conducted by ICE Enforcement and Removal Operations (ERO) in Houston, Texas; Anaheim Police Department (APD); and Orange County (California) District Attorney's (OCDA) office.
Leopoldo Serrano Vargas – aka Leonel Serrano Vargas and Ricardo Hernandez – an illegal alien from Mexico of uncertain age (reported as both 44 and 46), was arrested Sept. 11 at his residence in Northeast Houston for illegally re-entering the United States after having been deported, which is a felony.
Serrano Vargas is wanted in California for allegedly murdering Luis Garcia Bucio in October 2000.
In December 2006, Serrano Vargas illegally entered the U.S. three times in a span of eight days; he was removed to Mexico on Dec. 12, Dec. 14 and Dec. 18. In 2006, Serrano Vargas again illegally entered the U.S. and has unlawfully remained in the country since then.
"For almost two decades this criminal alien fugitive has gone to tremendous lengths to avoid detection by law enforcement authorities for his alleged crimes in California," said Patrick Contreras, field office director for ICE Houston. "Our ICE Fugitive Operations team tracked down and arrested Serrano Vargas, removing a potentially dangerous criminal alien from our community and ensuring that he will face prosecution for his alleged crimes."
APD detectives contacted ICE officials earlier this year after receiving a tip from OCDA that a suspect from a 2000 homicide was possibly living in the Houston area under an assumed name. APD and ERO Houston further investigated, which led to ICE locating and arresting Serrano Vargas. Following this arrest, OCDA's Science and Technology Unit assisted in confirming Serrano Vargas' identity through the use of Rapid DNA technology.
Serrano Vargas remains in ICE custody in Texas pending his extradition to California to face state criminal charges for homicide. ICE will seek to take custody of Serrano Vargas for his immigration violations following disposition of his criminal proceedings.