ICE HSI Nairobi TCIU executes successful search and seizure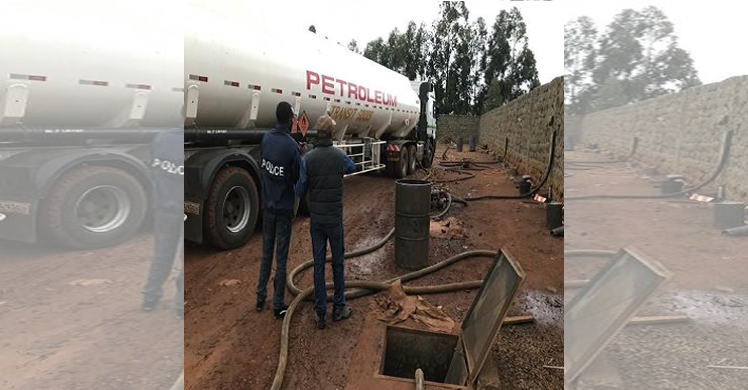 On March, 19, 2018, after months of investigation, surveillance and operational activity, the U.S. Immigration and Customs Enforcement's (ICE) Homeland Security Investigations (HSI) Nairobi Transnational Criminal Investigative Unit (TCIU) executed a Kenyan search warrant at a petroleum export yard pursuant to various violations of Kenyan law.
The enforcement action was the culmination of an investigation of an illegal tax and customs diversion scheme involving the diversion of petroleum tankers, prior to exiting Kenya to Uganda, and other neighboring countries.
The HSI Nairobi TCIU identified the possibility that Kenyan tankers were filling up with petroleum for export to other east African countries. The tankers would then offload half of the petroleum and sell it on the black market and defraud neighboring countries, all while evading taxes.
They would then fill up the tanker with kerosene which has the same weight and general density as petroleum and attach a customs seal to the tanker. The tankers carrying the mixture would be brought across the borders and offload the cargo as pure petroleum.
The total estimated weekly revenue loss for Kenya is $422,684. The total revenue loss calculated by Kenyan Revenue Authority over the three year operating period is $61 million.
This was an HSI Kenya TCIU-led investigation with assistance from the Kenyan Revenue Authority (Customs), and Kenya Bureau of Standards. The investigation continues as TCIU is working on a full financial profile for additional transnational money laundering charges.