ICE HSI, NFL partner to prevent fake sports-related merchandise from reaching fans ahead of big game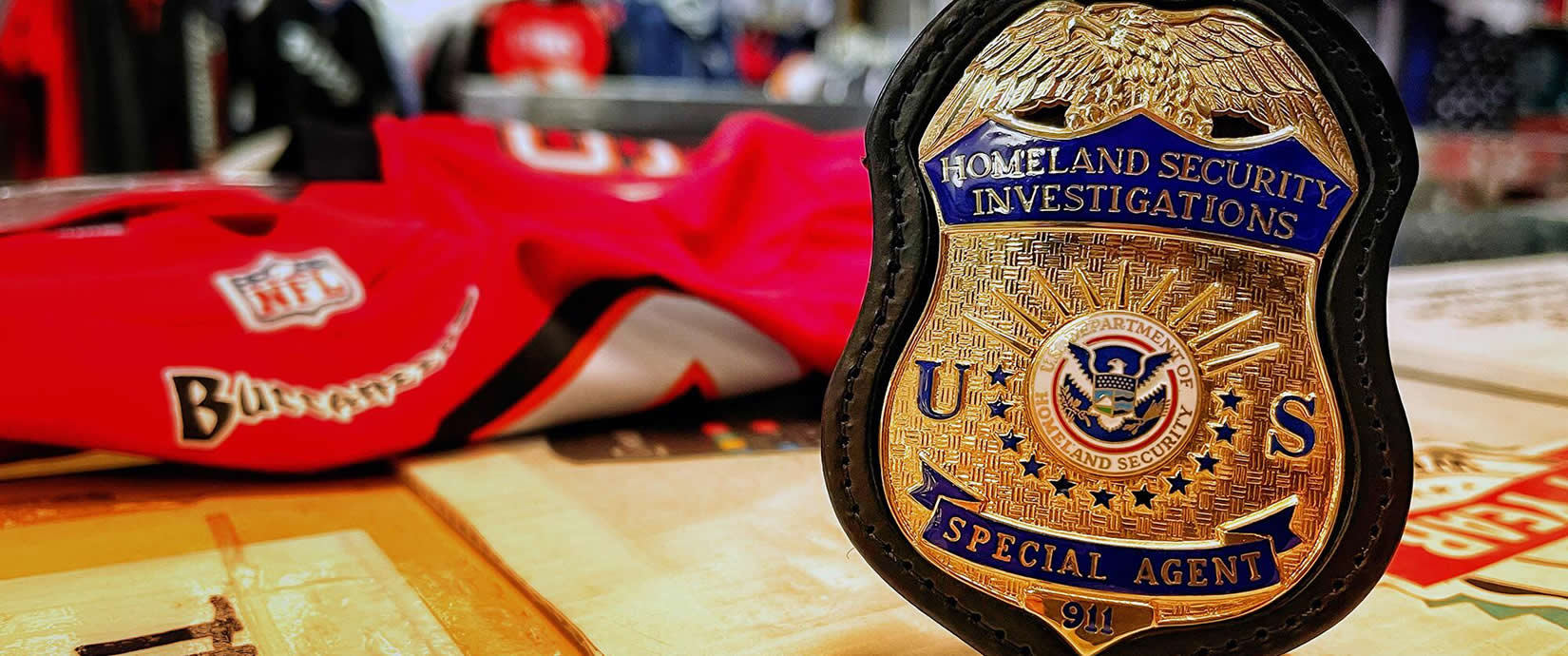 TAMPA, Fla. — Homeland Security Investigations (HSI) announced Wednesday, the seizure of more than 169,000 counterfeit sports-related items over the past year, worth an estimated $45 million. This announcement was made during a joint press conference in Tampa with the National Football League (NFL), U.S. Customs and Border Protection (CBP) and the Tampa Police Department (TPD).
"Operation Team Player" is an ongoing annual operation that begins after every Super Bowl and runs through the next one, targeting international shipments of counterfeit sports merchandise into the United States. This operation is run by the HSI-led National Intellectual Property Rights Coordination Center (IPR Center), in collaboration with CBP the NFL and other major sports leagues, to prevent the illegal importation and distribution of counterfeit sports merchandise.
"Make no mistake – intellectual property theft is not a victimless crime. American manufacturers and retailers – and those they employ – as well as consumers are the losers in this game," said Steve Francis, IPR Center director. "Fans who spend their hard-earned money to support the NFL and their favorite team can rest assured that HSI and its partners are working around the clock to ensure they are getting only genuine, high-quality officially licensed merchandise in return."
"Operation Team Player is the most successful and long-standing collaborative effort to protect U.S. consumers from the sale of counterfeit sports merchandise and tickets," said NFL Vice President of Legal Affairs, Dolores DiBella. "The NFL is grateful for the diligent and tireless work of agents and officers from the IPR Center, HSI, CBP, and Tampa area law enforcement who have undertaken anti-counterfeiting measures that protect fans not only at Super Bowl LV, but all season long."
"Intellectual property rights enforcement is essential to protecting the health and safety of American consumers; ensuring a level playing field for legitimate U.S. businesses; and tackling domestic and international criminal organizations. CBP personnel are on the frontlines of enforcing intellectual property rights—most visibly by seizing products that infringe on trademarks, copyrights, and patents," Vernon Foret, CBP Director of Field Operations for Miami and Tampa. "It has been an honor to work with the far-reaching network of law enforcement partners, public safety agencies and stakeholders represented here today."
"The Tampa Police Department has been working with HSI and CBP, along with multiple other agencies since September to combat counterfeiting of goods as we get closer to Super Bowl. We stand prepared and ready to prosecute anyone who commits the crime within the City of Tampa and protect our residents and tourist visiting the city of Tampa during throughout the weekend," said Chief Brian Dugan of the Tampa Police Department.
Special agents from HSI teamed with industry, CBP, Tampa police officers, and other partner agencies to identify flea markets, retail outlets and street vendors selling counterfeit goods during the week leading up to Super Bowl LV (55). They seized fake jerseys, hats, cell-phone accessories and thousands of other bogus items prepared to be sold to unsuspecting consumers.
Last year, HSI announced that enforcement actions related to "Operation Team Player" resulted in the record-breaking seizure of $123 million worth of counterfeit sports-merchandise. However, due the COVID-19 global pandemic, much of the illegal activity moved online, pushing HSI's efforts more towards commercial websites engaged in the illegal sale and distribution of counterfeit goods.
This year's "Operation Team Player" began at the conclusion of the 2020 Super Bowl. Throughout the year, the IPR Center led coordinated efforts with major sporting leagues to target contraband that impacts the economy, enables additional criminality and poses potential health and safety hazards to the public.
The IPR Center, working collaboratively with its public and private sector partners, stands at the forefront of the U.S. government's response to combatting global intellectual property theft and enforcing intellectual properties rights violations. The IPR Center was established to combat global intellectual property theft – and, accordingly, has a significant role policing the sale and distribution of counterfeit goods on websites, social media and the dark web. To report IP theft or to learn more about the IPR Center, visit IPRCenter.gov.
Homeland Security Investigations (HSI) is a directorate of U.S. Immigration and Customs Enforcement (ICE) and the principal investigative arm of the U.S. Department of Homeland Security, responsible for investigating transnational crime and threats, specifically those criminal organizations that exploit the global infrastructure through which international trade, travel, and finance move. HSI's workforce of over 10,400 employees consists of more than 7,100 Special Agents assigned to 220 cities throughout the United States, and 80 overseas locations in 53 countries. HSI's international presence represents DHS's largest investigative law enforcement presence abroad and one of the largest international footprints in U.S. law enforcement.