ICE HSI Orlando special agent supports Running 4 Heroes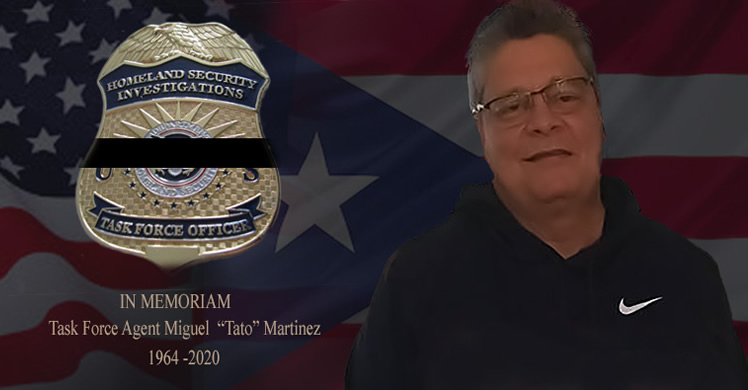 ORLANDO – The U.S. Immigration and Customs Enforcement (ICE) Homeland Security Investigations (HSI) Orlando office recently honored fallen HSI Task Force Agent (TFA) Miguel Martínez-Ortiz during Running 4 Heroes. Martínez-Ortiz, a member of the Puerto Rico Police Department was a TFA for HSI San Juan and a 28-year veteran of law enforcement. He passed away on April 24, 2020, after contracting COVID-19 while on duty.
HSI Orlando Special Agent A.J. Grooms met with the family of Martínez-Ortiz and joined as an emergency vehicle escort for the run.
This was the first time Running 4 Heroes, whose mission is to raise awareness for those fallen in the line of duty, was able to present the flag directly to the family of the fallen hero after the run.
While Grooms did not know Martínez-Ortiz personally, several agents within the HSI Tampa area of operations knew him very well. These agents remembered Martínez-Ortiz as a valued co-worker and a better friend.
Grooms understood the importance of having HSI representation at the event saying "That's what family does. He was a brother I just never met."
"Running 4 Heroes started with a kid, an appreciation for our first responders, and a mission to raise awareness and funds for those fallen in the line of duty," reads a statement on the group's website at running4heroes.org. "Zechariah Cartledge was born with the gift of running. He was raised with an appreciation for first responders and all they do for the community. As he grew older, Zechariah decided to help the families of our fallen first responders in a meaningful way. Encouraged by the mission and vision of the Tunnel to Towers Foundation, Zechariah began his journey raising funds for those families by running."
Cartledge runs a mile for every first responder killed in the line of duty. During the run he carries a thin blue or red line flag that he donates to the family of the fallen hero. In addition to the runs, Running 4 Heroes is a 501(c)(3) organization which administers a grant for injured first responders to provide financial assistance needed to alleviate part of the worry and pain caused by injury.
Normally, Cartledge encourages first responders and members of the community to join him during his run. However, due to social distancing recommendations associated with COVID-19, Running 4 Heroes requested that members of the community support remotely and invited first responders to join the emergency vehicle escort.