ICE HSI seizes $3 million worth of counterfeit items at D.C.-area flea market
11 people arrested for trafficking counterfeit goods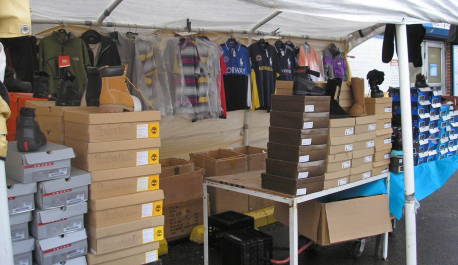 WASHINGTON — Nearly $3 million worth of counterfeit goods were seized at the D.C. Farmers Market on Friday by special agents with U.S. Immigration and Customs Enforcement's (ICE) Homeland Security Investigations (HSI) and the Washington, D.C., Metropolitan Police Department (MPD).
On Oct. 14, agents and officers seized 18,640 pieces of counterfeit merchandise from four vehicles and 16 locations operating within the D.C. Farmers Market on the corner of Fifth Street Northeast and Neal Place Northeast. They served seven search warrants and conducted 13 plain view searches at the flea market. The manufacturer's suggested retail price for seized counterfeit goods totaled nearly $3 million. Additionally, law enforcement officers seized two cargo vans and one 2011 Dodge Charger, allegedly used to facilitate the trafficking of counterfeit goods.
The MPD arrested 11 people on state criminal charges for trademark counterfeiting. Saidou Zongo, 41, was one of the 11 individuals arrested on criminal charges. He was residing in Silver Spring, Md., and has an outstanding INTERPOL notice from the Burkina Faso government for misappropriated funds.
"The trade in counterfeit goods robs Americans of jobs and costs legitimate businesses billions of dollars in revenue. This crime is often tied to other types of criminal activities in our area," said John P. Torres, special agent in charge of ICE HSI in Washington, D.C. "ICE HSI investigations focus on the traffickers and criminal organizations behind this illicit activity."
Agents seized counterfeit items, including: purses, wallets, perfume, watches, hats, shoes, shirts, jackets, sweatshirts, pants, music and movies.
The counterfeit brands included, but were not limited to, the following trademarks: Nike, Timberland, Prada, Gucci, New Balance, Reebok, The North Face, True Religion, Louis Vuitton, Polo Ralph Lauren, Ugg, Lacoste, Coogi, Affliction, Lifted Research Group (LRG), Akademiks, Jimmy Choo, Coach, Hugo Boss, Helly Hansen, Burberry, Chanel, Armani, Silver 985, City Life, Valentino, Spyder, Greg Norman, Tory Birch, Dooney and Bourke, Fendi, Juicy Couture, Kate Spade, Versace, Marc Jacobs, Lacoste, G Star Raw, Ed Hardy, Calvin Klein, Rock N Republic, Black Label, Evisu, NFL, NBA, MLB, music members of the Recording Industry Association of America (RIAA), and movie members of the Motion Picture Association of America (MPAA).
The flea market was previously identified as openly selling counterfeit items. ICE HSI agents had conducted surveillance and made undercover purchases at the site. Items purchased through the undercover operations were determined to be counterfeit by industry representatives.
According to the special agents who investigate these cases, in recent years, counterfeiting, piracy and other intellectual property rights (IPR) violations have grown in magnitude and complexity in recent years. These crimes are a triple threat to the United States because they rob Americans of jobs, divert legitimate revenue from responsible industries to the pockets of organized crime, and create health and safety risks for the American consumers. This encourages the cheap production of everything from substandard goods to tainted pharmaceutical products.
The items seized in this investigation will be processed as evidence and eventually destroyed.
As the largest investigative arm of the Department of Homeland Security, ICE HSI plays a leading role in targeting criminal organizations responsible for producing, smuggling, and distributing counterfeit products.
ICE HSI manages the National Intellectual Property Rights (IPR) Coordination Center in Washington. The IPR Center is one of the U.S. government's key weapons in the fight against criminal counterfeiting and piracy. As a task force, the IPR Center uses the expertise of its 19 member agencies to share information, develop initiatives, coordinate enforcement actions, and conduct investigations related to IP theft. Through this strategic interagency partnership, the IPR Center protects the public's health and safety, the U.S. economy and the war fighters.
To report IP theft or to learn more about the IPR Center, visit www.IPRCenter.gov.
The public is encouraged to report information on counterfeiting and trademark violations at the IPR toll-free hotline: (866) IPR-2060.
ICE is a 21st century law enforcement agency with broad responsibilities for a number of key homeland security priorities. To report suspicious activity, call 1-866-347-2423 or complete the agency's tip form.