ICE removes former soldier, human rights violator to El Salvador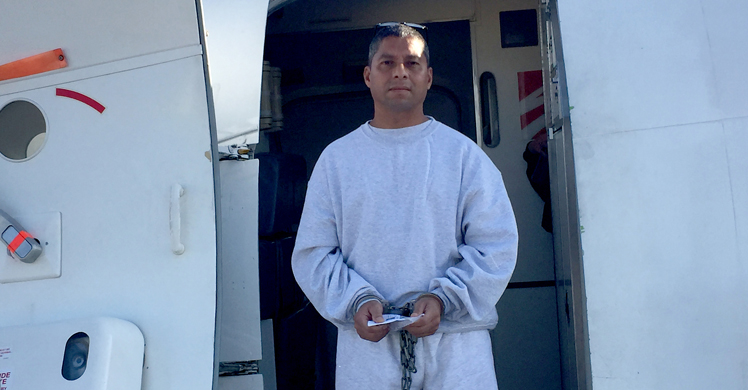 MIAMI – U.S. Immigration and Customs Enforcement's (ICE) Enforcement and Removal Operations (ERO) removed a former soldier today who was involved in torturing suspected guerillas during his service in the Salvadorian Army. ERO officers turned him over to immigration authorities in El Salvador.
According to court documents, Jose Francisco Grijalva Monroy, 49, a citizen of El Salvador, testified that as a soldier in the Salvadoran army, he tortured suspected guerrillas by hanging them by their hands from trees and slapping their chests with his bare hands. Monroy also admitted that he tied suspected guerrillas to the back of an army Jeep and dragged them on the road until their skin came off.
"As this removal makes clear, ICE is working diligently to ensure our nation does not become a safe haven for human rights violators," said Marc J. Moore, field office director for the Miami Field Office of ERO.
An immigration judge with the Executive Office for Immigration Review ordered Monroy removed to El Salvador on Feb. 28, 2011. His appeal was dismissed by the Board of Immigration Review on Aug. 16, 2012.
This case was litigated by ICE's Orlando Office of Chief Counsel with the support of the Human Rights Law Section and the Immigration Law and Practice Division and was supported by ICE's Human Rights Violators and War Crimes Center (HRVWCC). Established in 2009 to further ICE's efforts to identify, track and prosecute human rights abusers, the HRVWCC leverages the expertise of a select group of agents, lawyers, intelligence and research specialists, historians and analysts who direct the agency's broader enforcement efforts against these offenders.
Since 2003, ICE has arrested more than 380 individuals for human rights-related violations of the law under various criminal and/or immigration statutes. During that same period, ICE obtained deportation orders against and physically removed 785 known or suspected human rights violators from the United States. Additionally, ICE has facilitated the departure of an additional 108 such individuals from the United States.
Currently, HSI has more than 160 active investigations into suspected human rights violators and is pursuing more than 1,750 leads and removals cases involving suspected human rights violators from 95 different countries. Since 2003, the HRVWCC has issued more than 70,400 lookouts for individuals from more than 110 countries and stopped 213 human rights violators and war crimes suspects from entering the U.S.
Members of the public who have information about foreign nationals suspected of engaging in human rights abuses or war crimes are urged to call the ICE tip line at 1-866-DHS-2423 (1-866-347-2423). Callers may remain anonymous. To learn more about the assistance available to victims in these cases, the public should contact ICE's confidential victim-witness toll-free number at 1-866-872-4973.