ICE removes MS-13 gang member wanted in El Salvador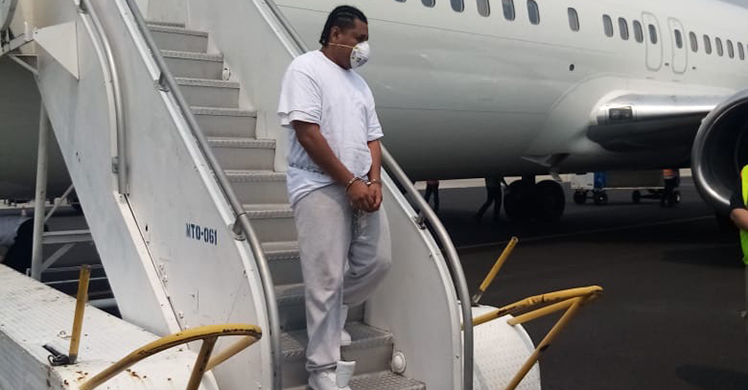 WASHINGTON – U.S. Immigration and Customs Enforcement's (ICE) Enforcement and Removal Operations (ERO) removed a Salvadoran national Friday, May 8, convicted in his home country on charges of illegal or irresponsible possession, carrying, or use of a firearm and wanted on charges related to gang participation. Celio Alexander Serrano-Trejo, 34, an MS-13 gang member, was removed from the United States via an ICE Air Operations charter flight and transferred into the custody of Salvadoran law enforcement authorities. Serrano was the subject of an Interpol Red Notice and wanted in his home country for his participation in Mara Salvatrucha (MS-13).
"Serrano was wanted for his gang activity in his home country and attempted to flout justice by coming to the United States illegally. Thanks to the work of our 287(g) partners in Prince William County, we were able to take a dangerous gang member off the streets," said Lyle Boelens, acting field office director for ERO Washington, D.C. "ICE is committed to removing public safety threats like Serrano from our communities ."
Serrano illegally entered the United States at an unknown place, on an unknown date. According to Salvadoran law enforcement authorities, in October 2015, the Magistrates' Court in San Vicente, El Salvador convicted Serrano in absentia of illegal or irresponsible possession, carrying, or use of a firearm and sentenced him to three years' incarceration. In January of 2018, the General District of Immigration and Alien Affairs in Sal Salvador, El Salvador issued a criminal arrest warrant for Serrano for offenses related to his association with MS-13, specifically, acts of criminal organization and unlawful acts of terrorism. In January 2019, Interpol issued a Red Notice for Serrano.
On Nov. 10, 2019, officers with the Prince William County Police Department arrested Serrano on local charges. On Nov. 11, a designated immigration officer with the 287(g) Program at the Prince William-Manassas Regional Adult Detention Center in Manassas, Virginia, trained to identify and process removable aliens with criminal charges, served Serrano a warrant of arrest and an immigration detainer. Serrano was issued a notice to appear in immigration court and on April 8, 2020, an immigration judge in Arlington, Virginia ordered Serrano removed to El Salvador. The ERO El Salvador Office and its Security Alliance for Fugitive Enforcement (SAFE) taskforce provided assistance to the field office.
Since Oct. 1, 2009, ERO has removed more than 3,700 foreign fugitives from the United States who were sought in their native countries for serious crimes, including kidnapping, rape and murder. In fiscal year 2019, ICE removed or returned 267,000 aliens. ERO arrested 143,000 aliens, more than 86 percent of whom had criminal convictions or pending criminal charges.
ICE is focused on removing public safety threats, such as convicted criminal aliens and gang members, as well as individuals who have violated our nation's immigration laws, including those who illegally re-entered the country after being removed and immigration fugitives ordered removed by federal immigration judges.