ICE removes MS-13 gang member wanted for involvement in 8 murders
Man is No. 6 on El Salvador's 100 Most Wanted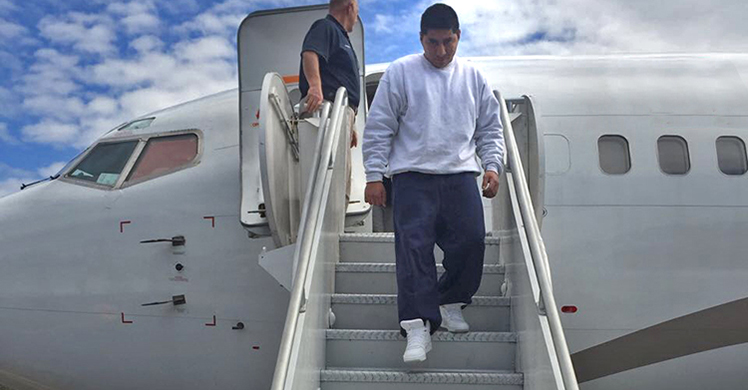 BOSTON — A 24-year-old MS-13 gang member wanted in El Salvador for his involvement in eight aggravated murders was removed Friday and turned over to Salvadoran authorities by U.S. Immigration and Customs Enforcement's (ICE) Enforcement Removal Operations (ERO).
According to Salvadoran authorities, Leandro Cruz aka Jose Arturo Gonzalez Martinez, was involved with the murders of eight, which prompted law enforcement officials there to list him as one El Salvador's 100 Most Wanted. Cruz, identified as No. 6, is listed as Martinez or "Gasper" on the Salvadoran Los 100 Mas Buscados list.
He was removed via ICE Air under escort by ERO deportation officers, before being handed over to Salvadoran authorities without incident.
"Transnational gangs like MS-13 are an insidious source of violence and many forms of other criminal activity in far too communities here and abroad," said C.M. Cronen, ERO Boston field office director. "Mr. Cruz will now face justice in his home country for the horrendous crimes for which he stands accused."
Cruz has previous convictions in Massachusetts for assault and battery. He was turned over to ICE Nov. 16, after serving a sentence in the Suffolk County House of Corrections, where ICE had an active detainer in place. On Nov. 30, an immigration judge ordered him removed from the U.S., paving the way for his repatriation to Salvadoran authorities to face the pending murder charges.
Cruz is the latest removal to El Salvador as part of ERO's Security Alliance for Fugitive Enforcement (SAFE) Initiative. The SAFE Initiative is geared toward the identification of foreign fugitives who are wanted abroad and removable under US immigration law. Those removed as part of the SAFE Initiative have been deemed ineligible to remain in the United States and were all wanted by the Policia Nacional Civil (PNC). To date, the ERO Office in El Salvador, through the SAFE Initiative, has removed and facilitated the PNC's ability to arrest more than 800 criminal fugitives to El Salvador.
SAFE aligns with ERO's public safety priorities and eliminates the need for formal extradition requests.
Since Oct. 1, 2009, ERO has removed more than 1,700 foreign fugitives from the United States who were sought in their native countries for serious crimes, including kidnapping, rape and murder. In fiscal year 2016, ICE conducted 240,255 removals nationwide. Ninety-two percent of individuals removed from the interior of the United States had previously been convicted of a criminal offense.