ICE removes Salvadoran MS-13 gang member wanted on murder, terrorism charges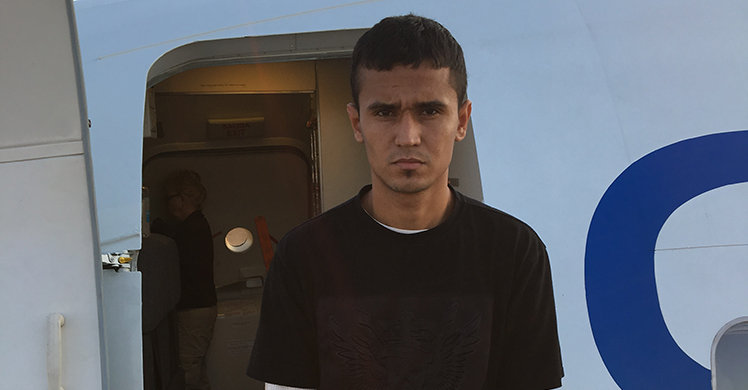 ATLANTA – U.S. Immigration and Customs Enforcement's (ICE) Enforcement and Removal Operations (ERO) removed an MS-13 gang member from the United States Friday who is wanted in his home country on felony charges of illicit involvement in a terrorist organization and aggravated homicide.
Juan Saravia-Salamanca, an unlawfully present Salvadoran national, was located and arrested by an ICE ERO Fugitive Operations Team outside his Raleigh, N.C., residence Dec. 12, 2017, after the government of El Salvador informed ICE's Homeland Security Investigations (HSI) National Gang Unit Nov. 21, 2017, that it had issued a warrant for Mr. Saravia-Salamanca's arrest.
He was subsequently ordered removed from the United States by a federal immigration judge April 18, after receiving appropriate legal process before the federal immigration courts.
Since Oct. 1, 2009, ERO has removed more than 1,789 foreign fugitives from the United States who were sought in their native countries for serious crimes, including kidnapping, rape and murder. ERO works with the ICE Homeland Security Investigations (HSI) Office of International Operations, foreign consular offices in the United States, and Interpol to identify foreign fugitives illegally present in the United States. Members of the public who have information about foreign fugitives are urged to contact ICE by calling the ICE tip line at 1 (866) 347-2423 or internationally at 001-1802-872-6199. They can also file a tip online by completing ICE's online tip form.
Thus far in FY18, ICE arrests comprise over 66 percent convicted criminals. Of the remaining individuals not convicted of a crime, approximately 60 percent of those persons came into ICE custody following their criminal arrest -- reflecting the agency's continued prioritization of its limited enforcement resources on aliens who pose the greatest threat to public safety.
ICE's strong interior reinforcement is demonstrated by a 25 percent increase in ICE removals stemming from an ICE arrest over the same time in FY2017, nearly offsetting a 20 percent drop in removals resulting from border apprehensions.