ICE-rescued ancient fossil on display at Carnegie Museum of Natural History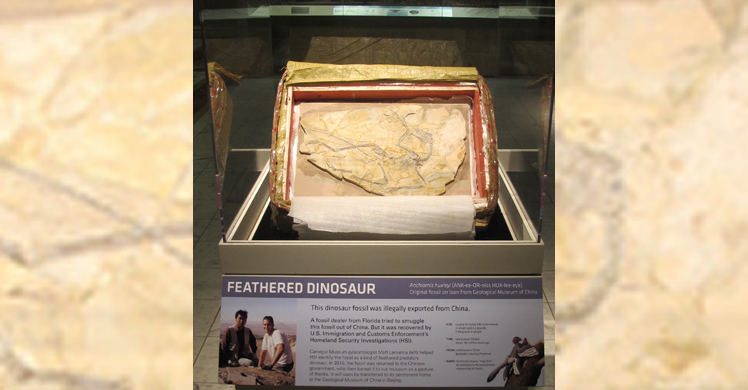 December 2015, U.S. Immigration and Customs Enforcement (ICE) returned an ancient feathered dinosaur fossil to the Chinese government. The fossil, along with other artifacts, were recovered in a joint effort by ICE's Homeland Security Investigations (HSI) offices in New York, Cleveland and Miami. A Florida man was arrested and convicted of engaging in a scheme to illegally smuggle dinosaur fossils from China, often describing them as replicas in order to hide the shipment's actual contents.
Carnegie Museum of Natural History paleontologist Matt Lamanna played a key role in HSI's investigation and ultimately identified the fossil as a kind of feathered predatory dinosaur. To highlight this case, the Chinese government loaned the fossil to the Carnegie Museum as a temporary part of their permanent dinosaur exhibit. After its stay at the Carnegie Museum in Pittsburgh, Pennsylvania, the fossil will be returned to the Geological Museum in Beijing, China.
"This display tells the story of how ICE and our partners righted a great wrong for the people of China," said ICE Deputy Director Ragsdale. "Rare and valuable fossils like these will always be targeted by criminals who seek to profit by plundering history, but ICE will continue to investigate these crimes and return these treasures to their lawful owners."
"This is an excellent example of the way our scientists put their expertise to practical use." said Dr. Eric Dorfman, Director of Carnegie Museum of Natural History. "It is very gratifying to know that our museum has been instrumental in the repatriation of this fossil."
Learn more about HSI's cultural property, art and antiquities investigations. Members of the public who have information about suspected stolen cultural property are urged to call the toll-free tip line at 1-866-DHS-2-ICE or to complete the online tip form.
Carnegie Museum of Natural History, one of the four Carnegie Museums of Pittsburgh is one of six natural history museums in the country. It maintains, preserves, and interprets a collection of 22 million objects and scientific specimens used to broaden understanding of evolution, conservation, and biodiversity. Visit www.carnegiemnh.org for more information.