ICE returns stolen Degas painting to the French government
ICE seizes stolen Degas painting a month before it was slated for sale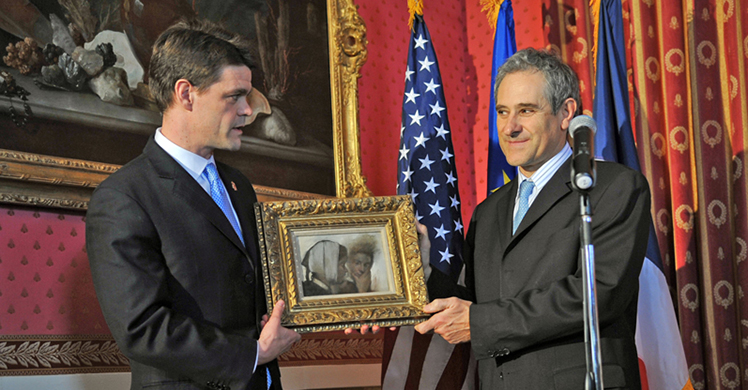 In a ceremony held at the French ambassador's residence in Washington, D.C., on January 21, 2011, Homeland Security Investigations (HSI) of U.S. Immigration and Customs Enforcement (ICE) returned to the French government a rare painting by master impressionist Edgar Degas that had been stolen and lost to the world for nearly 40 years.
ICE Director John Morton and the Acting French Ambassador to the United States Francois Rivasseau unveiled Blanchisseuses souffrant des dent, revealing to 80 some guests and media in attendance the recovered oil that depicts a laundress suffering from a toothache.
The famous painting dates back to 1870-1872 when art historians believe the renowned artist created it. Today, Sotheby's estimates the value of the painting to be worth somewhere between $350,000 and $450,000.
The masterpiece disappeared from public view when it was stolen in 1973 from the Malraux Museum in Le Havre, France, where it was on loan from the Louvre. It resurfaced in October 2010 when authorities from Interpol spotted the painting in a Sotheby's auction catalogue and tipped off HSI special agents. The painting was to be auctioned off on November 3, 2010.
HSI special agents from Special Agent in Charge Office in New York, working with Interpol and the French government, investigated and determined that the painting was, in fact, the stolen Degas painting. Further investigation led to proceedings to return the painting to its rightful owners - the people of France.
Rivasseau said "However exceptional this situation may be, it's not just a coincidence. It's a concrete example of the close cooperation that exists between the United States and France with respect to combating the trafficking of cultural property, and the key role played by Interpol in this area."
"From an investigative point of view, we're still trying to determine if any suspicious activity was involved in importing the painting into the United States, which will further assist our French counterparts in deciphering some of the mystery behind this 37-year-old theft," said HSI Special Agent Lennis Barrois, Jr., who helped investigate the case.
Morton said that HSI is "better equipped than ever before" to combat crimes of theft and trafficking of cultural artifacts. "I'm proud to stand here today to hand over one of those items, soon to be rewoven into the fabric of France's rich cultural heritage."
Investigating crimes involving cultural property, art and antiquities is part of the ICE mission and comes under the helm of the ICE National Intellectual Property Rights Coordination Center.
Specially trained HSI special agents who investigate the theft, smuggling and sales of national treasures, share their expertise and cooperatively work across borders to solve these crimes.
Some of the most memorable items HSI recovered and returned in 2010 include an Egyptian sarcophagus returned to Egypt, a silver pendant engraved with the image of Peter the Great returned to Russia, an 18th century manuscript depicting a town's history returned to Italy, fossils returned to the Peoples Republic of China and an assortment of valuable paintings and ancient artifacts retuned to a host of nations.
Learn more about ICE's role in Cultural Property, Art and Antiquities Investigations.