Illinois man faces state gun charges after authorities find cache of illegal weapons in storage unit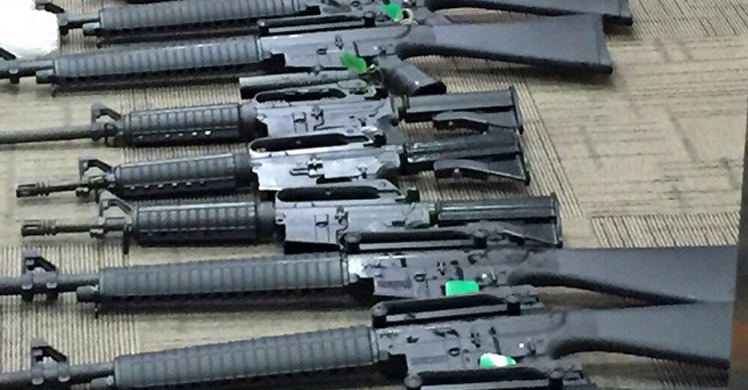 CHICAGO — An Illinois man faces state gun-related charges after authorities discovered a large cache of illegal weapons in a suburban storage unit Saturday, including fully automatic weapons and live hand grenades.
These charges resulted from an investigation by U.S. Immigration and Customs Enforcement's (ICE) Homeland Security Investigations (HSI), and the Elgin (Illinois) Police Department.
A state search warrant was executed Aug. 12 by the Elgin Police Department, HSI special agents and task force officers at a storage unit located at 665 Big Timber Road in Elgin. The search warrant was executed as a result of information received by HSI as part of an ongoing investigation.
Upon execution of the search warrant, a large cache of weapons, including fully automatic firearms and live hand grenades, were discovered inside the storage unit. The Kane County Sherriff's Bomb Squad was summoned to the scene to secure the grenades. Further investigation identified the renter of the storage unit as 31-year-old Juan Mexicano of Addison, Illinois.
Mexicano was taken into custody without incident. Kane County States Attorney's Office charged Mexicano with five counts of possessing weapons (machine guns), a Class 2 Felony. Mexicano appeared in Kane County Bond Court Tuesday where his bond was set at $1 million (10 percent to apply).
Significant investigative assistance was also provided by the following Illinois-based HSI task force partners: the police departments of Addison, Chicago, Hoffman Estates, New Lenox, Olympia Fields, Streamwood and Lombard; the sheriffs' offices of Kane County, DuPage County and Will County; and ICE's Enforcement and Removal Operations (ERO). Additional assistance was also provided by the Bureau of Alcohol, Tobacco, Firearms and Explosives (ATF).
"The investigative effort and teamwork displayed in this case is another example of the great partnerships we strive to build with our local and federal agencies," said Lieutenant Adam Schuessler of the Elgin Police Department's Special Investigations Division. "The amount of work invested by all involved culminated in extremely dangerous weapons being seized and prevented their possible use in our communities."
The public is reminded that an arrest is not evidence of guilt and that all defendants in a criminal case are presumed innocent unless and until proven guilty in a court of law.