IPR Center outreach efforts engaged more than 30,000 in 2 years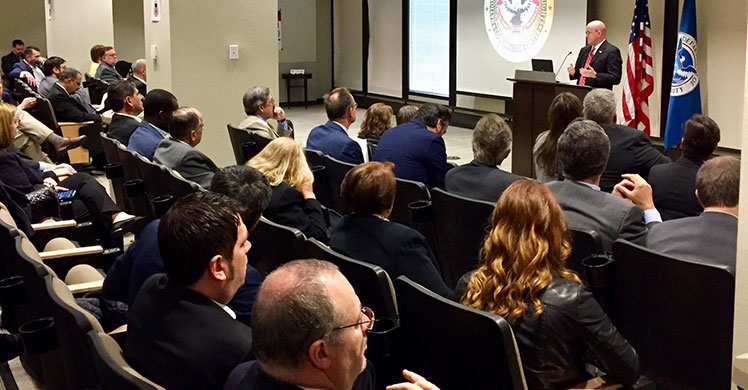 WASHINGTON – Reaching more than 30,000 stakeholders in the last two years, the U.S. Immigration and Customs Enforcement (ICE) Homeland Security Investigations (HSI) led National Intellectual Property Rights Coordination Center's (IPR Center) outreach program is a key pillar in the effort to combat intellectual property (IP) theft.
"We'll never seize or arrest our way out of intellectual property rights-related crimes," said John McNair, Outreach and Training Section Chief at the center. "We have to be proactive in our engagement by not only bringing stakeholders to us, but going to them to strengthen the existing partnerships and being open to new and innovative ways to engage."
IP and other trade fraud investigations are among the HSI's top investigative priorities. In addition to investigation and interdiction, outreach and training round out a three-tiered approach to addressing IP threats. The center's outreach and training efforts deliver a robust international and domestic training platform to a broad cross section of government, private sector and international stakeholders.
The IPR Center conducted 339 foreign and domestic intellectual property rights and commercial fraud training events in FY 2017, reaching 14,258 participants. Domestic training events included the IPR Center's Counterfeit Awareness, Mitigation, Identification, and Reporting Training. In FY 2018, the IPR Center conducted 308 foreign and domestic IPR and Commercial Fraud training events, reaching 16,478 participants.
"Education is the key to changing behavior. We've seen this play out in so many other areas," said McNair. "It starts with bringing the stakeholders engaged in this effort to the table to discuss the challenges and opportunities that exist. From there, we partner to take a cohesive message to the public around these issues."
The IPR Center stands at the forefront of the United States government's response to global Intellectual Property (IP) theft and enforcement of its international trade laws. The mission of the IPR Center is to ensure national security by protecting the public's health and safety, the U.S. economy, and our war fighters, and to stop predatory and illegal trade practices that threaten the global economy. To accomplish this goal, the IPR Center brings together 25 partner agencies, consisting of 20 key federal agencies, INTERPOL, Europol and the governments of Canada, Mexico and the United Kingdom in a task-force setting. The task force structure enables the IPR Center to effectively leverage the resources, skills, and authorities of each partner and provide a comprehensive response to IP theft. The IPR Center is led by an ICE-HSI Director with Deputy Directors from HSI, U.S. Customs and Border Protection (CBP) and the FBI.