Mexican murder suspect captured in Modesto deported by ICE to face charges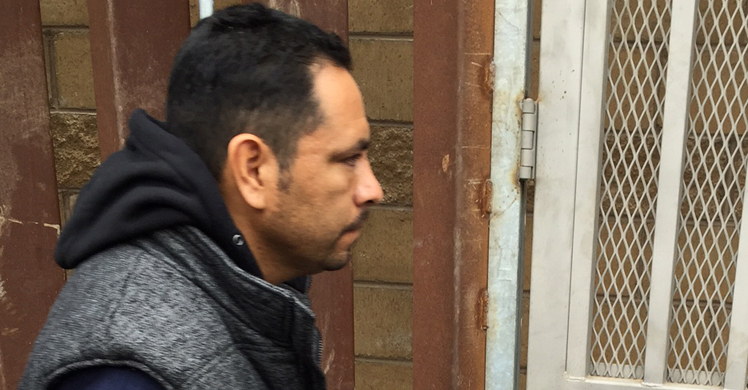 SACRAMENTO, Calif. – A Mexican national captured recently in Modesto, who is wanted for a fatal shooting in his native country more than a decade ago, was turned over to Mexican law enforcement officials by U.S. Immigration and Customs Enforcement (ICE) Wednesday at the San Ysidro border crossing south of San Diego.
Marco Antonio Rojas-Lobato, 35, was transferred by ICE Enforcement and Removal Operations (ERO) officers to the custody of representatives from the Mexican Attorney General's Office. An arrest warrant issued in August 2002 by a judge in Mexico City charges Rojas with murder.
According to the Mexican warrant, on May 19, 2002, Rojas allegedly shot a man at a dance in the Mexico City area after the victim began arguing with another man who was accosting his wife. The warrant alleges Rojas intervened in the dispute and he and the victim exchanged words. Mexican authorities say Rojas hurled a bottle of beer at the victim, then pulled out a gun and shot him once, killing him instantly.
Acting on information provided by Interpol, ERO officers and members of the U.S. Marshals Regional Fugitive Task Force tracked the murder suspect to a residence on Modesto's east side where he was taken into custody March 31 on administrative immigration violations. An immigration judge subsequently determined Rojas had no legal basis to remain in the U.S., paving the way for Wednesday's repatriation.
"This fugitive likely believed that, after all this time, he'd succeeded in eluding justice," said Michael Vaughn, assistant field office director for ERO Sacramento. "But he clearly didn't realize the level of ongoing international cooperation to locate and capture foreign criminal fugitives. As this case makes clear, justice may be delayed, but we're using every tool at our disposal to ensure it won't be denied."
The Commander of the U.S. Marshals-led Pacific Southwest Regional Fugitive Task Force applauded the efforts of all the participating agencies for their continued cooperation.
"The arrest of Marco Antonio Rojas-Lobato was a textbook example of the benefits of the international law enforcement community, the judicial system, and governments working together," said Chief Inspector Bert Tapia. "What you may not realize is the significance of the law enforcement partnerships that led to the successful conclusion of this case. Officers from ICE, the U.S. Marshals Service, Interpol, and Mexico's federal agents all worked relentlessly and cohesively to ensure this arrest would occur smoothly and without incident."
Since Oct. 1, 2009, ERO has removed more than 1,150 foreign fugitives from the United States who were sought in their native countries for serious crimes, including kidnapping, rape and murder. ERO works with the ICE Homeland Security Investigations (HSI) Office of International Operations, foreign consular offices in the United States, and Interpol to identify foreign fugitives illegally present in the United States.
Members of the public who have information about foreign fugitives are urged to contact ICE by calling the toll-free ICE tip line at 1 (866) 347-2423 or internationally at 001-1802-872-6199. They can also file a tip online by completing ICE's online tip form.
ERO coordinates the removal of criminals, foreign fugitives and others ordered deported. In fiscal year 2015, ERO removed 315,943 individuals from the United States. ICE is focused on smart and effective immigration enforcement that prioritizes its resources based on those who pose the biggest threat to national security, border security and public safety. ICE's civil enforcement efforts are based on priorities set by the Secretary of Homeland Security in November 2014.