Mexican siblings indicted in New Mexico for operating a counterfeit vehicle airbag business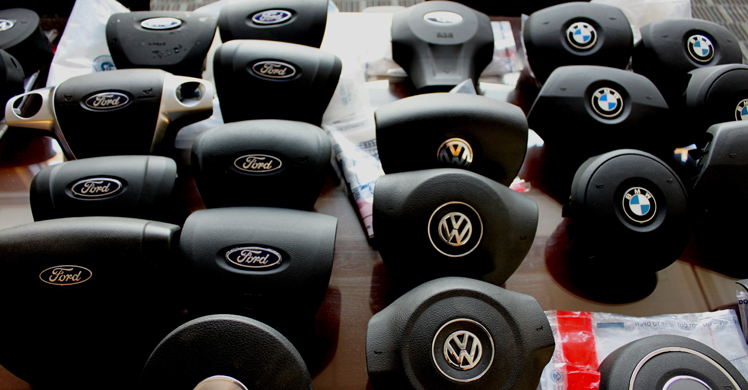 ALBUQUERQUE, N.M. – Two siblings, both illegal aliens from Mexico, made their initial appearances Thursday in federal court on a three-count indictment charging them with trafficking in counterfeit vehicle airbags.
U.S. Immigration and Customs Enforcement's (ICE) Homeland Security Investigations (HSI) special agents investigated this case.
Dina Gonzalez-Marquez, 23, and Emilio Gonzalez-Marquez, 21, were arrested Wednesday for allegedly operating a counterfeit airbag business out of their Albuquerque residence.
The indictment charges the siblings with conspiring to traffic in counterfeit goods and two counts of trafficking in counterfeit goods. According to the indictment, Dina Gonzalez-Marquez and Emilio Gonzalez-Marquez conspired to traffic in counterfeit goods from January 2015 to March 2017 by operating a business that sold counterfeit airbag modules and counterfeit airbag covers out of their residence.
They allegedly facilitated the conspiracy by listing and selling counterfeit airbag modules and airbag covers online, shipping the counterfeit goods to purchasers, and conducting in-person sales of the counterfeit goods. The indictment alleges that undercover HSI special agents purchased counterfeit goods from the defendants on two occasions. Specifically the indictment alleges that a special agent purchased a counterfeit airbag from the defendants in August 2016, and another special agent purchased a counterfeit airbag cover from them in March 1, 2017.
"This investigation is another example of HSI's commitment to safeguarding the American people and protecting the integrity of U.S. commerce," said Waldemar Rodriguez, special agent in charge of HSI El Paso. "Selling counterfeit life-saving devices, such as airbags and airbag components, is an act of reckless disregard for the safety and well-being of others. HSI's efforts and pursuit of these criminal enterprises will no doubt help save lives."
Dina Gonzalez-Marquez and Emilio Gonzalez-Marquez remain in federal custody pending arraignment and detention hearings, which are scheduled for May 5.
If convicted of the charges in the indictment, Dina Gonzalez-Marquez and Emilio Gonzalez-Marquez each face a statutory maximum penalty of 10 years in prison and a maximum fine of $2 million.
Charges in indictments are merely accusations, and all criminal defendants are presumed innocent unless proven guilty beyond a reasonable doubt.