Missouri business partners with ICE, joins 'IMAGE' program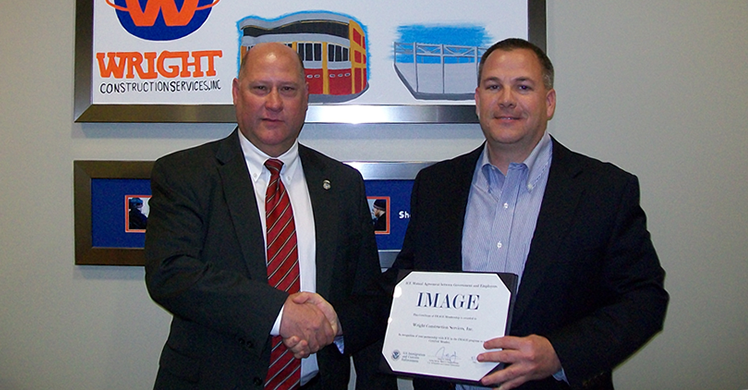 ST. LOUIS, Mo. — A suburban St. Louis business is the newest member of a nationwide program by U.S. Immigration and Customs Enforcement (ICE) to ensure a legal and more secure work force.
"IMAGE," standing for "ICE Mutual Agreement between Government and Employers," is a voluntary program that allows private industry to partner with ICE to reduce unauthorized employment and the use of fraudulent identity documents.
Thomas Wright and Daniel Dreckmann, owners of Wright Construction Services Inc., signed an agreement with ICE May 6 making their company a full member of the IMAGE program.
"By volunteering to become members of IMAGE, companies large and small can reduce unauthorized employment and the use of fraudulent identity documents," said Deputy Special Agent in Charge James Gibbons, of HSI Chicago, which includes Missouri. "Businesses that join IMAGE also increase the reputation of their brand and their company."
"Wright Construction Services, Inc. is excited to partner with U.S. Immigration and Customs Enforcement (ICE) employment compliance program in an effort to ensure qualified as well as eligible personnel are employed on all of our jobsites throughout the country," said co-owner and Chief Financial Officer, Daniel Dreckmann. "We strive to maintain a strong, knowledgeable workforce and welcome the tools offered by ICE to assist in our hiring procedures."
To qualify for IMAGE certification, Wright Construction Services performed the following requirements:
Conducted self-assessments of their hiring practices to uncover vulnerabilities that could be exploited by illegal aliens;
Enrolled in employment eligibility verification programs, such as E-Verify and the Social Security Number Verification Service;
Trained their staffs on IMAGE Best Practices and how to use the new screening tools; and
Underwent a Form I-9 audit conducted by ICE.
Founded in 2006 by Thomas Wright and Daniel Dreckmann, Wright Construction specializes in commercial construction throughout the Midwest and Southeast. Wright Construction joined forces with ICE as a means of protecting national security and to ensure integrity in the workforce. Our goal and hope is to demonstrate to various construction companies throughout the country that we are committed to hiring legitimate, competent employees. The guidelines and rules established through ICE offer a proactive approach to compliance on every level.
All IMAGE members must participate in the Department of Homeland Security's (DHS) E-Verify employment eligibility verification program. Through this program, employers can verify that newly hired employees are eligible to work in the United States. This Internet-based system is available throughout the nation and is free to employers. It provides an automated link to the Social Security Administration database and DHS immigration records.
Upon enrollment in and commitment to the IMAGE Best Employment Practices, program participants are deemed "IMAGE certified," a distinction DHS and ICE believe will become an industry standard. IMAGE also provides to all employers free training on the Form I-9, fraudulent document detection, and building a solid immigration compliance model.
Companies interested in more information on the IMAGE program can call the ICE office in Bloomington at (952) 853-2602 or visit www.ICE.gov/image.