Moving assault weapons into Mexico lands former cartel leader's son in prison following HSI Harlingen, ATF investigation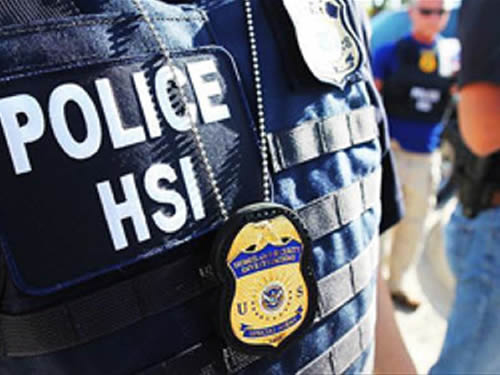 BROWNSVILLE, Texas — A former cartel leader's son was sentenced Thursday to federal prison following his conviction of smuggling goods from the United States. The investigation was conducted by Homeland Security Investigations (HSI) and the Bureau of Alcohol, Tobacco, Firearms and Explosives (ATF).
Osiel Cardenas-Salinas Jr., 31, from Brownsville, was sentenced March 23 by U.S. District Judge Fernando Rodriguez Jr. The judge sentenced Cardenas-Salinas to 100 months in federal prison to be immediately followed by three years of supervised release and ordered him to pay a $20,000 fine.
At the hearing, the court heard additional evidence that described Cardenas-Salinas's role as a supervisor or manager. In handing down the sentence, the court noted Cardenas-Salinas had two firearms related cases in his criminal history and continued to engage in additional criminal activity with weapons smuggling, repeatedly engaging in violations involving firearms. At the hearing, Cardenas-Salinas apologized to the court and asked for mercy.
Cardenas-Salinas pleaded guilty Aug. 2, 2022, to attempting to purchase 10 assault rifles to export into Mexico. Cardenas is the son of former head of the Gulf Cartel Osiel Cardenas-Guillen, who was convicted and previously sentenced to 25 years in federal prison.
"The sentencing of these individuals sends a stern message that those who purchase, transport and facilitate the smuggling of weapons will face the full extent of the law," said HSI San Antonio acting Special Agent in Charge Craig Larrabee. "The successful outcome of this case is a direct result of the steadfast efforts of federal agents to prevent firearms from falling into the hands of transitional criminal organizations that pose a threat to public safety in Mexico and the United States."
According to court documents, on April 22, 2021, Cardenas and others attempted to purchase five AK-47 type rifles and five AR-15 type rifles. The undercover operation took place in a Brownsville store parking lot. Cardenas had instructed another individual to cross into Mexico to pick up $15,000 for the weapons and to inform him when the weapons transaction was complete. At the time of his plea, Cardenas admitted he committed the crime while on supervised release for a previous felony.
Cardenas will remain in custody pending transfer to a U.S. Bureau of Prisons facility to be determined in the near future.
Assistant U.S. Attorney Elena Salinas for the Southern District of Texas, prosecuted the case.
HSI encourages you to report allegations of cross-border weapons trafficking by submitting tips at www.ice.gov/tips or by calling the HSI Tipline at 866-347-2423 from the U.S. and Canada, or 802-872-6199 from any country in the world.
HSI is the principal investigative arm of the U.S. Department of Homeland Security (DHS), responsible for investigating transnational crime and threats, specifically those criminal organizations that exploit the global infrastructure through which international trade, travel and finance move. HSI's workforce of more than 8,700 employees consists of more than 6,000 special agents assigned to 237 cities throughout the United States, and 93 overseas locations in 56 countries. HSI's international presence represents DHS's largest investigative law enforcement presence abroad and one of the largest international footprints in U.S. law enforcement.