New Mexico firearms dealer sentenced to 5 years for weapons trafficking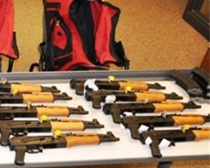 LAS CRUCES, N.M. – A New Mexico firearms dealer was sentenced to five years in federal prison Thursday for his role in straw purchasing nearly 200 firearms he knew were to be smuggled to Mexico. He will also be placed under supervised release for three years after he completes his prison term. The sentence resulted from an investigation by U.S. Immigration and Customs Enforcement's (ICE) Homeland Security Investigations (HSI).
Ian Garland, 52, a federally licensed firearms dealer did business as Chaparral Guns in Chaparral, N.M. That's where his co-conspirators purchased weapons which were later smuggled to Mexico.
The firearms he sold to his co-conspirators were primarily AK-47 pistols and 9mm pistols. Garland admitted that he agreed to allow multiple purported purchasers to falsely complete Bureau of Alcohol, Tobacco, Firearms and Explosives (ATF) Form 4473. On this form, they falsely stated that they were the purchaser of the firearms. Garland also admitted he then transferred the purchased firearms knowing those firearms were illegally destined to Mexico.
In July 2011, Garland pleaded guilty to conspiracy and making false statements in acquiring firearms. By pleading guilty, Garland admitted that between July 9, 2010, and Feb. 24, 2011, he aided and abetted the straw purchases of 193 firearms purchased at his business.
Garland is the third of 12 convicted defendants to be sentenced, including: former Columbus, N.M., Police Chief Angelo Vega; former Columbus Trustee Blas Gutierrez; and former Columbus Mayor Eddie Espinoza. No other sentencing dates have been scheduled.
The ATF; the Drug Enforcement Administration, Mexico's Comandante Chihuahua State Police and Mexico's Secretariat of Public Security also participated in the investigation. The U.S. Marshals Service, U.S. Customs and Border Protection's U.S. Border Patrol, New Mexico State Police, Las Cruces Police Department, El Paso Police Department and other federal, state and local law enforcement agencies also provided assistance with the investigation.