South Texas ICE officers remove MS-13 gang member wanted in El Salvador for aggravated homicide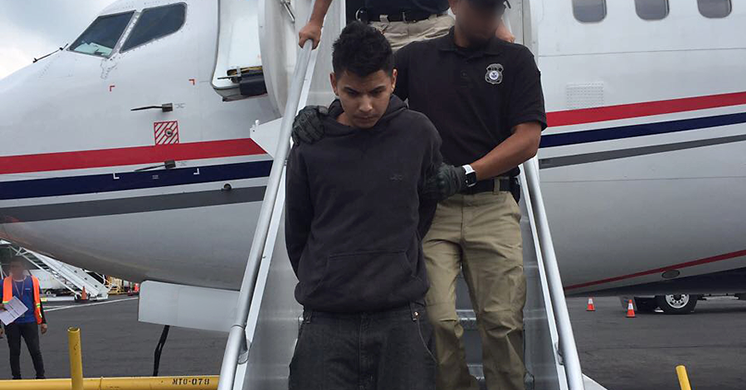 LAREDO, Texas — A Salvadoran member of the Mara Salvatrucha (MS-13) gang, wanted for aggravated homicide, was deported Thursday by officers with U.S. Immigration and Customs Enforcement (ICE) Enforcement and Removal Operations (ERO).
This removal is the latest result of stepped up collaborative efforts to locate Salvadoran criminal fugitives in the United States and return them to El Salvador to face justice.
Romario Antonio Barahona-Garmendia, 19, was flown to El Salvador Sept. 14 onboard a charter flight coordinated by ICE's Air Operations (IAO) Unit. Upon arrival, Barahona-Garmendia was turned over to officials from El Salvador's Civilian National Police (PNC).
According to police reports, on Aug. 16, 2014, Barahona-Garmendia and several MS-13 gang members were involved in a shooting in a small Salvadoran village. Police say one person was killed as a result of heavy gunfire between MS-13 gang members and the Command Guard Sub-Delegation. The Command Guard is a military organization that supports the El Salvador Civilian Police.
"Alleged foreign criminals attempting to avoid justice will not find safe haven in the United States," said Daniel Bible, field office director of ERO San Antonio. "The cooperation between the United States and Salvadoran governments resulted in this foreign fugitive being safely returned to his home country where he will stand trial for his alleged crimes."
On Aug. 12, Barahona-Garmendia entered the United States near Hidalgo, Texas, and was arrested by Border Patrol agents with U.S. Customs and Border Protection (CBP). The next day, Border Patrol transferred Barahona-Garmendia to ICE where he remained until his removal.
Since Oct. 1, 2009, ERO has removed more than 1,700 foreign fugitives from the United States who were sought in their native countries for serious crimes, including kidnapping, rape and murder. In fiscal year 2016, ICE conducted 240,255 removals nationwide. Ninety-two percent of individuals removed from the interior of the United States had previously been convicted of a criminal offense.
ICE is focused on smart and effective immigration enforcement that prioritizes its resources based on those who pose the biggest threat to national security, border security and public safety.
ICE Air History
ICE routinely uses special air charters to transport aliens who have final orders of removal from an immigration judge. Staffed by ICE ERO Air Operations officers, these air charters enable the agency to repatriate large groups of deportees in an efficient, expeditious and humane manner. Since 2006, ICE Air Operations has supported ERO by providing mass air transportation and removal coordination services to ERO field offices nationwide. Staffed by ERO officers, these air charters enable the agency to repatriate large groups of deportees in an efficient, expeditious and humane manner.
Members of the public who have information about foreign fugitives are urged to contact ICE by calling the ICE tip line at 1 (866) 347-2423 or internationally at 001-1802-872-6199. They can also file a tip online by completing ICE's online tip form. ERO coordinates the removal of criminals, foreign fugitives and others ordered deported.