Special agents assist in capturing one of America's Most Wanted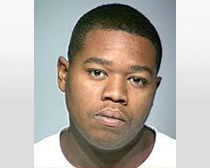 U.S. Immigration and Customs Enforcement's Homeland Security Investigations special agents, along with Deputy U.S. Marshals from the North Texas Fugitive Task Force, arrested a fugitive Feb. 13 who was featured on "America's Most Wanted."
Michael Mack, identified as one of Wisconsin's most wanted fugitives on the Jan. 27 episode of "America's Most Wanted," was sought on a federal arrest warrant for charges of arson, felony bail jumping, first degree reckless endangerment and battery.
After receiving a tip from one of the show's viewers, HSI San Angelo special agents and Deputy U.S. Marshals located Mack in San Angelo, Texas, and took him into custody without incident. He had been a fugitive since 2009.