Tijuana man charged with importing counterfeit pain pills containing potentially deadly chemical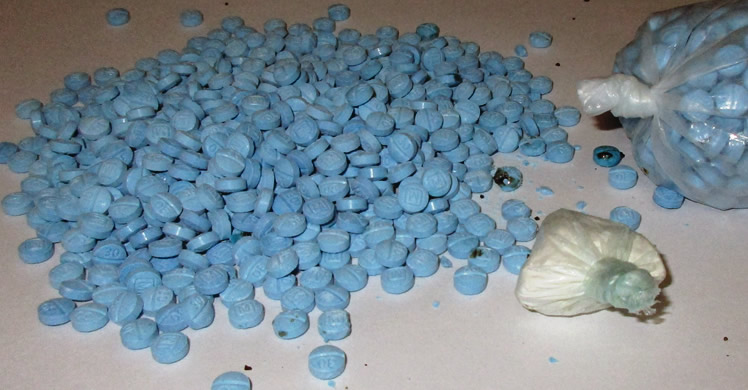 SAN DIEGO – A Tijuana, Mexico, man arrested following the first interdiction at a California port of entry of counterfeit oxycodone tablets containing the powerful painkiller fentanyl appeared in federal court Thursday where he is charged with one count of illegally importing a controlled substance.
Sergio Linyuntang Mendoza Bohon, 19, was arrested in February after he attempted to smuggle nearly 1,200 counterfeit oxycodone pills into the U.S. through the pedestrian lane at the Otay Mesa port of entry. During a secondary inspection and pat down, U.S. Customs and Border Protection (CBP) officers found the tablets along with a package containing several grams of white powder in Mendoza's underwear.
"This significant interdiction demonstrates the vital role CBP officers play in keeping our country safe from all threats," said CBP Director of Field Operations in San Diego Pete Flores. "This is a dangerous substance and the public needs to be aware of the perils of buying pharmaceuticals on the black market."
Mendoza was taken into custody by special agents with U.S. Immigration and Customs Enforcement's (ICE) Homeland Security (HSI) at the Otay Mesa port of entry after admitting he knew the tablets were "oxy" (oxycodone) and that he was attempting to smuggle the drugs into the U.S. The small blue tablets had an imprint on each side falsely identifying them as oxycodone. Subsequent lab tests revealed the powder and the pills were actually fentanyl.
"Unsuspecting individuals who illegally purchase oxycodone could potentially die from the ingestion of what turns out to be fentanyl tablets," said U.S. Attorney Laura Duffy. "We are very concerned that these counterfeit pills could bring serious harm to users. Even miniscule amounts of fentanyl can have devastating consequences for those who abuse it or literally even touch it."
"While we've successfully prevented a potentially deadly drug from reaching the streets, we face an uphill battle," said Dave Shaw, special agent in charge for HSI San Diego. "The demand for pharmaceutical painkillers on the black market is rapidly growing. HSI is committed to working with our law enforcement partners, both here and abroad, to identify and dismantle transnational criminal networks seeking to profit from the production and distribution of deadly counterfeit drugs."
The smuggling case is being investigated by the San Diego Pharmaceutical Task Force, which includes investigators from HSI; the Drug Enforcement Administration; the California Department of Justice, Bureau of Investigation; the San Diego Sheriff's Department; and the U.S. Attorney's Office.
Mendoza was initially arraigned on a smuggling charge in federal court in February. His next court appearance is set for May 2 before U.S. District Judge Marilyn L. Huff. He faces a maximum penalty of 20 years in prison.
Fentanyl and fentanyl analogues produced in clandestine laboratories can be 100 times more potent than morphine, and up to 50 times more potent than heroin. The drug and its analogues are being produced to a large extent in China.