TOP STORY: ICE welcomes Europol to the Virtual Global Taskforce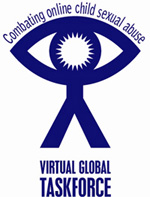 This week, the Virtual Global Taskforce (VGT), one of the world's largest international child protection taskforces, met in Abu Dhabi, UAE, and welcomed its ninth international partner - EUROPOL, the law enforcement agency of the European Union.
U.S. Immigration and Customs Enforcement's (ICE) Homeland Security Investigations (HSI) is a founding member of the VGT and shares its mission to stop the sexual exploitation of children - both online and offline - anywhere in the world. As the largest investigative agency in the Department of Homeland Security, ICE places a high priority on enforcing laws against child pornography, child sexual exploitation, child sex tourism and various other crimes against children. The ability of law enforcement to effectively identify the criminals and gather the necessary evidence is critical to both the protection and the rescue of children who are being abused.
"EUROPOL has become a full member of the VGT and brings representation of 27 European countries to the fight," said Matt Dunn, Section Chief, ICE HSI's Child Exploitation Investigations Center. "EUROPOL has always been a strong partner with ICE and has a dedicated team that works to fight the sexual exploitation of children. Their membership will enhance the ability of the VGT to identify, investigate, and prosecute individuals who sexually abuse children and to rescue children from these abusive situations."
In addition to ICE and Europol, the VGT consists of the Australian Federal Police, the Child Exploitation and Online Protection Centre (UK), the National Child Exploitation Coordination Centre (Royal Canadian Mounted Police), the Italian Postal and Communication Police Service, INTERPOL, the Ministry of Interior for the United Arab Emirates and the New Zealand Police. By partaking in the taskforce, members promise their commitment to cooperate with other VGT countries across international borders to tackle online child sexual exploitation crimes on a global scale.
ICE's close working relationship with VGT members has been crucial to the success of many investigations; the most recent being Operation Rescue, in which a global pedophile network - consisting of thousands of online members - was shattered as a result of the VGT members' international alliance.
Dunn said he looks forward to more VGT accomplishments like the one above, "ICE is dedicated to combating the sexual exploitation of children. As a founding member of the Virtual Global Taskforce, we have shown the importance of combating this crime on a global scale."