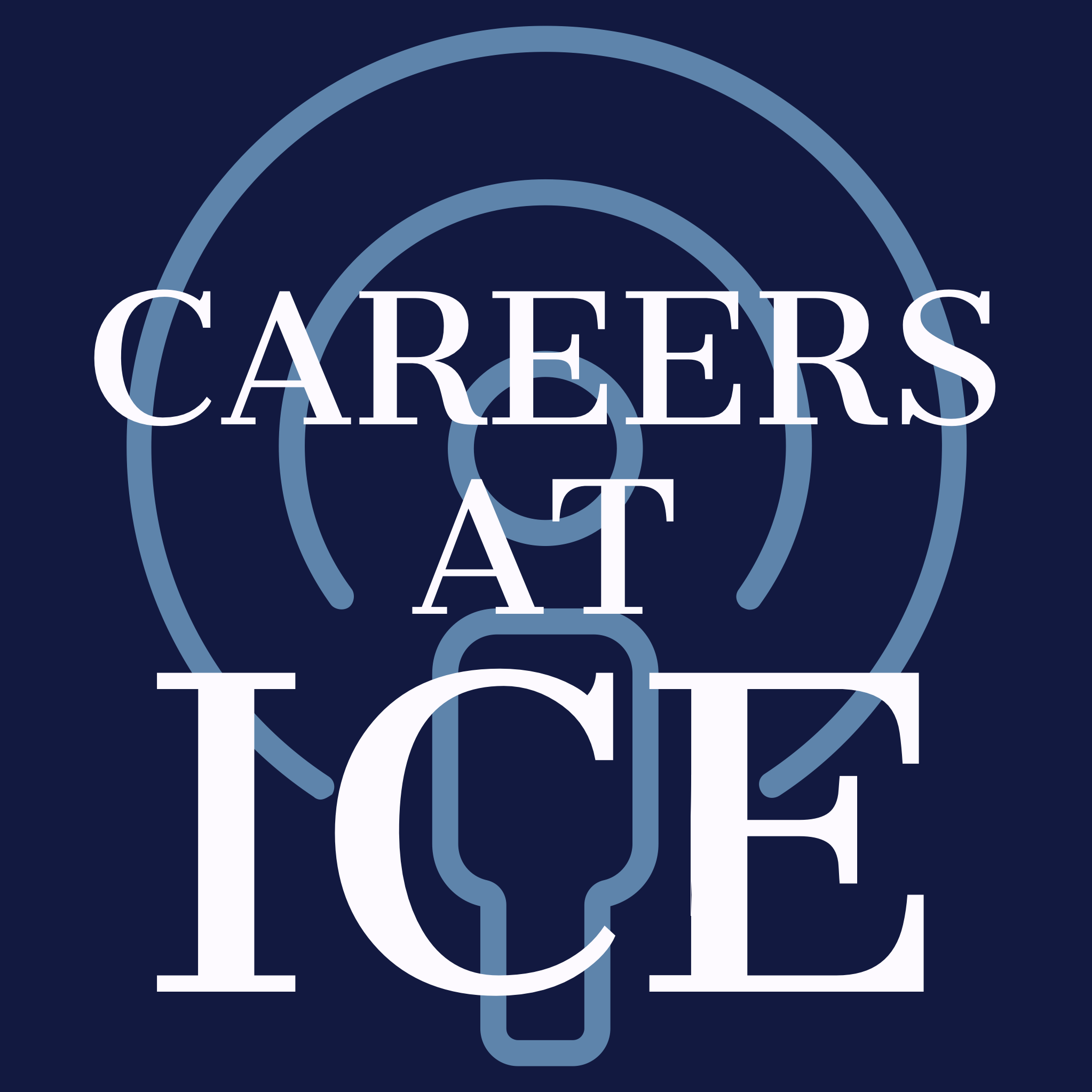 During this episode of Careers at ICE, hear from Toni Acevedo, the Pathways Program Coordinator with the ICE Office of Human Capital, who talks about opportunities for students at ICE, including the Pathways Program.
>> Welcome to the Careers at ICE podcast. This podcast highlights career opportunities at US Immigration and Customs Enforcement, the hiring process, and how to put your best foot forward. Our guest today is Toni Acevedo, the Pathways Program Coordinator with the ICE Office of Human Capital, to talk about opportunities for students here at ICE. Let's start the conversation. Thank you for being here today, Toni. Can you tell us a little bit about ICE and what opportunities there are for students here? And in particular, tell us about the Pathways Program.

>> Thank you for having me here today. I'm excited to speak about the Pathways Programs. So, a little bit about ICE. It was created back in 2003. It was through a merger of the US Customs Service and the Immigration Naturalization Services, making it the largest investigative arm of DHS or Department of Homeland Security. ICE enforces federal laws governing border control, customs, trade, and immigration to promote homeland security and public safety. We have around 20,000 employees in more than 400 offices in the United States, and at least 46 in foreign countries. A little bit about Pathways Programs. So, Pathways Programs is a new program that was implemented by an executive order by President Obama, and it took the old student programs, which was called the Student Temporary Employment Program, and the Student Career Experience Program, and merged them into one umbrella that is now known as the Internship Program. It also has a new program which is a recent graduates program, and also under the umbrella came the Presidential Management Fellows Program, which we call the PMF program.

>> Could you explain the different among Pathways Programs and paid and unpaid internships? Does ICE offer all of these as options?

>> So, that is a great question, and yes, ICE does offer both options, the unpaid and the paid programs. So, let's begin by just clarifying one thing with the Student Volunteer Program and the Internship Program. I know that many people are used to saying Internship Program. However, with the Student Volunteer Program, we call that exactly a Student Volunteer Program. So, when someone reaches out to us and wants to volunteer, they should clearly identify the Student Volunteer Program. The SVP as it also is known is an unpaid program for students over 16 who are currently attending school at least part-time, and again, this program is unpaid, non-paid, in other words, uncompensated, no paychecks. The student volunteer, however, will gain work experience in ICE that can be included in their resume, and also if they work with their schools, they might also be able to earn credits or community hours towards graduation, or credits towards their classes. And this program, the Student Volunteer Program, is very much separate from the Pathways Program. And SVP is also under the Office of Human Capital, National Recruitment and Retention Team. Now that we talked about the Student Volunteer Program, I'm going to go into the Pathways Program, which I would like to say is almost like my third child, since I have two kids. I'm very passionate about this program, and I've been working at this program since before Pathways was implemented. It's three programs. The first program is the Intern and the Intern Not To Exceed, or as we like to say, Intern NTE, and the eligibility for those programs are, of course, you have to be 16 years old, a US citizen, you have to be attending school at least part time, and you have to be in good standing, 2.0 and above for bachelors, and 3.0 and above for masters. The second program under Pathways is the Recent Graduates Program. That program is for one year, and that program is for students, well, graduates that have recently graduated within the last two years of whenever the announcement is announced. And the final program that was added to the umbrella was the Presidential Management Fellows Program. That program is actually administered through Office of Personal Management, OPM. It's announced every year in the fall, which students, if y'all are listening, or graduates, if y'all are listening, make sure that y'all start checking USAJobs for the job opportunity to be announced on there. And you have to apply through that, and OPM monitors it and makes the list, a class of finalists within six months.

>> What kinds of positions does ICE advertise through USAJobs for the Pathways Program? And for what sections of ICE, as I understand there are three operational directorates, and one management and administration directorate within ICE?

>> Yes. There are three primary operational directorates, as you mention. One is the Homeland Security Investigation, or HSI. The second one is the Enforcement and Removal Operations, which is ERO. And the third one is the Office of the Principal Legal Advisor, or as we like to say, OPLA. Also, there's a fourth directorate that is called Management and Administration, M&A. This directorate supports the HSI, the ERO, and the OPLA to advance the mission of ICE. So, what kind of positions does ICE advertise through USAJobs? For the internship positions, generally the positions will be announced maybe as a GS-399, which is a management analyst student trainee. We also have 099s, which is a legal intern student training positions. We've also advertised 599s, which is a budget analyst training position. And currently, all four directives of ICE are using and utilizing the Pathways Programs. Just to break it down and give somebody a perspective of what's going on here at ICE, our HSI office, which is Homeland Security Investigation, has two interns, and they're both in Puerto Rico. They also have three PMFs, Presidential Management Fellows. Two are in Chicago, and one is here in Washington, DC. The three PMFs are under positions called Intel Research Specialists. The Enforcement Removal Operation, which is ERO, they actually have 20 interns. They're one of the biggest directives that's currently using Pathways. They have no PMFs, and they just recently converted to recent graduates within the last couple of months after they completed the one-year program. So, the M&A office, which also I'm going to include OPLA in there, has a total of five interns, four at OPLA, and one in the Office of Human Capital in Dallas, Texas. And the Office of the Information Governance and Privacy, they recently converted one PMF to a permanent position. Just to give you a little bit more in-depth perspective of what our conversion successes have been at ICE, within the last two fiscal years, we've had a total of 22 conversions. In FY '17, he had 12 Pathways conversions, in FY '18, we had 10 Pathways conversions.

>> And could you share with our listeners any stories about students working at ICE who have progressed in their careers with the agency?

>> Yes, so there's many, many stories. Two particular ones that stand out to me, it's one of the PMF programs. We know through the PMF program, that the majority of finalists have their JD degree, their law degree. And under Pathways, we are not able to hire for attorney positions. However, we are able to hire management analyst positions through PMFs. And so most of the PMFs that come to ICE, they come under a management analyst position. And they usually apply for positions where they can work almost in their field, just as long as they don't practice law. So, this one particular PMF that we had maybe three years ago, she applied for an EEO position, which is an Equal Employment Opportunity specialist position. She worked in that position for two years, and after she met all her program requirements, she was converted to a permanent position. The great thing with this story is that although she was converted to an EEO specialist, she continued to work with her law degree, and she was finally able to apply and was appointed as an attorney here at ICE. So, it continues. So, it's not only the PMF, but it continued now into an attorney position with ICE. The second story that I have is actually two employees that are currently with ICE, and the great thing with them is that they actually began with ICE under the Student Volunteer Program. And they came in through what is known as the Marion Barry Summer Employment Youth Program. And they came in just basically as student volunteers. They did not get paid. They did receive community hours, because both were in high school. So they did receive community hours. And they also came on prior Pathways. So, the office loved them so much, because they did gain a lot of experience, and they were able to kind of, you know, run alongside their colleagues as student volunteers. So, prior to Pathways, they hired them under the Student Temporary Employment Program. After that, the Pathways Program was implemented. There was an open period where we were able to transition the Student Temporary Employment Program students into the intern position. So of course the office, again, were great, they had great feedback. Their performance ratings were great. So they transitioned these students into the internship program. After they finished their academic requirements, and one graduated from high school, they converted them to permanent positions, and both are still currently working with ICE. Again, you know, to encourage students, you could begin as a student volunteer, and a couple of years later, once you finish academic degrees or something, apply to a position, and you might become an ICE employee.

>> Those are great stories.

>> Thank you.

>> How hard is it to apply to the Pathways Program? Can you walk us through the steps?

>> In my opinion, it's not very hard at all. I know that many people kind of fear a little bit of the USAJobs, and our Pathways Program positions are announced on USAJobs. What I would say to the process on USAJobs for an applicant wishing to apply to a position is you have to search USAJobs. Once you find a job with ICE, then you apply, you know, you click the link. You apply to the position. You basically have to answer general questions. And once thing to keep in mind is that Pathways Programs is a student training opportunity. So you don't have vast experience, you know? You don't have to have 10 years, 4, years. It's student training employment, and our goal is to train the students into this position. So, the process is not hard, you just have to go through USAJobs.

>> What advice do you have for current students and recent graduates interested in working for ICE?

>> So, some advice that I had for them, as I mentioned, that our positions are announced on USAJobs, is if you haven't done so, go on to USAJobs.gov, create a profile. Once you create your profile, on there you're going to want to upload your resume. And remember to upload your transcripts. The transcripts always have to be up to date, and they will be needed once you submit your application. If you don't submit your transcripts with your application, that could automatically disqualify you. Second advice is that I know many students, many students, ICE is known for a Special Agent position, a criminal investigative position, and that position is really popular. When they hear agents, of course, they just get excited. So one thing I want to mention to students and recent graduates is that with Pathways, we do not announce for law enforcement positions. However, what I do encourage them is, again, as I mentioned, the Management and Administrative directorate. That is where most of our Pathways positions are into. And that office, M&A, without M&A, the Homeland Security Investigation and the Enforcement Removal Operation, it would be a little difficult for them to advance the ICE mission, without the M&A, without the Budget Office, without the Office of Human Capital, without the Office of Information Technology. So, my advice to them would be, you know, look at other opportunities outside law enforcement. Look at ICE as a Management and Administrative. Look at ICE as something more behind the badge.

>> Is USAJobs the best place interested applicants should look for, for ICE job postings? What information can applicants learn from these postings?

>> So, yes, USAJobs is the best place for interested applicants, and USAJobs, actually, we only announce our Pathways Program intern positions, and we announce our Recent Graduates position on USAJobs. The PMF positions are announced on an OPM database which is called a Talent Management System. That system is only available and viewable to the PMF finalists. So, not everyone can view those. Also, USAJobs is the best place for applicants to apply. That's where we have to announce all our positions. And although we might announce some positions, we might post the positions on student career websites. An applicant will still have to go to USAJobs and apply for the position. What information can you learn from USAJobs? I just went on there actually this morning before coming to the podcast. And on there, I've learned this fast, is that OPM offers a lot of free event registrations. And they're offered through EventBrite and registered through EventBrite. They recently held one on September 27th, and it was actually for Pathways Programs. FYI, there's two good ones coming along. On October 3rd, they have one that's called Navigating USAJobs, and the Overview of the Federal Hiring Process. And October 11th, they have one that's called Writing your Federal Resume. Those are all virtual webinars. You register through EventBrite. And of course, I encourage everyone to attend those, and learn how to write your federal resume, learn how to navigate USAJobs, and also learn how to apply. Search for ICE.

>> Is there anything else you'd like to say to students interested in joining ICE as employees?

>> Yeah, ICE is a great agency, as I mentioned earlier. We're almost 20,000 strong, and because along with the Management and Administration, of course, I'm going to highlight my directorate. Because like I mentioned before, there's more behind the badge. Without the Office of Human Capital, people cannot get paid. You cannot claim your overtime. Funds will not be available for us to hire and recruit people. Without the Budget Offices, agents in ERO would not be able to purchase law enforcement vehicles, would not be able to purchase the guns or bulletproof vests. And without our CIO, you can't go out in the field when it's most needed, and either work on your iPhone or work on your laptop. So the Management and Administration field, without that directorate, it would really, really be super difficult to advance the mission of ICE. So, what I advise students to do is, when you go on USAJobs, and you search for ICE, begin searching for 399s, which is a management analyst student trainee. Also, on USAJobs, there is an icon or a tab that's titled "Students and Recent Graduates." And you click on that icon, it will give you additional information on each program, which is the internship, the Recent Graduate, and the PMF. It also gives you advice on how to apply, what kind of documents you'll need. It also shows you how to set up your profile. One big thing that I do want to mention to students and recent graduates is, when you set up your profile on USAJobs, is set up an alert. The alert can be set up through USAJobs. And what this will do is, any time ICE advertises a position, whether it's a Pathways Programs position, Recent Graduates position, or just a general public position, it would send you an email or a text alerting you that the position has just been advertised. The other advice, as I mentioned earlier, too, is upload your transcript. Because some of our positions that we announce, they may be open for five days. But at the same time, they may also be open in a certain number of candidates that apply. So, if the number is 100, usually more than often, our positions quickly reach the limit, you know, within a day, maybe two days. With the criminal investigative positions, when we announce a general public position, I mean, that is usually closed within 24 hours. So, our positions here at ICE are very popular. Set up your alert.

>> Thank you for being here today, Toni. Students and recent graduates can go to ICE.gov/careers to find detailed information about ICE career tracks, a list of upcoming recruiting events, sign up for email career update notifications, specific job descriptions, and a list of frequently asked questions. A multimedia webpage on women in law enforcement can be found at ICE.gov/features/women-ICE and contains video and text stories about current and retired women of ICE and historic US Customs. Please join us next time on Careers at ICE to learn more about the agency and how to start your career in law enforcement.

>> Thank you.