ICE removes Salvadoran national wanted for rape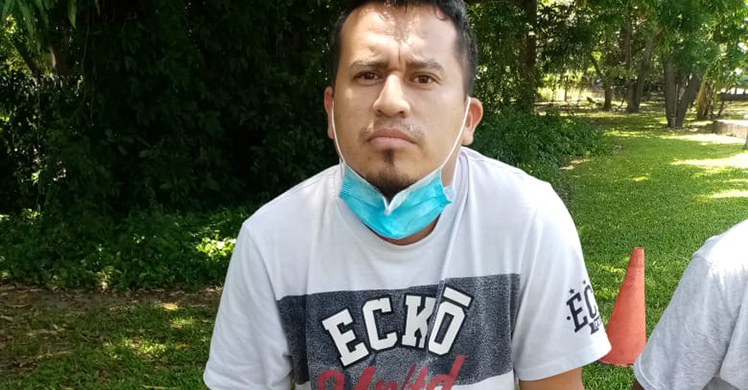 LOS ANGELES – U.S. Immigration and Customs Enforcement's (ICE) Enforcement and Removal Operations (ERO) Los Angeles successfully completed the transfer of an El Salvador fugitive alien removal (FAR) via ICE Air Operations (IAO) charter, June 9.
Jose Luis Rodriguez-Vasquez, 37, is a Salvadoran national wanted by law enforcement authorities for the rape of a minor or disabled person in his native country.
On Dec. 2, 2011, Rodriguez-Vasquez illegally entered the United States near Campo, California, without being admitted or paroled by an immigration officer. He was encountered by U.S. Border Patrol (USBP), issued an expedited removal order, and removed from the U.S. On Dec. 6, 2011, Rodriguez-Vasquez was encountered a second time by USBP after illegally re-entering the U.S., near Naco, Arizona. He was issued an expedited removal order and removed from the U.S. December 10, 2011.
Rodriguez-Vasquez later illegally entered the U.S., at or near an unknown time and location. Rodriguez-Vasquez was later apprehended by ERO Los Angeles April 8, and was subsequently removed from the United States as a "high profile removal" – a special designation given to foreign fugitives, national security threats, and other special interest removals.
"Our diligent efforts have removed another potential predator from our streets and helped ensure he faces justice in his country of origin," said ICE's ERO Los Angeles Field Office Director Dave Marin. "Rodriguez-Vasquez presented a genuine threat to public safety; his removal enforces a clear message to international fugitives – you will not find sanctuary here. ICE will continue to focus its removal efforts and resources on egregious and violent criminals, along with other high-profile removals who pose the greatest threat to our communities."
ICE has removed hundreds of thousands of criminal aliens, some of whom fall under the category of high-profile removals, since the agency was established in March 2003.
High-profile removals include those who are wanted for a crime in another country, regardless of severity, such as murder, rape, sexual abuse of a minor, drug offenses, alien smuggling, fraud or theft. Others include persons who are national security risks, such as suspected terrorists, those involved in counter-proliferation crimes or those on the terrorist watch list and/or the no-fly list, along with human rights or war crimes violators.
Aliens processed for removal may receive their legal due process from federal immigration judges in the immigration courts administered by EOIR, which is a component of the U.S. Department of Justice separate from the Department of Homeland Security and ICE. EOIR judges make decisions based on the merits of each individual case. ICE officers carry out the removal decisions made by the federal immigration judges.