Find Us On Twitter
Web Feature
ICE San Antonio removes foreign fugitive wanted for murder in Honduras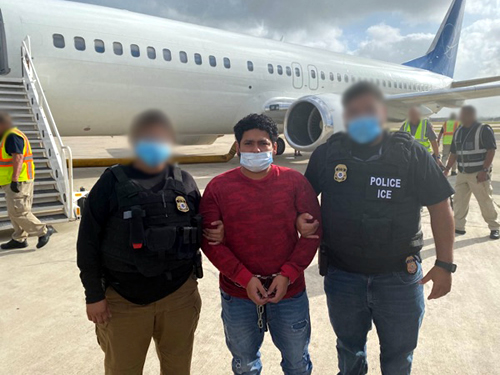 SAN ANTONIO – U.S. Immigration and Customs Enforcement's (ICE) Enforcement and Removal Operations (ERO) San Antonio Field Office removed a foreign fugitive wanted in Honduras for murder.
Honduran national Jairo Samir Hernandez-Bautista, 30, was flown from San Antonio International Airport on a flight coordinated by ICE's Air Operations Unit. Upon arrival, the fugitive was turned over to the Honduran National Police, June 17.
On April 17, U.S. Border Patrol arrested Hernandez-Bautista for unlawfully entering the U.S. without inspection near Laredo. On April 21, ICE ERO San Antonio took custody of Hernandez-Bautista and placed him in immigration proceedings. On April 27, a Foreign Service Investigator from the U.S. Embassy in Honduras informed ICE that Hernandez-Bautista had an active arrest warrant for murder. On June 1, his immigration proceedings concluded with a removal order.
"This individual unlawfully entered the U.S. despite the fact that he was wanted in connection to a murder in his home country," said Jose Correa, ERO San Antonio field office director. "The removal of Hernandez Bautista should serve as a reminder that our nation will not be a haven for any fugitive who seeks to evade justice. His removal should empower the people of Honduras to seek the justice they deserve for the crimes this violent criminal committed before fleeing to the United States."
Members of the public who have information about foreign fugitives are urged to contact ICE by calling the ICE Tip Line at 1-866-DHS-2-ICE or internationally at 001-1802-872-6199. They can also file a tip by completing ICE's online tip form.
Regardless of nationality, ICE makes custody determinations on a case-by-case basis, in accordance with U.S. law and Department of Homeland Security (DHS) policy, considering the merits and factors of each case while adhering to current agency priorities and guidelines. ICE focuses its civil immigration enforcement priorities on the apprehension and removal of noncitizens who pose a threat to our national security, public safety, and border security.
Learn more about ICE's ERO in your community@EROSanAntonio.