Maine chemical manufacturer partners with ICE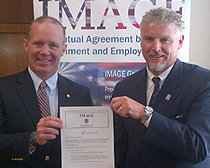 SEARSPORT, Maine – A Maine-based manufacturer and distributor of industrial chemicals became the latest employer Thursday to be certified with U.S. Immigration and Customs Enforcement's (ICE) employment compliance program
IMAGE
, or "ICE Mutual Agreement between Government and Employers."
GAC Chemical Corp. which employs more than 50 people in Searsport, Maine, has pledged and been officially certified by ICE to protect the integrity of their workforce, becoming only the second company in Maine with the distinction. The certification was marked Thursday by a ceremony at GAC's Searsport headquarters. Senior leaders from ICE Homeland Security Investigations (HSI) Boston attended the event.
"IMAGE is a voluntary program that allows private industry to partner with ICE to reduce unauthorized employment and the use of fraudulent identity documents," said Bruce M. Foucart, special agent in charge of HSI Boston. "Having GAC Chemical as a partner helps us ensure that only authorized personnel have access to the critical assets that are overseen by this company."
"As a chemical manufacturer, GAC strives to maintain programs and policies that enhance the safety and security of our operations in Searsport for the benefit of our employees and surrounding communities. Our participation with ICE through the IMAGE program is an example of our commitment to this effort," said David Colter, president and chief operating officer.
GAC Chemical is a leading global producer and distributor of industrial, specialty, and fine inorganic and organic chemicals. They manufacture and distribute chemicals related to the following industries: pulp and paper, power plant, industrial manufacturing, agriculture, potable municipal water, and waste water.
Businesses that are certified with ICE through the IMAGE program pledge to maintain a secure and stable workforce and curtail the employment of unauthorized workers through outreach and education. ICE recently revamped IMAGE, simplifying program requirements.
To qualify for IMAGE certification, companies must perform the following requirements:
Establish a written hiring and employment eligibility verification policy that includes internal Form I-9 audits at least once per year
Enroll in the E-Verify program within 60 days
Submit to a Form I-9 inspection.
Undocumented workers create vulnerabilities in today's marketplace by presenting false documents to gain employment, completing applications for fraudulent benefits, and stealing identities of legal United States workers. To combat this, ICE initiated the IMAGE program in 2006.
All IMAGE members must participate in the Department of Homeland Security (DHS) E-Verify employment eligibility verification program. Through this program, employers can verify that newly hired employees are eligible to work in the United States. This Internet-based system is available throughout the nation and is free to employers. It provides an automated link to the Social Security Administration database and DHS immigration records.
Companies in New England interested in more information on the IMAGE program can call the HSI office at 617-565-6286, or visit www.ICE.gov/image.