Nearly 3-year manhunt ends in arrest of HSI most wanted fugitive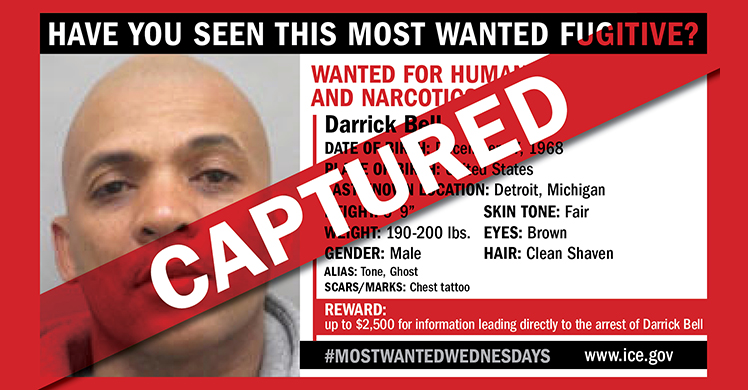 DETROIT - U.S. Immigration and Customs Enforcement (ICE) Homeland Security Investigations (HSI) special agents and deputies with the U.S. Marshals Service announced late Wednesday that the accused leader of a sophisticated human trafficking and narcotics distribution operation in Detroit was arrested this evening in Monroe, Michigan.
Darrick Bell, 50, aka Tone or Ghost, a U.S. citizen, was the subject of a nearly three-year manhunt, following the takedown of a large-scale human trafficking operation at the now-demolished Victory Inn Motel in Detroit. He was arrested late Wednesday at the Econo Lodge in Monroe. Authorities found nearly $12,000 and a quantity of suspected cocaine in Bell's motel room. Authorities also arrested a female defendant who is facing drug charges.
Bell and five other defendants were charged in a 9-count indictment with trafficking in persons, drug trafficking, money laundering, extortion collection and conspiracy, among other charges. He allegedly absconded before nearly 200 law enforcement personnel descended on the Victory Inn in Detroit January 2017, in one the largest human trafficking enforcement operations in the city's history. The sophisticated operation at the motel allegedly was manned by lookouts and armed enforcers.
HSI special agents and deputy U.S. Marshals are actively investigating persons who aided and abetted Bell to evade capture.