Reward for information leading to capture of fugitive human trafficking suspect increased to $16,000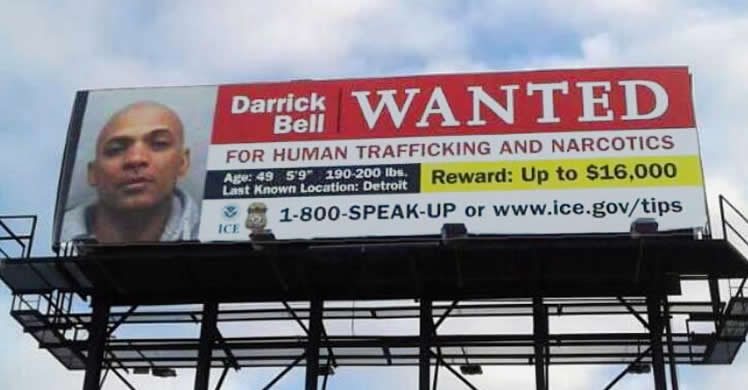 DETROIT - Special agents with U.S. Immigration and Customs Enforcement's (ICE) Homeland Security Investigations (HSI) announced Monday that the monetary reward for information leading to the capture of the accused leader of a sophisticated human trafficking ring has been increased to up to $16,000. A billboard announcing the reward has been posted in Detroit at interstate 94 and Lonyo St., as part of an outdoor campaign to raise awareness about the ongoing probe.
Darrick Bell, 49, aka Tone or Ghost, a U.S. citizen, is the subject of a yearlong manhunt, following the takedown of a large-scale, Detroit-based human trafficking and narcotics operation in January 2017.
Bell and nine other defendants were charged in a 19-count indictment with trafficking in persons, forced labor, drug trafficking, money laundering, extortion collection and conspiracy, among other charges. He allegedly absconded before nearly 200 law enforcement personnel descended on the Victory Inn in Detroit Jan. 12, 2017, in one the largest human trafficking enforcement operations in the city's history. The sophisticated operation at the motel allegedly was manned by lookouts and armed enforcers.
The indictment alleges that Bell, along with his co-conspirators, formed and operated a massive human trafficking and narcotics distribution operation out of multiple rooms at the now-shuttered motel. The women were allegedly exploited and abused by forcing them - through threats, coercion and isolation – to work as commercial sex workers for the financial benefit of Bell and other defendants, while a broad range of illegal drugs were allegedly available in other parts of the motel.
Tone is considered armed and dangerous. Member of the public should not try to apprehend him. Anyone with information should contact local law enforcement or the ICE Tip Line at 1-866-DHS-2-ICE,
The investigation is being conducted by the multiagency, HSI-led Michigan Human Trafficking and Transnational Crimes Task Force (MT3), housed out of the Taylor Police Department in Taylor, Michigan, and was provided critical support by the Detroit Police 4th Precinct's Special Operations Unit.