Ohio defense contractor partners with ICE for workforce integrity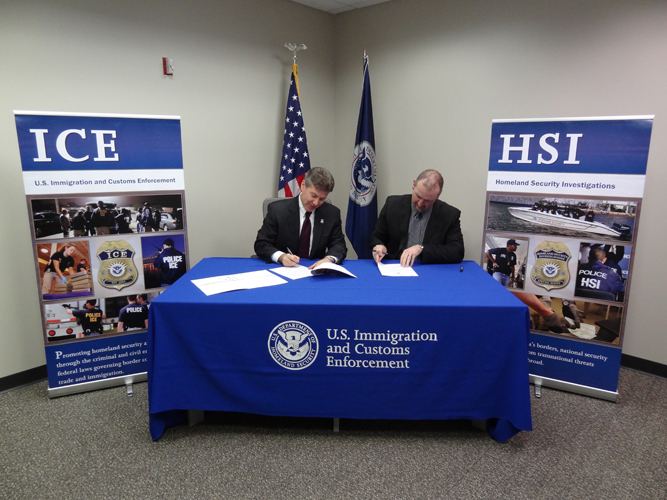 COLUMBUS, Ohio – An Ohio defense contractor became the latest employer to be certified with U.S. Immigration and Customs Enforcement's (ICE) employment compliance program
IMAGE
, or "ICE Mutual Agreement between Government and Employers."
Atlas Advisors LLC, which employs a global workforce of nearly 100, with more than a dozen in Columbus, has pledged, and been officially certified by ICE, to protect the integrity of their workforce, becoming only the fourth company in the state with the distinction. The certification was marked Thursday by a ceremony at Homeland Security Investigations (HSI) Columbus. Senior leaders from HSI in Michigan and Ohio attended the event.
"IMAGE is a voluntary program that allows private industry to partner with ICE to reduce unauthorized employment and the use of fraudulent identity documents," said Brian M. Moskowitz, special agent in charge of HSI Michigan and Ohio. "Having Atlas Advisors as a partner helps us ensure that only authorized personnel are carrying out the important work done by this company."
"With the nature of the work that Atlas does for the U.S. government, a compliant hiring process is an important foundation from which we can continue to grow our business," said Rick Abner, Atlas chief operations officer. "The IMAGE certification will provide an additional level of assurance to our customers on the integrity of our hiring process. We take regulatory and compliance matters very seriously and that is why we were so excited to partner with ICE."
Founded by a former U.S. Army special operations soldier, Atlas is a HUBZone, veteran-owned small business. Atlas delivers intelligence, training and foreign language/cultural advisory services to U.S. government agencies around the world.
Businesses that are certified with ICE through the IMAGE program pledge to maintain a secure and stable workforce and curtail the employment of unauthorized workers through outreach and education. ICE recently revamped IMAGE, simplifying program requirements.
To qualify for IMAGE certification, companies must perform the following requirements:
Enroll in the E-Verify program within 60 days,
Establish a written hiring and employment eligibility verification policy that includes internal Form I-9 audits at least once per year,
Submit to a Form I-9 inspection.
Illegal workers create vulnerabilities in today's marketplace by presenting false documents to gain employment, completing applications for fraudulent benefits and stealing identities of legal United States workers. To combat this, ICE initiated the IMAGE program in 2006.
All IMAGE members must participate in the Department of Homeland Security (DHS) E-Verify employment eligibility verification program. Through this program, employers can verify that newly hired employees are eligible to work in the United States. This Internet-based system is available throughout the nation and is free to employers. It provides an automated link to the Social Security Administration database and DHS immigration records.
Companies in Ohio interested in more information on the IMAGE program can call the HSI Columbus office at (614) 469-5705, or visit www.ICE.gov/image.