Office of the Principal Legal Advisor
WE WILL PROTECT THE HOMELAND BY DILIGENTLY LITIGATING CASES WHILE ADHERING TO THE HIGHEST STANDARDS OF PROFESSIONAL CONDUCT, PROVIDING TIMELY AND ACCURATE LEGAL ADVICE, AND OPTIMIZING RESOURCES TO ADVANCE DHS AND ICE MISSIONS.
The Office of the Principal Legal Advisor (OPLA) is the largest legal program in DHS, with more than 1,300 attorneys and nearly 300 support personnel with diverse backgrounds and perspectives. Pursuant to statute, OPLA serves as the exclusive representative of DHS in immigration removal proceedings before the Executive Office for Immigration Review, litigating all removal cases including those against criminal noncitizens, terrorists, and human rights abusers.
OPLA also provides a full range of legal services to ICE programs and offices, including legal advice and prudential counsel to ICE personnel on their customs, criminal, and immigration law enforcement authorities, the Freedom of Information Act and Privacy Act, ethics, liability under the Federal Tort Claims Act, and a range of administrative law issues, such as contract, fiscal, and employment law. OPLA represents the agency before the Merit Systems Protection Board, the Equal Employment Opportunity Commission, and the Board of Contract Appeals. OPLA attorneys provide essential support to the Department of Justice in the prosecution of ICE cases and in the defense of ICE's authorities in federal court.
In addition to its headquarters in Washington, D.C., OPLA has a presence in more than 60 offices in its 25 field locations throughout the United States. In all locations, OPLA fosters an environment in which all voices are valued and welcomes the unique perspectives and opinions that inhere among a talented, diverse, and inclusive workforce. Comprising a far more diverse workforce than its private sector counterparts, OPLA is proud to strive to further diversify the experiences, perspectives, and characteristics of its workforce and is committed to celebrating our differences and embracing practices that foster a fair, safe, and inclusive workplace by promoting equitable access to opportunities.
OPLA Field Legal Operations
Field Legal Operations, or FLO, is OPLA's largest component and includes the 25 field locations across the United States. Each OPLA field location is led by a Chief Counsel, who guides DHS's advocacy before the local immigration courts and the Board of Immigration Appeals. FLO also provides a full suite of legal services, including customs law and employment law advice, to the local ERO Field Office and HSI Office of the Special Agent in Charge.
OPLA field locations are also empowered to exercise prosecutorial discretion in removal proceedings pending before the Executive Office for Immigration Review. More information about how OPLA exercises prosecutorial discretion consistent with agency enforcement priorities is available here.
OPLA's Headquarters Divisions are led by a Deputy Principal Legal Advisor (DPLA) for Enforcement and Litigation, a DPLA for General and Administrative Law, and a Chief of Staff.
Enforcement and Litigation (E&L): Through close client engagement and specialized legal advice and counsel, E&L advances the ICE homeland security and public safety mission by enforcing our nation's immigration, customs, and criminal laws and policies, defending the operational authorities and decisions of ICE officers and agents in the federal courts, and guiding and supporting the advocacy of ICE attorneys before the immigration courts and the Board of Immigration Appeals, with special emphasis on cases involving criminal aliens, human rights violators, and aliens who threaten our national security.
Learn more about E&L
General and Administrative Law (G&AL): Harnessing the multi-disciplinary legal talents of a team specializing in contract law, ethics, employment law, fiscal law, government information and privacy law, and other administrative law practice areas, G&AL promotes ICE's compliance with related legal requirements and defends the agency from a variety of administrative litigation in these areas.
Learn more about G&AL
OPLA Chief of Staff (COS): Providing administrative and technical support and communication coordination for OPLA, the COS's portfolio includes oversight of strategic priorities, tracking key performance indicators, fostering strong partnerships with operational partners, and overseeing a variety of special projects.
Learn more about the OPLA COS portfolio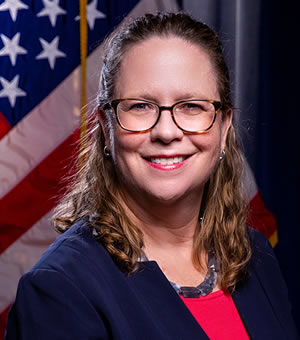 Kerry E.
Doyle
Principal Legal Advisor
Ms. Doyle has extensive experience in the private and nonprofit sectors having most recently worked for twenty years as Managing Partner with the Boston immigration law firm of Graves & Doyle. For the last five and a half years she has also served as an appointed hearing officer for the Massachusetts Board of Bar Overseers presiding over cases related to attorney disciplinary matters.