left
Year in Review:
ICE Fiscal Year 2021 Annual Report
Throughout FY 2021, ICE focused on its core missions: disrupting and dismantling transnational criminal organizations; arresting and removing threats to national security, public safety, and border security; representing the Department of Homeland Security (DHS) in immigration court; and supporting Southwest Border operations that are fair, orderly, and humane. ICE has carried out these missions, achieving notable operational successes and much-needed reforms amid a global pandemic and shifting, dynamic threats to the homeland.
Keeping reading for highlights from the ICE Fiscal Year 2021 Annual Report.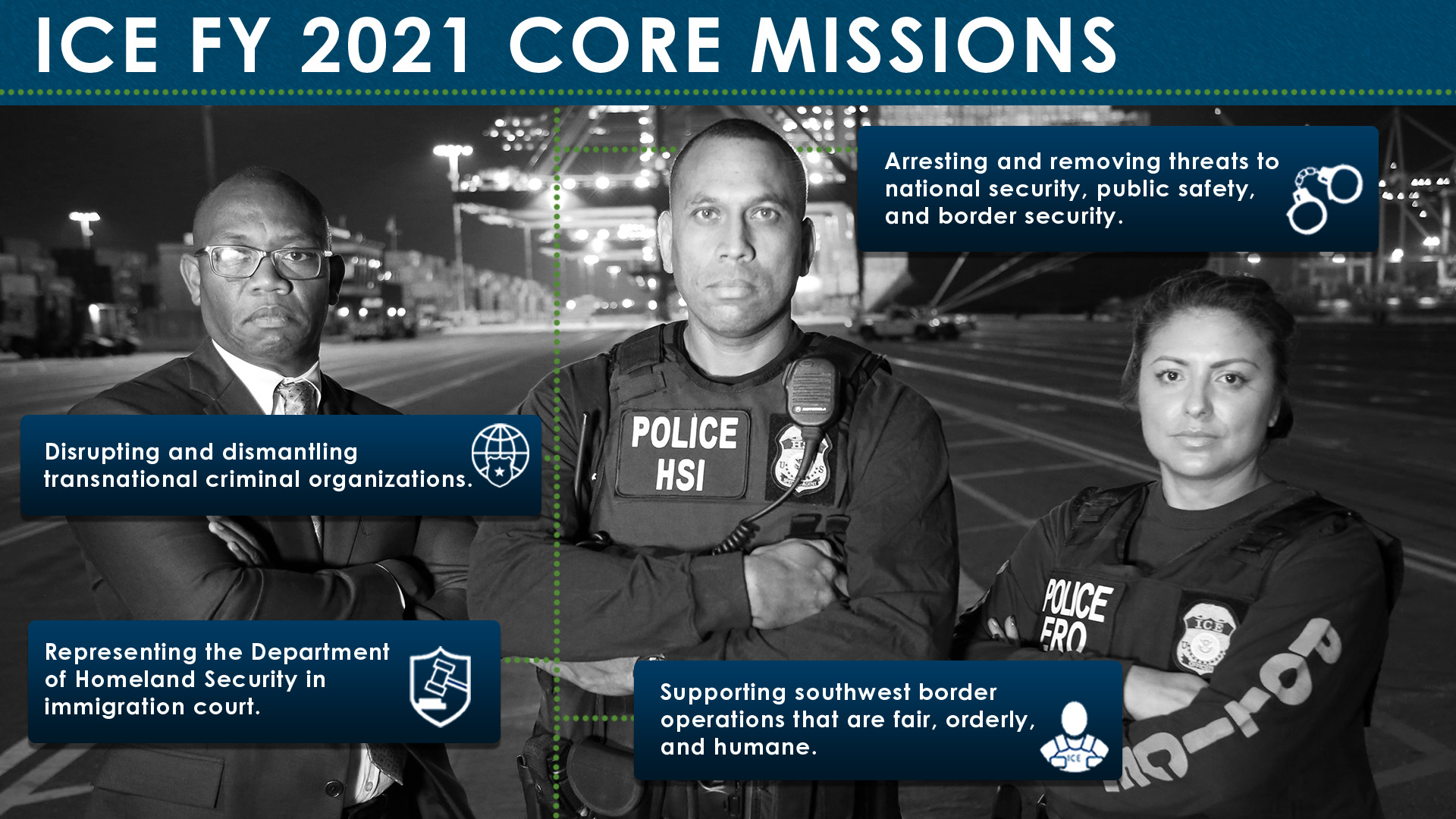 right
New Civil Immigration Enforcement Priorities
While maintaining mission focus, ICE also undertook key policy and operational changes. Of singular importance, ICE's Office of Enforcement and Removal Operations (ERO) rebalanced its approach to civil immigration enforcement following a series of memoranda dated January 20, 2021, February 18, 2021, and September 30, 2021. Together, these memoranda refocused the agency's civil immigration enforcement efforts on the greatest threats to national security, public safety, and border security, while empowering career law enforcement officials in the field to make discretionary decisions about which noncitizens to arrest, detain, and remove.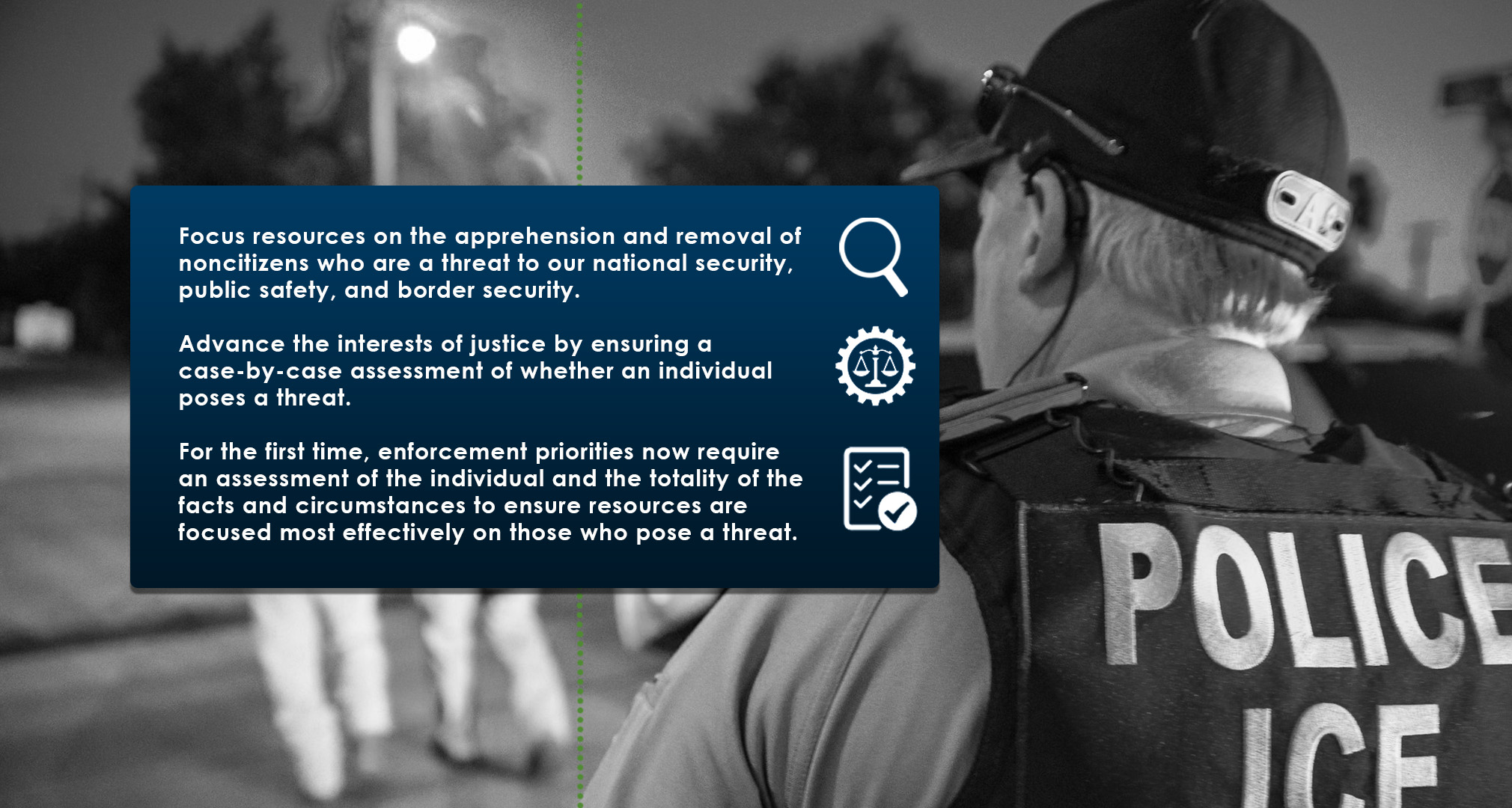 left
Arrest Highlights
ICE's more focused approach yielded measurable results. ICE's Enforcement Removal Operations (ERO) arrested an average of 1,034 aggravated felons per month from February through September 2021, a 53 percent increase over the monthly average during CY 2016 and a 51 percent increase during CY 2017-2020. During the same period in 2021, ERO removed an average of 937 aggravated felons per month, the highest level ever recorded and the greatest public safety impact since ICE began collecting detailed criminality data. 46 percent of ICE removals from February – September 2021 were of serious criminals overall (persons convicted of felonies or aggravated felonies), compared to 17 percent during CY 2016 and 18 percent during CY 2017-2020.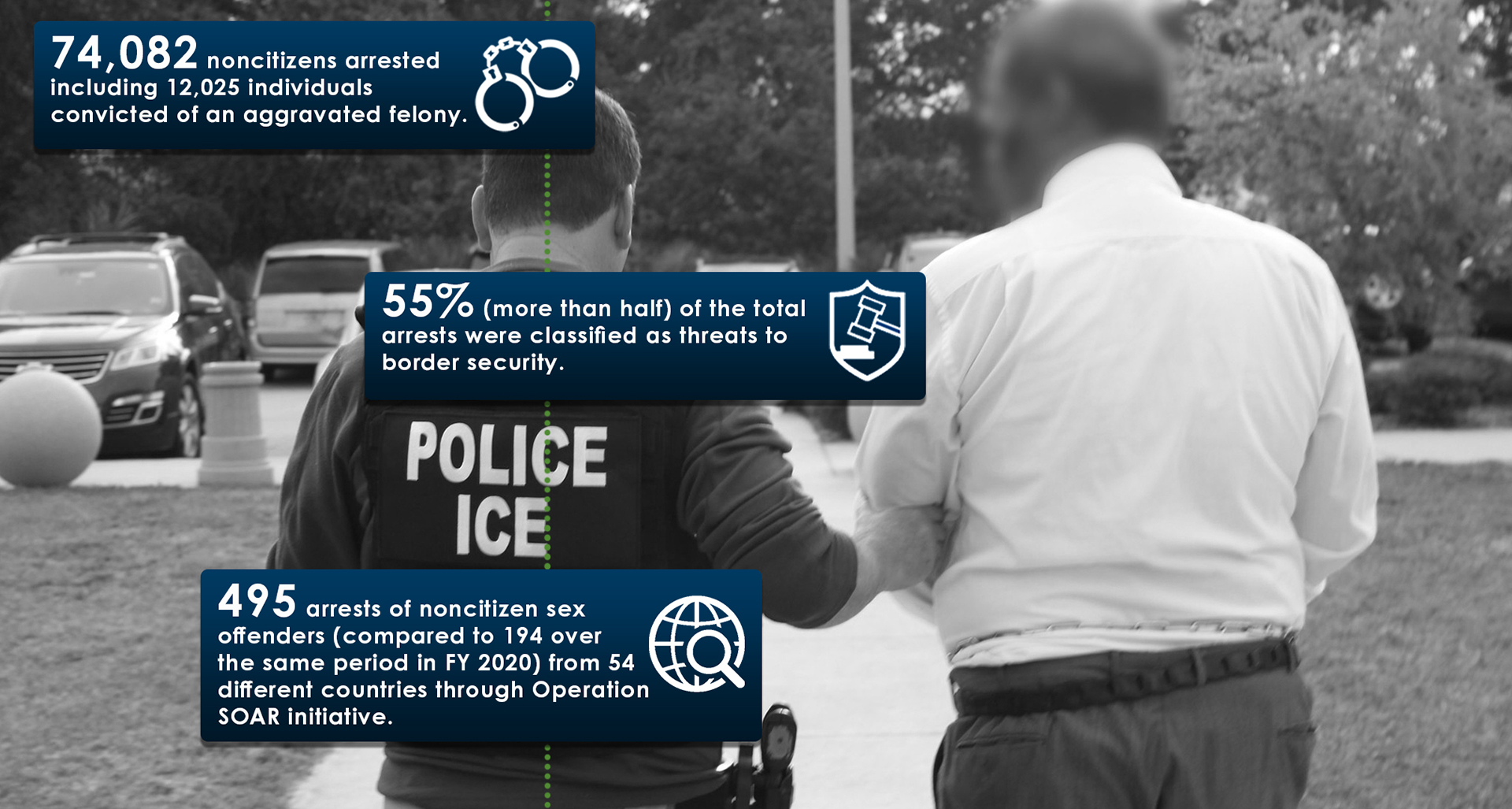 right
Human Rights Violators and War Crimes
While ICE's arrest statistics paint a broad picture of operational success, one case in particular underlines the importance of our ongoing efforts. On February 21, ICE removed a 95-year old former Nazi concentration camp guard to Germany, likely one of the last fugitive Nazis tracked down and removed from the United States. Friedrich Karl Berger, a German citizen, participated in Nazi-sponsored persecution while serving in 1945 as an armed guard of concentration camp prisoners in the Neuengamme Concentration Camp system. A testament to collaboration among ERO, Homeland Security Investigations (HSI) and the Office of the Legal Principal Advisor (OPLA), Berger's arrest and removal demonstrates our country's and our agency's tireless pursuit of justice against those who violate fundamental human rights and who undermine human dignity itself.
To learn more, visit Human Rights Violators and War Crimes.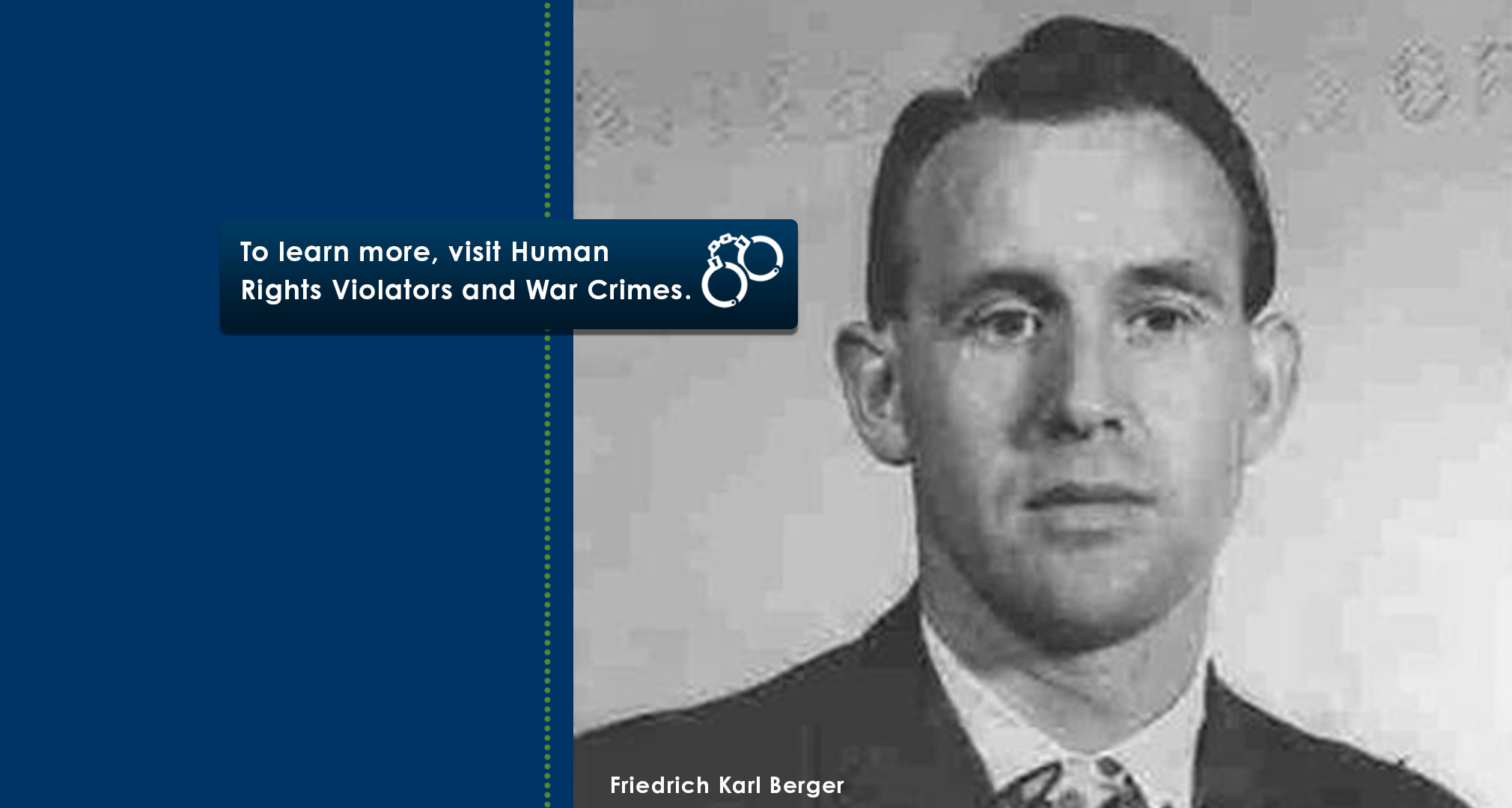 left
Combatting COVID-19 Fraud
The fiscal year brought new challenges stemming from COVID-19, including new criminal activity. Operation Stolen Promise, first launched in April 2020, continued to combat the increasing and evolving threat posed by COVID-19 related fraud and criminal activity. As a result, in FY 2021, HSI seized 2,672 counterfeit personal protective equipment (PPE); counterfeit and fraudulent COVID-19 test kits, medical treatments, therapeutics, and prevention items; and fraudulent web domains associated with COVID-19 fraud. In connection with these efforts, HSI has seized over $58M in illicit proceeds and disrupted or recovered over $18M in funds associated with fraudulent transactions.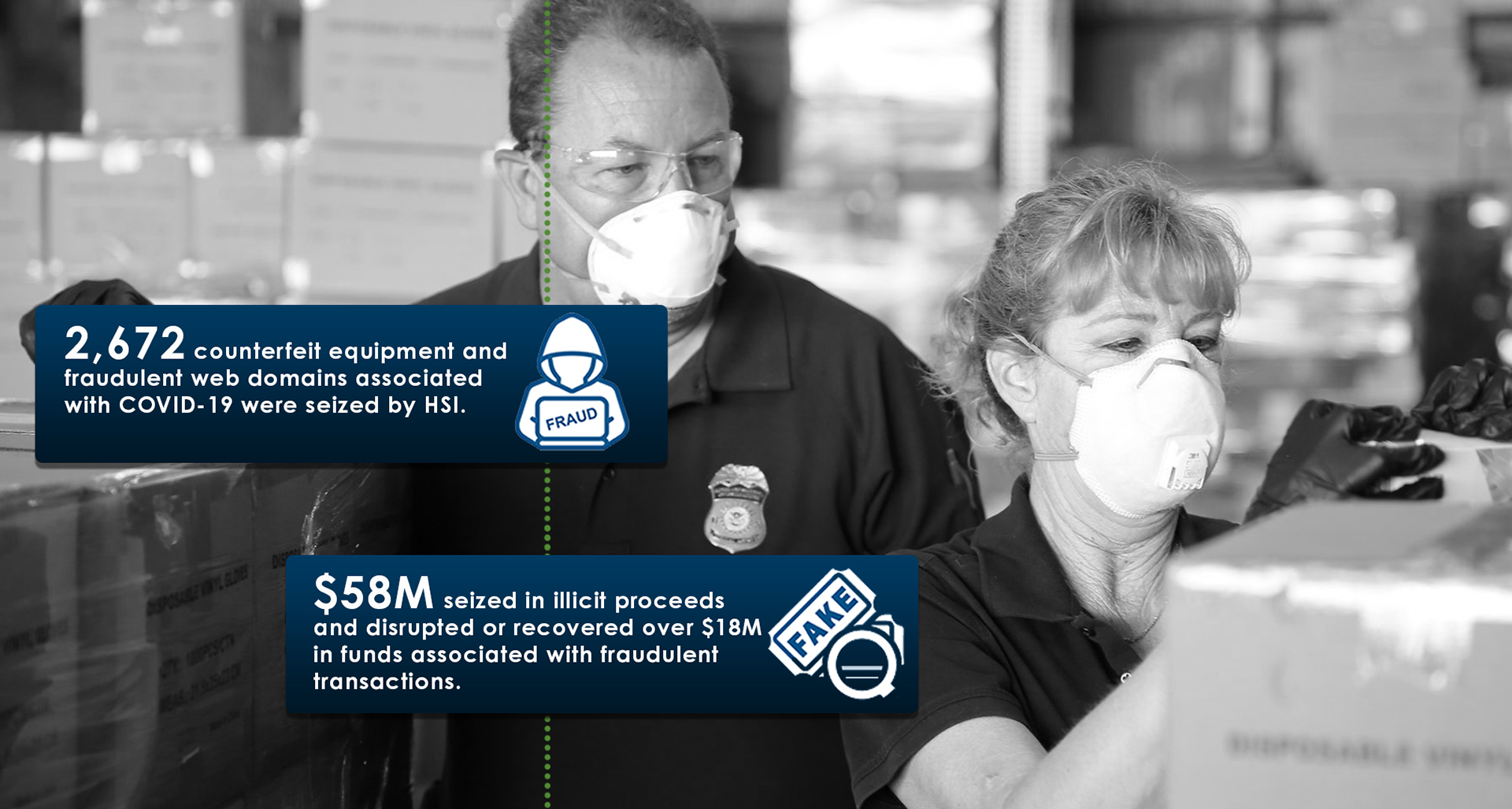 right
Safeguarding the Homeland, Dismantling Transnational Criminal Organizations
In FY 2021, ICE's Homeland Security Investigations (HSI) conducted 34,974 arrests, seized more than 2.45 million pounds of narcotics, identified and/or rescued 1,177 victims of child exploitation, assisted 728 victims of human trafficking, and disrupted and dismantled countless transnational criminal organizations, seizing more than $973 million in criminally derived currency and assets.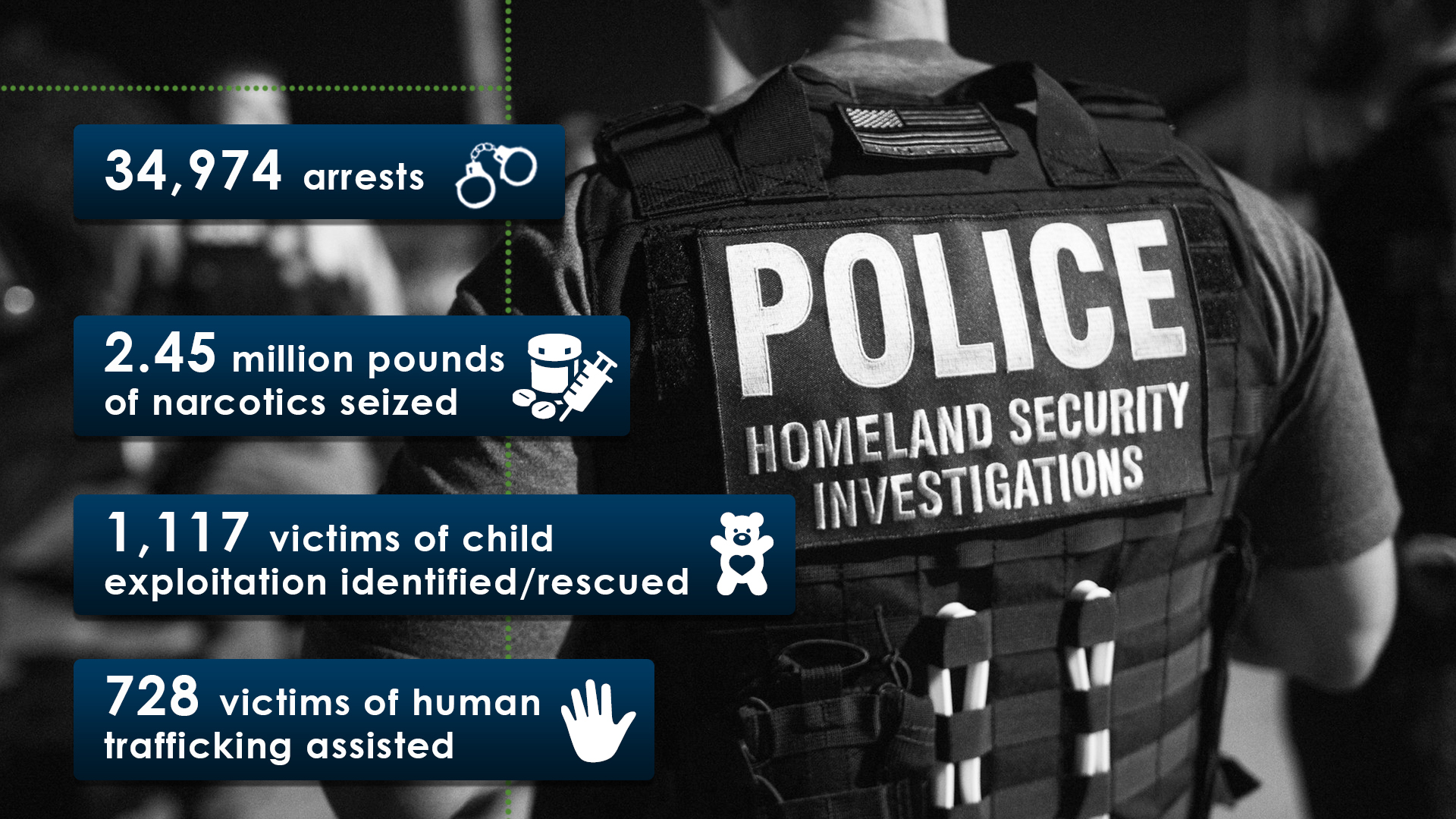 left
Office of the Principal Legal Advisor (OPLA) Highlights
In FY 2021, OPLA attorneys reviewed 47,338 Notices to Appear issued by DHS immigration officers, while representing DHS in more than 247,452 removal hearings before DOJ Executive Office for Immigration Review (EOIR) and supporting the completion of more than 58,965 cases. To promote efficient docket management in partnership with EOIR and to advance DHS and ICE civil immigration enforcement priorities, OPLA implemented updated prosecutorial discretion (PD) guidance during FY 2021. As part of this implementation, OPLA attorneys reviewed more than 25,972 requests for PD in the forms of dismissal or administrative closure of removal proceedings. OPLA exercised PD by agreeing to dismissal or administrative closure in approximately 18,809 cases, and by the end of FY 2021, more than 8,500 of those cases had been ordered dismissed or administratively closed by EOIR.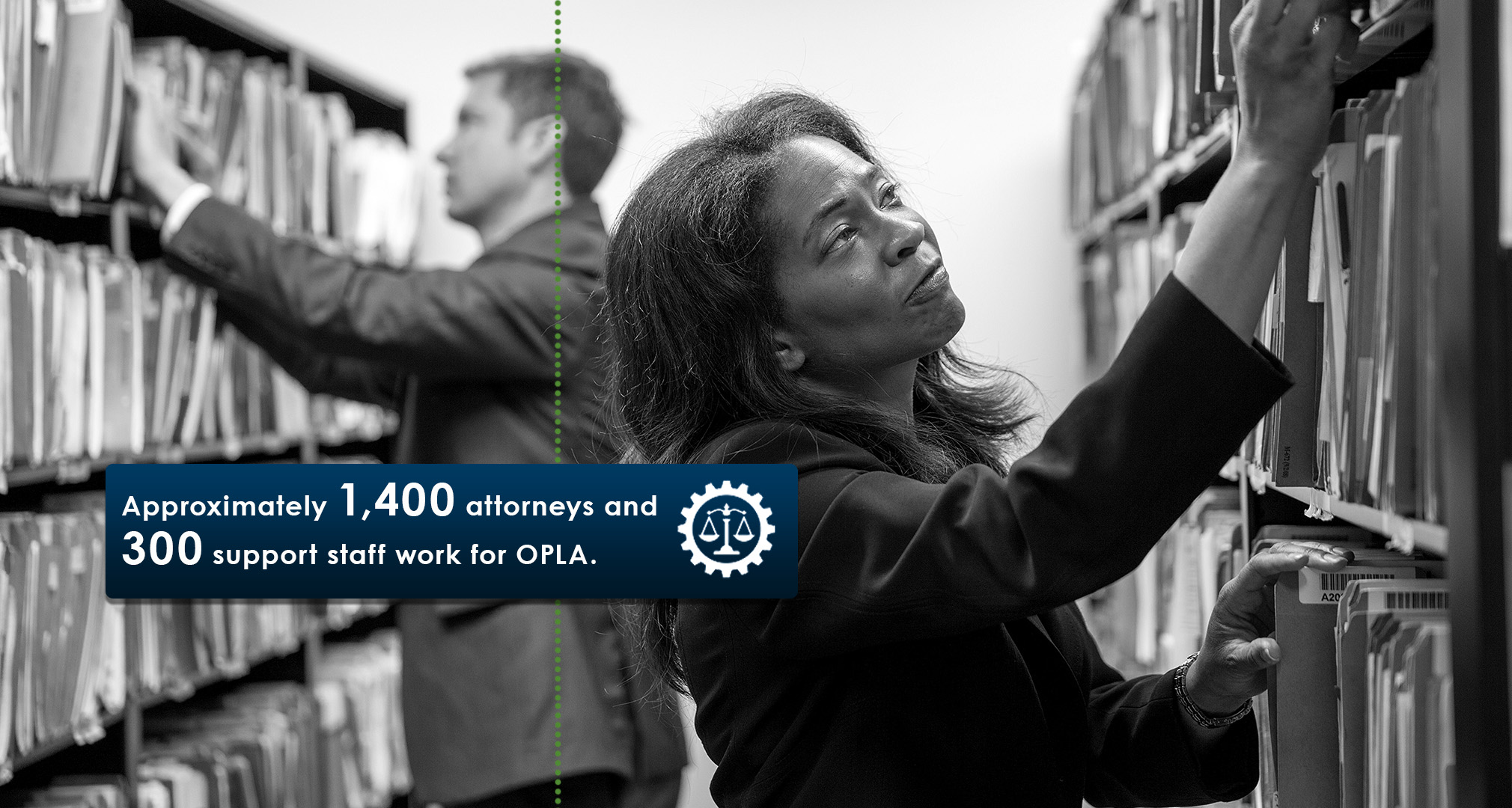 right
Workforce Highlights
ICE's Management and Administration (M&A) directorate has allowed ICE to remain strong through its recruitment and retention of talented law enforcement and other talented personnel. Thanks to M&A's work, ICE ended FY 2021 with a total workforce of 20,796 employees, resulting in an agency fill rate of 94%. M&A's ongoing work ensures that all of ICE's operational components remain adequately staffed to fulfill ICE's critical national security and public safety mission.
left
ICE Fiscal Year 2021 Annual Report
This Annual Report represents an important change. For the first time, ICE is releasing a unified report encompassing not just the noble work of its law enforcement components but of its entire workforce, including OPLA, M&A, OPR, and the Office of Diversity and Civil Rights. Accordingly, this report reflects a more complete picture of ICE's accomplishments. Each of these developments allowed ICE to maintain its critical law enforcement operations while striving toward continual improvement.

ICE Fiscal Year 2021 Annual Report

News Release: ICE releases FY 2021 Annual Report