Criminal Investigator
HSI special agents protect our country, cities, and communities from criminal and terrorist threats and contribute to the national security and public safety of the united states.
Homeland Security Investigations (HSI) is the principal investigative arm of the U.S. Department of Homeland Security, responsible for investigating transnational crime and threats, specifically those criminal organizations that exploit the global infrastructure through which international trade, travel, and finance move. HSI's workforce of over 10,400 employees consists of more than 7,100 Special Agents assigned to 220 cities throughout the United States, and 80 overseas locations in 53 countries. HSI's international presence represents DHS's largest investigative law enforcement presence abroad and one of the largest international footprints in U.S. law enforcement.
Duties
HSI criminal investigators, also referred to as special agents, conduct criminal and civil investigations involving national security threats, terrorism, drug smuggling, child exploitation, human trafficking, illegal arms export, financial crimes, identity fraud, benefit fraud, commercial fraud and more.
HSI special agents may have the opportunity to work regularly with federal, state, and local law enforcement agencies including the FBI, DEA and U.S. Marshals Service as well as state police and county sheriff's departments. In addition, special agents may have the opportunity to participate on special task forces or fugitive operations teams.
Apply Online
Applications for criminal investigator positions are accepted during vacancy announcement periods. Vacancy announcements are posted online through the Office of Personnel Management's (OPM) USAJOBS website.
Interested individuals may also contact criminal investigator recruiters for more information pertaining to the criminal investigator job and the process for applying. Please refer to the ICE website for the Homeland Security Investigation office nearest to you.
If an applicant has never been employed by the federal government, she/he is not ICTAP/CTAP eligible. Information about ICTAP and CTAP eligibility is found on the OPM's Career Transition Resources website. To be considered well qualified under ICTAP/CTAP, an applicant must earn a score of 85 or above on the rating criteria developed for this position.
Some vacancy announcements may require an applicant to also complete an occupational questionnaire. Her/his experience, education, and training will be rated using an online assessment (occupational questionnaire). Based on the responses, an applicant will receive a score between 70 and 100. If an applicant meets the minimum score requirements, she/he will continue in the hiring process.
Communications about assessments are distributed to each applicant via the email address listed in his or her USAJOBS profile. To ensure messages are received, every applicant should check the accuracy of/update the email address associated with his or her USAJOBS account prior to beginning the criminal investigator application process.
Eligible applicants must complete and pass two phases of assessments, designed to identify the applicants well-suited for this entry-level criminal investigator role.
Applicants will be contacted via email with information about how to access and complete the Phase I assessments.
Phase I Assessments
The assessments in Phase I can be completed from any computer with an internet connection, without the presence of a test proctor. Applicants may take these assessments at any time within the testing window specified in the invitation email.
More detail about the assessments in Phase I can be found below.
Automated Writing Assessment (AWA): The ability to communicate in writing is core to success of criminal investigators. The AWA asks applicants to write a short essay in response to a general writing prompt; essays are evaluated on presentation/written flow, grammar, and completeness of response.
Situational Judgment Test (SJT): The SJT presents applicants with realistic, job-related scenarios, and several potential courses of action. Applicants are asked to review the proposed responses and rate how effective they believe each might be. This test measures teamwork and flexibility, two skills which have been identified as critical to effective performance of entry-level criminal investigators.
At the conclusion of the testing window, applicants who earn passing scores on both assessments in Phase I will advance to Phase II.
Assessment invitations will be distributed to the email address each applicant has listed in his or her USAJOBS profile.
Phase II Assessments
Phase II assessments are completed under supervision (i.e., using a "proctored" format). Proctored testing occurs by appointment only; applicants are provided a link and instructions via email to an online system that allows self-scheduling. Designated testing sites are available across the U.S.; the self-scheduling system allows each applicant to set up their testing appointment at the testing site of his or her choosing.
Applicants may take these assessments at any time within the testing window specified in the invitation email.
Three assessments are used in Phase II. More details about these assessments can be found below.
Writing Skills Test (WST): The ability to communicate effectively in writing is a vital part of the criminal investigation role. The WST asks applicants to review questions and demonstrate an understanding of common rules related to the English language (e.g., proper sentence construction, correct word usage).
Logical Reasoning Assessment (LRA): It is essential that criminal investigators have strong logical reasoning skills, including the ability to interpret information and make critical decisions The LRA evaluates each applicant's ability to interpret provided materials and apply critical thinking skills to related factual situations.
Candidate Experience Record (CER): Comprehensive evaluation of applicants requires an understanding of relevant past experiences, work and education preferences, and perceptions individuals have of their own abilities. The CER is used to collect key information about applicants related to these areas
Applicants earning passing scores on all Phase I and II assessments will be contacted by an interview coordinator to schedule and complete a Structured Interview.
Reusing assessment results and retaking the assessments
Passing results: Applicants who pass any phase of the assessment process will have their results for that phase be reused indefinitely, unless major changes occur to the process or assessments.
Non-passing results: Applicants who do not pass any phase of the assessment process must wait two (2) years from the date of the failed assessment(s) before being able to retake the assessment(s).
Incomplete assessments: Applicants who do not start, or do not complete, any phase of the assessment process can retake the assessments whenever there is another open announcement.
Whether seeking to have passing results reused or to retake assessments, applicants must still apply to an open announcement to be considered. If major changes occur to the assessments or process, all applicants would be required to retake the assessments.
The PDF link below is to a guide that provides important information to help applicants understand what to expect during the Criminal Investigator Assessment Process. It will also familiarize applicants with all the assessments, including sample questions for the Writing Skills Test (WST) and Logical Reasoning Assessment (LRA).
Preparation Guide for the ICE HSI Criminal Investigator Assessment Process
Phase III Structured Interview
Applicants will be required to pass a structured interview for this role.
Applicants earning passing scores on all Phase I and II assessments will be referred for a structured interview. All interviews will be conducted in a virtual environment by a panel of experienced criminal investigators.
Applicants earning passing scores on all Phase I and II assessments and the Phase III structured interview will be placed into a pool for further review/consideration for the criminal investigator position and notified regarding next steps.
Applicants will have to pass the Pre-Employment Physical Fitness Test (PFT-P) administered by a local HSI office.
The PFT-P consists of four tests administered in the following sequence:

32 sit-ups in 1 minute or less
220-yard sprint in 47.73 seconds or less
22 push-ups in 1 minute or less
1.5 mile run in 14 minutes 25 seconds or less
The applicant must pass all four (4) fitness tests in sequence as listed above with proper form and no more than a 5-minute rest between tests and in the prescribed amount of time.
Appointment will be contingent upon an applicant passing a pre-employment medical examination to ascertain possession of the physical, emotional, and mental requirements for the position. Any chronic disease or condition that would impair full performance of the job duties is evaluated on a case-by-case basis and may disqualify the individual. Since the duties of these positions are demanding and involve the responsibility for the safety of others under trying conditions, applicants must possess emotional and mental stability. Any condition that hinders full, efficient performance of the duties of these positions or would cause the individual to be a hazard to himself/herself or to others can result in disqualification.
Criminal investigator applicants must satisfactorily complete a drug test as a mandatory condition of employment with ICE. ICE will schedule, provide, and pay for the drug test.
The criminal investigator position is categorized as a "sensitive" position in law enforcement. Therefore, tentatively selected applicants must undergo, and successfully complete, a background investigation as a condition of employment for this position. This investigation will examine your activities during at least the last 10 years. Keep in mind that because DHS has a law enforcement mission, it sets very high standards for its employees. Security vetting takes an average of three months to complete, but the process can vary from two weeks to one year, depending on both the applicant's history and the level of security vetting required for the position.
Applicants may be required to successfully pass a polygraph examination.
U.S. Citizenship: Applicants must be United States citizens and present proof of citizenship, if selected.
U.S. Residency: Applicants must have, for three of the last five years immediately prior to applying for the position, (1) resided in the United States; or (2) worked for the United States Government as an employee overseas in a federal or military capacity; or (3) been a dependent of a U.S. federal or military employee serving overseas.
Age: Applicants must be at least 21 years of age. The day immediately preceding an individual's 37th birthday will be the last day to be referred for selection consideration. However, the age restriction may not apply if you are a preference-eligible veteran or if you are currently serving or have previously served in a federal civilian law enforcement position covered by 5 U.S.C. Section 8336(c) or 5 U.S.C. Section 8412(d).
Motor Vehicle Operation: Applicants must possess a valid state-issued automobile driver's license.
Firearm: Criminal investigators are required to carry a firearm while performing duties of this position and maintain firearm proficiency.
Convictions: Applicants cannot have any felony convictions. According to the Lautenberg Amendment, 18 U.S.C. Section 922(g)(9), any person who has been convicted of a misdemeanor crime of domestic violence cannot lawfully possess a firearm or ammunition.
Mandatory Completion of Basic Training: Once officially selected, applicants are required to attend 22 weeks of paid training at the Federal Law Enforcement Training Center (FLETC) in Brunswick, Georgia.
Fitness Program: During basic training, you will be required to undergo regular physical examinations and you may, in the future, be required to maintain a level of physical fitness in accordance with the standards and policies of the agency.
Mobility: Mobility is a major factor in this occupation. Applicants must be willing to accept employment at any location offered. Assignment at the first duty station will be at least three years; however, completion of the three years does not imply that a transfer is guaranteed. Additionally, criminal investigators may be reassigned at any time in their career to new locations based on the needs of the service.
Travel: Positions may require periodic and sometimes extended travel in addition to the initial basic and other mandatory training.
Physical and Environmental Conditions: Moderate to arduous physical exertion involving walking and standing, use of firearms and exposure to inclement weather. The work requires physical strength and stamina, potentially dangerous and stressful situations, as well as exposure to physical attack, including the use of lethal weapons.
Selective Service Registration: For males born after December 31, 1959, selective service registration is required.
Learn more about Homeland Security Investigations and the criminal investigator hiring process.
ICE offers competitive salaries and an attractive benefits package including health, dental, vision, life, long-term care insurance, retirement plan, Thrift Savings Plan (similar to a 401(k)), flexible spending account, Employee Assistance Program, personal leave days and paid federal holidays. Other benefits may include: flexible work schedules, telework, tuition reimbursement, transportation subsidies, uniform allowance, health and wellness programs and access to fitness centers. DHS is committed to employee development and offers a variety of training and developmental opportunities.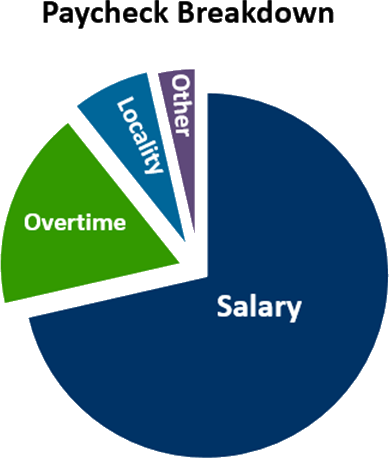 Agents are competitively rewarded for their time on the job. In addition to base pay, agents may be eligible for locality pay, overtime pay and more.
Salary: You receive a salary that corresponds to your grade level. This salary is the number quoted on USAJOBS.
Overtime Pay: Earn up to 125% of your salary and locality pay for time worked outside the 40 hour work week.
Locality Pay: You may receive pay on top of your salary, depending on where you work. Navigate the different locality pay tables.
Between 13 and 26 days of annual leave accrued per year (variation based on years of federal service)
10 federal holidays per year
15 days of military reserve leave
13 days of sick leave accrued per year
Overtime pay for federal government employees is determined by special rules and regulations. Some federal employees who are not entitled to overtime pay under the Fair Labor Standards Act (FLSA) still may be entitled to overtime pay under Title 5. Some forms of government pay, such as law enforcement availability pay (LEAP), are available under Title 5 but not the FLSA.
Availability pay: Law enforcement availability pay, or LEAP is a type of premium pay that is paid to federal law enforcement officers (LEOs) who are criminal investigators. Their work requires criminal investigators to be available to work substantial amounts of unscheduled duty. Availability pay applies to unscheduled duty hours as well as the first two hours of regularly scheduled overtime on any day containing part of the criminal investigator's basic 40-hour workweek. The rate is fixed at 125% of the employee's rate of basic pay, subject to aggregate premium pay limitations. Other hours of overtime continue to be paid under the provisions of Title 5/FEPA, but LEAP employees are exempt from the FLSA.
HSI positions have promotion potential to the GS-13 level. A career ladder promotion is contingent upon satisfactory performance and the satisfactory completion of all required training. Such promotions are not automatic. Positions have additional opportunities at the GS-14, GS-15 and Senior Executive Service levels; however, promotions to these levels are addressed through a competitive hiring process.
You qualify at the GL-5 level if you possess three (3) years of progressively responsible general work experience, demonstrating the ability to perform duties such as:
analyzing programs to identify significant factors, gather data, and recognize solutions;
planning and organizing work; and,
communicating effectively orally and in writing.
You qualify at the GL-7 level if you possess one (1) year of specialized experience performing duties related to the work of the position such as:
Formal or on-the-job activities that support learning the principles, practices, procedures, objectives, and techniques of investigating;
developing skills, through job assignments, to initiate, plan, and conduct investigations;
observing and assisting in law enforcement and prosecutorial activities;
assisting in preparation of documents related to various stages of the investigatory process.
Qualification requirements must be met by the closing date of the announcement.
Federal Life Insurance Programs available to agents include:
Employees who retire from ICE can count on the Federal Employees Retirement System (FERS) to enjoy life after working. FERS includes the following three streams of income:
Thrift Savings Plan: Similar to a 401(k) plan, the Thrift Savings Plan (TSP) is a defined contribution plan designed to give federal employees the same retirement savings related benefits that workers in the private sector enjoy with 401(k) plans. Contributions to the plan are automatically deducted from each paycheck, the amount which is chosen by employees, and is transferable if you change employers. An additional benefit to the TSP is employer matching contributions; up to 5% of your base salary. Learn more
FERS Basic Annuity under special provisions: Agents that serve in federal government with at least 20 years of law enforcement service are eligible for the generous FERS basic annuity. This guaranteed lifetime pension, paid to retirees is a percentage of your highest average basic pay you earned during any 3 consecutive years of service. Learn more
Social Security: You receive social security retirement payments, the benefits of which are transferable when you change employers. Learn more
Law Enforcement 6(c) Retirement Coverage: Being in a frontline position at ICE qualifies you for 6(c) retirement coverage. What does that mean? 6(c) retirement coverage means you can retire at any age after 25 years of service or at age 50 with at least 20 years of service. 6(c) eligibility is a factor for determining your FERS basic annuity.