Deportation Officer
I value the opportunity to use my law enforcement skills to enforce the nation's immigration laws in a fair and effective manner.
As a deportation officer with ICE Enforcement and Removal Operations (ERO), you will uphold U.S. immigration law at, within, and beyond our borders. Your work is critical to the enforcement of immigration law against those who present a danger to our national security, are a threat to public safety, or who otherwise undermine the integrity of our immigration system.
You will use smart, efficient strategies and tactics to manage all aspects of the immigration enforcement process, including the identification and arrest, transportation, detention, case management and removal of undocumented individuals.
You will conduct legal research to support decisions on removal cases and assist attorneys in representing the government in court actions. You may also work with other federal law enforcement officials to identify, locate and arrest undocumented individuals and are responsible for ensuring the physical removal of undocumented individuals from the United States.
Apply Online
Applications for deportation officer positions will be accepted during an open vacancy announcement. Vacancy announcements will be posted online through the Office of Personnel Management's (OPM) USAJOBS website. During an open announcement period, the applicant will be required to submit a resume with the original application. If the applicant is a preference-eligible veteran, additional opportunities may be available. Preference-eligible applicants may find additional information at OPM's website. Click below to learn more about basic eligibility.
U.S. citizenship
Have a valid driver's license.
Be eligible to carry a firearm.
Referred for selection prior to your 40th birthday (waiver for preference-eligible veterans or those who have previously served in a federal civilian law enforcement position).
For males born after 12/31/1959, Selective Service registration is required.
Deportation officers are not required to take a pre-employment exam.
Certain veterans may receive an additional five or 10 points added to their numerical score on the occupational questionnaire (refer to the occupational questionnaire section below for scoring details).
If an applicant has never worked for the federal government, he/she is not ICTAP/CTAP eligible. Information about ICTAP or CTAP eligibility is found on the OPM's Career Transition Resources website. To be considered well qualified under ICTAP/CTAP an applicant must earn a score of 85 or above on the rating criteria developed for this position.
ICE is a drug-free workplace. All ICE applicants must satisfactorily complete a drug test as a mandatory condition of employment with ICE. ICE will schedule, provide and pay for the drug test. Once onboard, employees are subject to random drug testing throughout their careers.
Applicants for deportation officer with ERO must take and pass a three-part fitness test consisting of the following components: kneel/stand test, push-ups and a five-minute cardiovascular endurance step test.
Appointment will be contingent upon a candidate passing a pre-employment medical examination to ascertain possession of the physical, emotional, and mental requirements for the position. Any chronic disease or condition affecting the respiratory, cardiovascular, gastrointestinal, musculoskeletal, digestive, nervous, endocrine or genitourinary systems that would impair full performance of the job duties is evaluated on a case-by-case basis and may disqualify the individual. Since the duties of these positions are demanding and involve the responsibility for the safety of others under trying conditions, applicants must possess emotional and mental stability. Any condition that hinders full, efficient performance of the duties of these positions or would cause the individual to be a hazard to himself/herself or to others can result in disqualification. Common reasons for medical disqualification include the inability to meet the hearing and vision medical standards.
All positions require security vetting. Security vetting takes an average of three months to complete, but the process can vary from two weeks to one year, depending on both the applicant's history and the level of security vetting required for the position.
ICE offers competitive salaries and an attractive benefits package which includes health, dental, vision, life, long-term care insurance, retirement plan, Thrift Savings Plan (similar to a 401(k)), flexible spending account, Employee Assistance Program, personal leave days and paid federal holidays. Other benefits may include: flexible work schedules, telework, tuition reimbursement, transportation subsidies, uniform allowance, health and wellness programs and access to fitness centers. DHS is committed to employee development and offers a variety of training and developmental opportunities.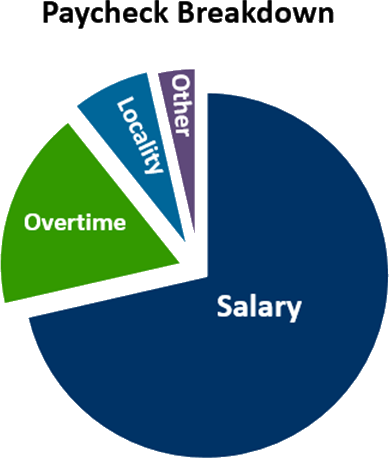 Officers are competitively rewarded for their time on the job. In addition to base pay, you may be eligible for locality pay, overtime pay, and more.
Salary: You receive a salary that corresponds to your grade level. This salary is the number quoted on USAJOBS.
Overtime Pay: Earn up to an additional 25% of your salary and locality pay for time worked in addition to the 40 hour work week.
Locality Pay: You may receive pay on top of your salary, depending on where you work. Navigate the different locality pay tables.
Overtime pay for federal government employees is determined by special rules and regulations. Some federal employees, who are not entitled to overtime pay under the Fair Labor Standards Act (FLSA), still may be entitled to overtime pay under Title 5. Some forms of government pay, such as and administratively uncontrollable overtime (AUO), are available under Title 5 but not the FLSA.
AUO is a form of premium pay that is paid on an annual basis to an employee in a position in which the hours of duty cannot be controlled administratively and which requires substantial amounts of irregular, unscheduled overtime work, with the employee generally being responsible for recognizing, without supervision, circumstances which require the employee to remain on duty. AUO varies between 10 and 25 percent of an employee's basic rate of pay. Regularly scheduled overtime hours continue to be compensated in accordance with the Federal Employees Pay Act (FEPA).
ERO personnel may be promoted to supervisory, managerial and executive positions in addition to higher grade non-supervisory positions that specialize in specific subject matter.
A career ladder promotion is contingent upon satisfactory performance and the satisfactory completion of all requirements and duties.
You qualify at the GL-7 level if you possess one (1) year of specialized experience performing duties such as:
training in criminal or civil investigative principles and techniques;
applying laws and rules associated with criminal or civil procedures, searches, seizures, arrests, and rules of evidence; and (or),
preparing investigative reports using clear and proper written language.
You qualify at the GL-9 level if you possess one (1) year of specialized experience performing duties such as:
observing and participating in various phases of investigations;
researching and analyzing records, data, and other material related to investigative cases;
interviewing individuals to verify facts and obtain specific information;
obtaining signed statements, affidavits and documentary evidence to be included in reports or case records;
interviewing witnesses and others, both informally and formally in recorded settings; and (or),
searching and analyzing various forms of records.
Qualification requirements must be met by the closing date of the announcement.
Federal life insurance programs available to officers include:
Employees who retire from ICE can count on the Federal Employees Retirement System (FERS) to enjoy life after working. FERS includes the following three streams of income:
Thrift Savings Plan: Similar to a 401(k) plan, the Thrift Savings Plan (TSP) is a defined contribution plan designed to give federal employees the same retirement savings related benefits that workers in the private sector enjoy with 401(k) plans. Contributions to the plan are automatically deducted from each paycheck, the amount which is chosen by employees, and is transferable if you change employers. An additional benefit to the TSP is employer matching contributions; up to 5% of your base salary. Learn more
FERS Basic Annuity under special provisions: ICE employees that serve in federal government with at least 20 years of law enforcement service are eligible for the generous FERS basic annuity. This guaranteed lifetime pension, paid to retirees is a percentage of your highest average basic pay you earned during any 3 consecutive years of service. Learn more
Social Security: You receive social security retirement payments, the benefits of which are transferable when you change employers. Learn more
Law Enforcement 6(c) Retirement Coverage: Being in a frontline position at ICE qualifies you for 6(c) retirement coverage. What does that mean? 6(c) retirement coverage means you can retire at any age after 25 years of service or at age 50 with at least 20 years of service. 6(c) eligibility is a factor for determining your FERS basic annuity.