It's a story that began sixteen years ago…
With its passage in November 2002, the Homeland Security Act set into motion what would be the single-largest government reorganization since the creation of the Department of Defense. Opening its doors in March 2003, one of the component agencies in the new Department of Homeland Security was the Bureau of Immigration and Customs Enforcement, now known as U.S. Immigration and Customs Enforcement or ICE.
ICE was granted a unique combination of civil and criminal authorities to better protect national security and strengthen public safety in response to the deadly attacks perpetrated on 9/11.
Leveraging those authorities, ICE has become a powerful and sophisticated federal law enforcement agency.
Throughout 2017, ICE is looking back at its achievements and history through a series of stories, images and milestones, focusing on significant events and accomplishments, one year at a time, beginning with 2003.
September 11, 2001: 19 terrorists hijack commercial airliners and carry out massive attack on the United States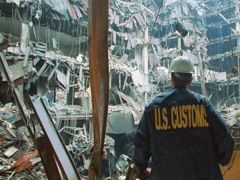 Terrorists take advantage of security weaknesses in our aviation system to kill nearly 3,000 innocent men, women and children, including citizens of more than 90 countries. It is the deadliest terrorist attack on American soil.
November 2002: Homeland Security Act
The Homeland Security Act of 2002 is introduced in the aftermath of the Sept. 11 attacks and subsequent mailings of anthrax spores. The act is co-sponsored by 118 members of Congress and signed into law by President George W. Bush Nov. 2002. The Homeland Security Act creates the U.S. Department of Homeland Security and the new cabinet-level position of secretary of homeland security.
2003 - 2005