What We Do
The Office of Partnership and Engagement (OPE) coordinates outreach efforts with the public, key stakeholders, and ICE leadership to increase local and national awareness of U.S. Immigration and Customs Enforcement's (ICE) mission, while building relationships and fostering trust in our communities.
About
OPE, headquartered in Washington, D.C. has two distinct offices: the Community Engagement Office and the Victims Of Immigration Crime Engagement (VOICE) Office.
The OPE headquarters team is comprised of an Assistant Director, Deputy Assistant Director, Senior Advisor, Management Program Analyst and Mission Support Specialist who work on national and field matters.
The Community Engagement Office has a cadre of 25 community relations officers (CROs) in field offices across the United States who serve as liaisons to the public, key stakeholders, and ICE leadership. CROs are co-located throughout the country at either the Special Agent in Charge (SAC) or Field Office Director (FOD) field offices.
The VOICE Office assists victims impacted by crimes committed by individuals with a nexus to immigration. The VOICE Office is supported by Victim Liaisons, CROs and the VOICE's Call Center staff. The VOICE Call Center is staffed by 12 operators who take incoming victim requests. Additionally, the VOICE Office has two Victim Liaisons and one VOICE Data Analyst.
The VOICE Office provides the following support to victims:
Releasable alien immigration case information;
The opportunity to provide a victim impact statement;
Victim social services referrals; and
Automated immigration custody immigration through the DHS-Victim Information and Notification Exchange (DHS-VINE).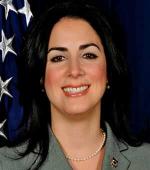 Barbara M.
Gonzalez
Assistant Director, Office of Partnership and Engagement
Ms. Gonzalez oversees a cadre of Community Relations Officers who handle stakeholder engagement, and Victim Liaisons who help victims impacted by crimes with an immigration nexus as part of the Victims Of Immigration Crime Engagement (VOICE) Office.
Prior to her current position, Ms. Gonzalez served as the acting assistant director of the agency's Office of Public Affairs from February 2016 to April 2017.